Bracketology: Ohio State's Inconsistency Makes Loyola Chicago This Year's Easiest Upset Pick
The beloved Sister Jean is dancing again, and her Loyola Chicago Ramblers have a great chance to bust their best moves past the first round.
Loyola is a 10 seed in the tournament's south region, and the school takes on the seven-seeded Ohio State Buckeyes in Pittsburgh on Friday. And if you're looking for the best upset opportunities for your bracket this year, Loyola over OSU should be one of your top choices (heck, even Vegas seems to like the Ramblers).
Loyola has proven it isn't afraid of the big stage in recent seasons, and Ohio State has been one of the most inconsistent teams in college basketball. The combination of the two puts the Buckeyes on upset watch and gives the Ramblers a great chance to meet the winner of Villanova and Delaware in the second round.
Loyola Chicago isn't afraid of March Madness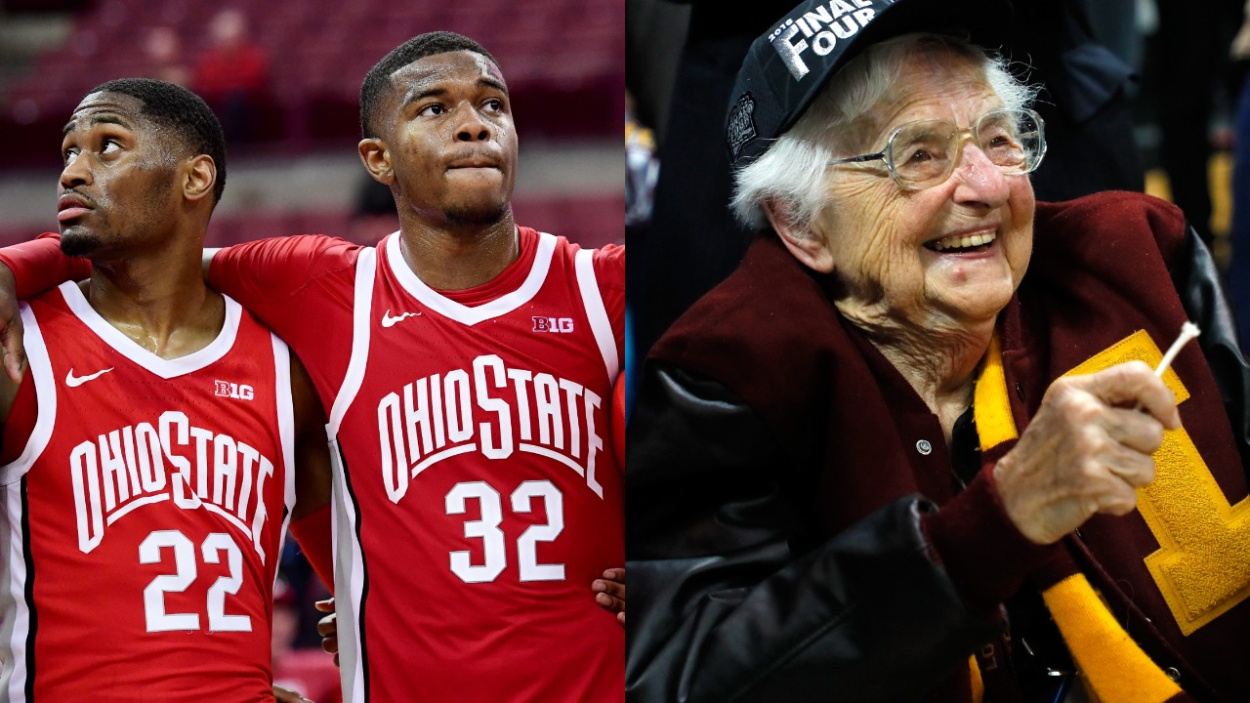 Porter Moser is no longer calling the shots from Loyola Chicago's bench. The program's former head coach who led the Ramblers to the 2018 Final Four and 2021 Sweet 16 now coaches at Oklahoma. But the team has still had some March magic this year under new head coach Drew Valentine.
Loyola has won five of its last six games and every contest since the beginning of March. It punched its ticket to the Big Dance by earning the Missouri Valley Conference tournament championship crown with wins over Bradley, Northern Iowa (the conference's regular-season champ), and Drake.
Despite being from the small MVC, the bright lights of the NCAA Tournament haven't been too much for Loyola in recent years. The Ramblers were an 11 seed during their 2018 Final Four run. They earned wins over six-seeded Miami, three-seeded Tennessee, seven-seeded Nevada, and nine-seeded Kansas State before falling to Michigan in the national semifinal.
Last year, Loyola was an eight seed and won games over nine-seeded Georgia Tech and No. 1 Illinois to advance to the Sweet 16.
The school now has a chance to get at least one other big win this year.
The Ohio State Buckeyes have been as inconsistent as they come
If Loyola could have chosen the perfect team from a powerhouse conference to play in the first round, it likely would have selected Ohio State.
The Ramblers got an ideal draw.
Like most Chris Holtmann-led OSU teams, this Buckeye squad has been spiraling in the weeks leading up to the tournament. Ohio State was 13-4 on Jan. 27 but has since gone 6-7 in its last 13 contests with losses to Maryland, Nebraska, and Penn State.
Holtmann's team is truly confusing. It beat Illinois, the eventual Big Ten regular-season champion, on Feb. 24 but lost to the 15-win Maryland and 10-win Nebraska in its next two games.
The Buckeyes have simply lost a ton of confidence in recent weeks, and it's hard to see them getting it back before Friday.
They are on upset watch.
Loyola Chicago must focus on stopping Ohio State's E.J. Liddell and Malaki Branham
Ohio State's lack of depth is one of its most glaring weaknesses. Outside of junior forward E.J. Liddell (19.6 points and 7.9 rebounds per game) and freshman guard Malaki Branham (13.3 points per game), the Buckeyes have no other offensive threats to turn to in their half-court sets.
In their win over Illinois, Liddell scored 21 on 7-of-15 shooting while Branham dropped 31 on 10-of-14 shooting. However, during their loss to Maryland, the former had 11 points and made just three of his 10 field-goal attempts. Branham scored 13 and made 4-of-13 shots.
Loyola's key to winning is slowing down those two, which is admittedly easier said than done. But the Ramblers have a stingy defense. They are 18th in the country in points allowed per game (61.7).
If Sister Jean's favorite team can lean on its defensive intensity and find ways to get leading scorer Lucas Williamson open on offense, the Ramblers should easily advance to play Villanova or Delaware in the second round. Ohio State is also a weak defensive team, ranking 131st in KenPom's adjusted defensive efficiency, so Williamson could have big day.
If you haven't filled out your bracket yet, you should select Loyola Chicago as one of your upset wins. You won't regret it.
Stats courtesy of ESPN
RELATED: March Madness: Illinois Ripe for Another Devastating Upset