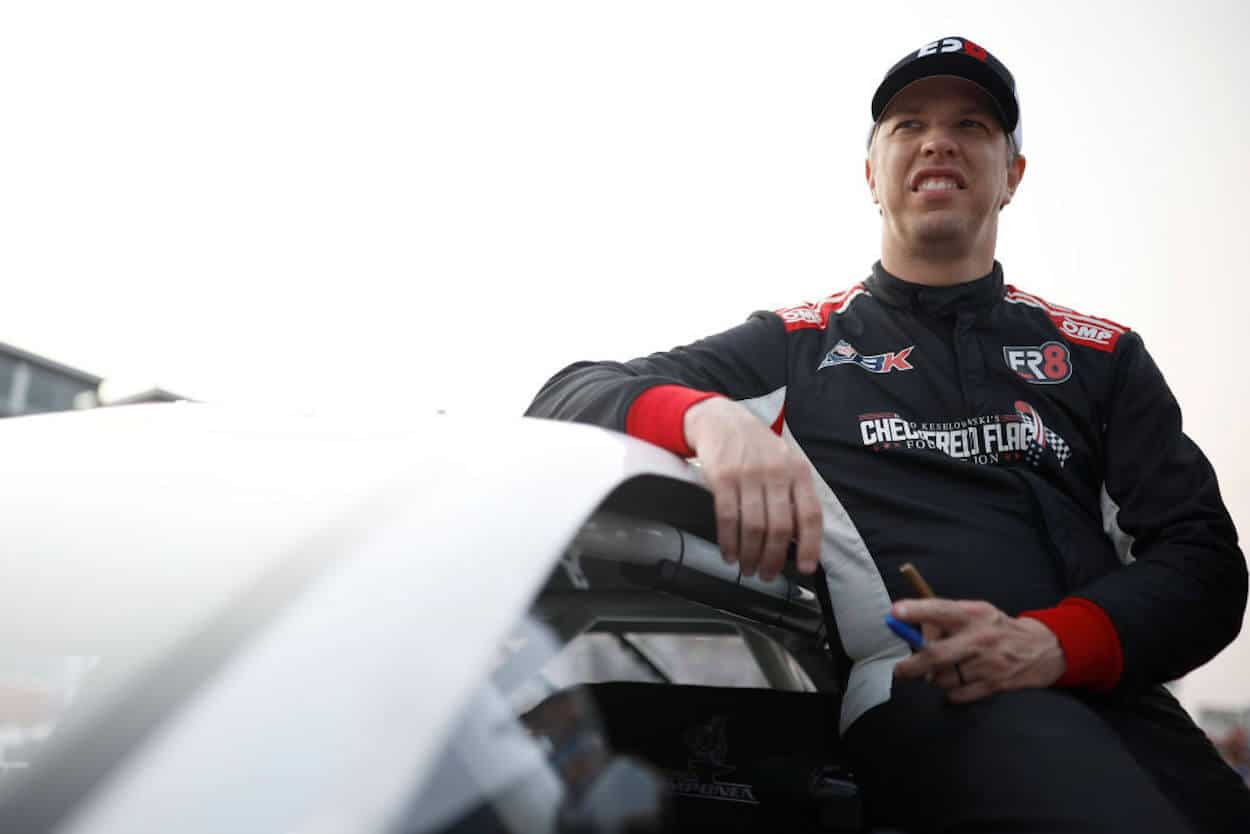 Brad Keselowski Is a Walking Encyclopedia of NASCAR Knowledge, and You Have to See It to Believe It
Think you've got a mind for NASCAR details. Well, let's see how you stack up against Brad Keselowski and his impressive memory.
One of the top drivers in the NASCAR Cup Series for the last decade-and-a-half, Brad Keselowski has impressed a lot of people with his abilities behind the wheel of a race car.
Apparently, the 2012 Cup Series champion and driver/co-owner of the No. 6 Roush Fenway Keselowski Racing Ford is a pretty smart cookie, too.
How smart?
Well, in a recent impromptu quiz from members of the RFK Racing social media team about winners of races past, Keselowski earned a passing grade and then some.
In truly impressive fashion, the 39-year-old married father of two was able to accurately recall who won seemingly random races as far back as 2006 — three years before he made his debut in NASCAR's premier series and four years before he went full-time Cup Series racing.
To get a true sense of Keselowski's incredible memory, you'll just have to watch the video for yourself below. It's something you almost have to see to believe.
Once you're done being amazed by Keselowski's vivid recollections, we'll briefly look back on three races he undoubtedly remembers and, in all likelihood, remembers in great detail because of what they meant to his career as a driver or team owner.
The 2009 Aaron's 499 at Talladega Superspeedway
Making just his fifth start in NASCAR's premier series, Brad Keselowski won at Talladega Superspeedway in dramatic fashion when he and Carl Edwards tangled while battling for the lead in the trioval on the final lap.
While the contact ultimately sent Edwards' No. 99 car flying airborne into the frontstretch catchfence, Keselowski managed to keep his No. 09 Phoenix Racing Chevrolet pointed in the right direction and beat his NASCAR Xfinity Series team owner Dale Earnhardt Jr. to the checkered flag by .175 seconds.
The win — which came in a year when Keselowski was running only a partial Cup Series schedule for an underfunded team — played a pivotal role in catapulting the then-full-time Xfinity Series driver to a full-time Cup ride the following year with Team Penske.
The 2012 Ford EcoBoost 400 at Homestead-Miami Speedway
Needing basically just to avoid catastrophe to clinch his first NASCAR Cup Series championship, Brad Keselowski took care of business with a 15th-place finish in the 2012 season finale at Homestead-Miami Speedway, where Jeff Gordon earned the only victory of his career at the South Florida track.
Keselowski, who won five races that year, claimed NASCAR's biggest prize by 39 points over Clint Bowyer, who finished second in the race and edged Jimmie Johnson for runner-up in the standings by a single point.
Now more than a decade later, this remains Keselowski's only Cup Series championship and an accomplishment he'll no doubt forever savor.
It's worth noting, however, that Keselowski's lone title came two years before NASCAR's top division switched to its current-day Championship 4 format, under which a quartet of drivers compete straight up for the title in the season's final race.
The 2022 Bass Pro Shops NRA Night Race at Bristol Motor Speedway
By all accounts, Brad Keselowski's first season as an owner/driver for Roush Fenway Keselowski Racing was a rough one, but it wasn't bereft of at least one race that he'll always remember for all the right reasons.
That race was the fall nighttime affair on the Bristol concrete where RFK Racing driver Chris Buescher scored a commanding win, giving Keselowski his first victory as a team owner in NASCAR's premier series.
Although Keselowski is still in search of his first triumph as a driver with the team he co-owns, celebrating his maiden victory as a team owner at the sport's highest level was a huge deal. And, you can rest assured that Keselowski — the man with a memory of steel — will never forget it.