Brad Keselowski's Late Father, Bob, Usually Showed Parental Approval With a Wrench in His Hand
Bob Keselowski's son, Brad, was listed at the top of the NASCAR premier series, 20 points up in the drivers' standings with one race remaining in the 2012 campaign.  
Even with such significance surrounding his son's start, it wasn't a guarantee his father would attend the event at Homestead-Miami Speedway. 
So, Brad, likely went out of his way to schedule something for his father to work on. If not, he would have been in his garage at home. 
Brad Keselowski's father didn't go to tracks to watch a race. He went to work. It's the way his friends and family will remember him. 
Bob Keselowski, a patriarch of a multi-generational racing family, died on Dec. 22, his son confirmed on social media. He was 70. 
Bob Keselowski supported his racing family from the garage
Brad Keselowski remembered the time his dad attended one of the biggest races of his career.
With the Keselowski clan in tow – and his father busy working on something in the Homestead garage – Brad prepared to contend for the 2012 Cup drivers' championship during the NASCAR season finale, reported by sbnation.com.
Along with dad, several other close family members made the trip to Florida. Brad's mother, Kay, sister, Dawn, brother, and frequent sparring partner, Brian, displayed their support in person.
"That's going to be great," Brad Keselowski said of having his family at the track. "Glad to have him (his father) here, or any family for that matter. And I think if you know the personal relationship that my brother and I have, you would understand why that's such an accomplishment for him to be here Sunday.
"To get my dad to a come a race weekend to actually watch is a big accomplishment," Keselowski said in 2012. "It feels pretty good to have him here."
Keselowski cruised to the 2012 points championship with his family on hand.
Bob Keselowski on his son's wreck: 'He ain't gonna kill my boy'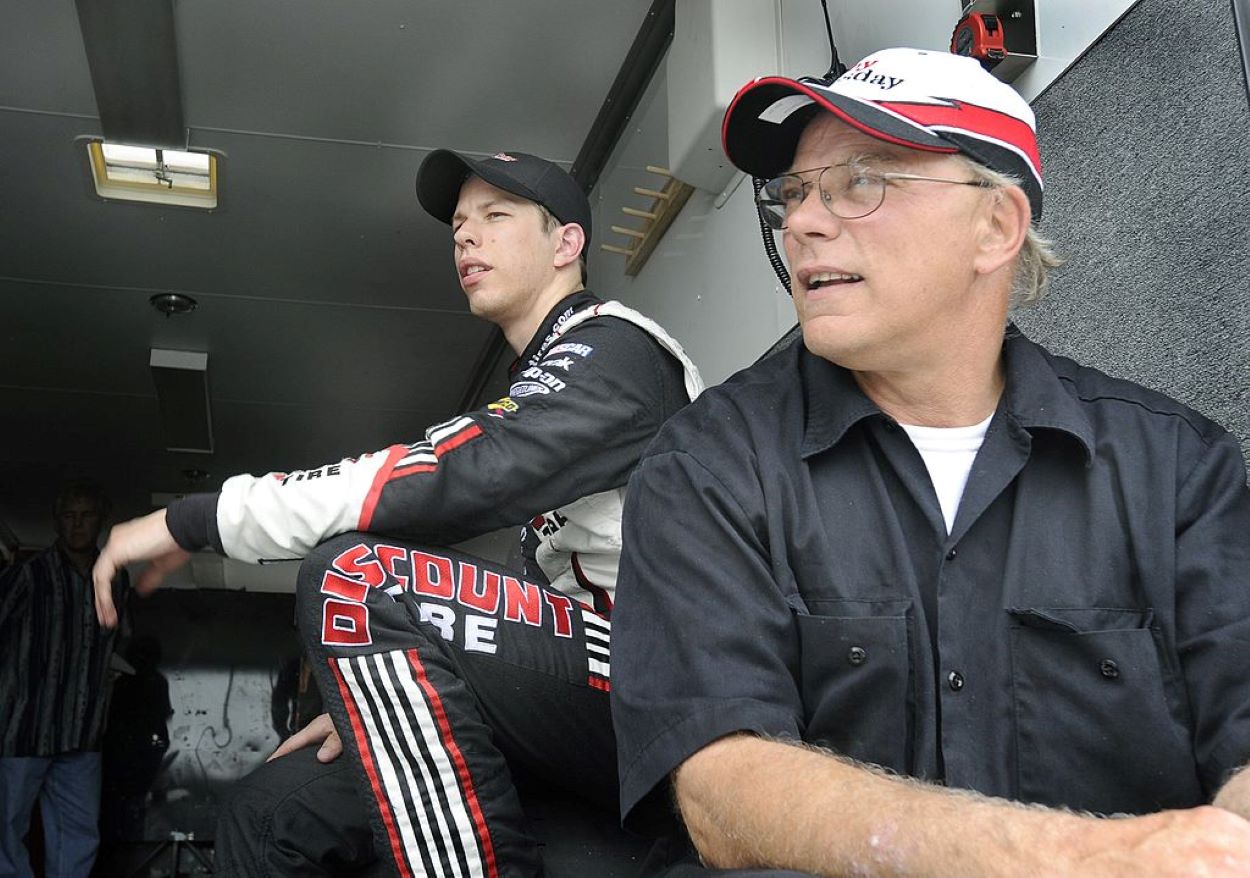 A national audience saw the closeness of the Keselowski bond. He responded harshly to an ESPN reporter's question on his son's bad wreck at Gateway Motorsports Park. Carl Edwards caused the accident.
Bob, the father, looked into the camera, and sternly said: "He ain't gonna kill my boy."
Brad Keselowski has emerged as one of the dominant drivers of his era. He claimed 35 Cup wins. This season he entered into a driver-ownership deal, RFK Racing.
Bob Keselowski earned 24 career ARCA Series victories and the 1989 circuit championship. A Truck Series pioneer, he earned one NASCAR national series checkered flag in 1997.
After retiring from racing full-time, the elder Keselowski started a Truck Series team. He helped propel his sons, Brad and Brian, onto the national stage. Brad admitted his father showed his affection in different ways. Sometimes they could be hard to detect. Showing up at the title-clinching race was one of them.
"I think that probably speaks more volumes than anything else as to how my family is feeling that, those moments," Brad Keselowski said. "… I have to rely on those outside things, so it's good to see him at the racetrack this weekend. …
"That makes me feel like it really means a lot to them."
Bob Keselowski: 'A true racer whose determination and love of the sport embodied the NASCAR and ARCA spirit '
Bob Keselowski is already missed within the stock car racing community. 
"Bob Keselowski was a true racer whose determination and love of the sport embodied the NASCAR and ARCA spirit," a NASCAR statement read. "He worked tirelessly to build his family-owned team, doing whatever it took to compete. Our thoughts are with the Keselowski family during this difficult time." 
Bob Keselowski is survived by his wife, Kay, and their children, Brad, Brian, Dawn, Ginger, and Kathy.
And a lifetime of family racing memories.