Brad Stevens Is Reportedly on the Verge of Destroying the Boston Celtics' Future in His First Year at the Helm
Depending on which report you believe, Boston Celtics president of basketball operations Brad Stevens is either (a) ready to light the fuse and detonate the team he inherited last summer from Danny Ainge or (b) isn't desperate enough yet to pursue embattled Philadelphia 76ers All-Star Ben Simmons. Conflicting reports Monday said the Celtics are either talking to the Sixers about Simmons, who hasn't played this season while attending to his mental health or aren't talking to Philadelphia about its holdout star.
The Celtics are off to a lackluster 4–6 start under new coach Ime Udoka, and their latest loss to the Dallas Mavericks included a terrific decision by Marcus Smart that essentially set up Luka Dončić for his game-winning 3-pointer. Boston got more bad news Monday. All-Star Jaylen Brown, rumored to be the asking price from the 76ers for Simmons, will miss one to two weeks with a hamstring injury.
The Boston Celtics are struggling without a real point guard
Brad Stevens added former Los Angeles Lakers point guard Dennis Schröder in free agency last summer. But Udoka is using Schröder off the bench and starting Smart at the point guard spot. Both players are more combo guards than dynamic floor leaders, with Schröder leading the team with 6.0 assists per game.
For all his warts as a shooter, Simmons have never averaged less than 6.9 assists per game in a season and has a 7.7 career average.
Smart recently created some controversy in the Boston Celtics locker room when he blasted Brown and fellow All-Star Jayson Tatum for not passing the ball enough. That prompted the Celtics to have a players' only meeting and they followed that up with a road sweep in Florida, beating the Orlando Magic by 13 and the Miami Heat by 17.
Then came the ugly loss at Dallas. The Celtics scored five straight points to take a 104–102 lead with 2:12 remaining. However, Boston never scored again. Schröder had a layup blocked by Kristaps Porziņģis, who then tied the game with a putback dunk on the other end.
Dallas was down to nine seconds on the shot clock when Smart inexplicably fouled Dončić. That gave the Mavericks an opportunity for the last shot in regulation. Luka drained a 3-pointer over Jason Richardson and Boston lost.
Brad Stevens either is or is not talking to the 76ers about Simmons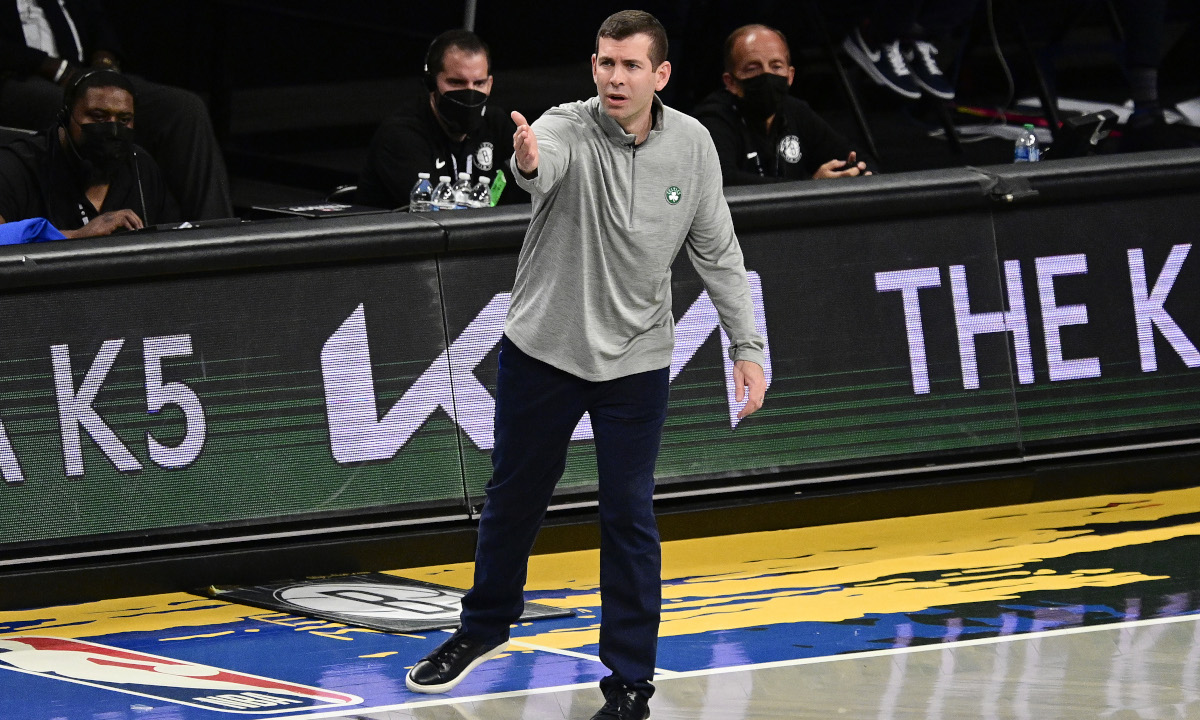 Shams Charania of The Athletic reported Monday that Brad Stevens has approached Philadelphia 76ers president of basketball operations Daryl Morey about Simmons. According to the report, Morey insists Brown be included in any potential trade.
Brown averaged 25.6 points, 6.1 rebounds, 2.5 assists, and 1.3 steals per game before his injury. The scoring is on pace for a career high and leads the Boston Celtics.
But Mark Murphy of the Boston Herald tweeted that the Celtics are not talking to Philadelphia about a Simmons acquisition, deeming the reports "untrue," per a league source.
The Celtics are already in the luxury tax and Simmons has a cap number this season of $31.6 million, plus a 15% trade kicker. Boston's top three salaries belong to Tatum ($28.1 million), Brown ($26.8 million), and Al Horford ($27 million). One of those three players would almost certainly need to be included in a potential Simmons trade. Since Horford worked out so swimmingly before for the 76ers, he's likely not on the table.
Further complicating a potential Boston-Sixers deal is the fact Philadelphia is also over the luxury tax line, so the salaries need to be nearly a dollar-for-dollar match.
Brown and Tatum have similar skill sets, but Simmons might not be a fit for the Boston Celtics either way
Tatum is off to a slow shooting start, hitting just 39.5% overall and 32.1% on a team-high 7.8 3-point attempts per game. He's a 6-foot-8 wing who needs the ball in his hands to be effective.
Brown is shooting better at 49.3% and 39.7%, respectively, but he's also a ball-dominant wing. Simmons is a reluctant shooter who has never developed a consistent jump shot. That means he's at his best with space to operate in the paint surrounded by strong shooters. While the Celtics take 42% of their shot attempts from 3-point range, their 33.2% success rate ranks just 20th in the NBA.
Grant Williams is their best deep shooter this season at 42.3%, but he only plays 17.4 minutes per game. That's great for the second unit, but it doesn't solve the fit for Simmons.
The Boston Celtics don't look anything like the team Stevens coached to three Eastern Conference Finals from 2017–20. But with Brown ailing and Tatum slumping, it might not be the time to think about a blockbuster move. Udoka is 10 games into his coaching tenure. Before Brad Stevens starts a major remodel, it would be wise to make sure he knows what he has first. Making a trade just to make a trade might temporarily excite the fans but the wrong personnel decision could have lasting consequences.
Statistics courtesy of Basketball Reference. Contract information courtesy of Spotrac.