Bradley Beal Just Opened an Unnecessary Can of Worms by Refusing to Kill Rumors His NBA Future Is Still up in the Air
Bradley Beal has spent his entire career with the Washington Wizards and has developed into one of the NBA's premier superstars. The former Florida Gator is a lethal scoring threat and has improved as a playmaker to the point where an entire offense can be run through him. But Beal has been marooned with a franchise that hasn't been anywhere close to a championship contender at any point in his career, instigating rumors that he will eventually demand a trade out of the nation's capital.
He has thus far refused to do so, but he also said he's not in a rush to sign an extension either, in the process unleashing a wave of rumors that will stretch across the NBA — and a wave of panic that will flood D.C. It was a needless comment by Beal, and now the Wizards' star will have to deal with the unavoidable fallout.
Bradley Beal has developed into one of the NBA's top superstars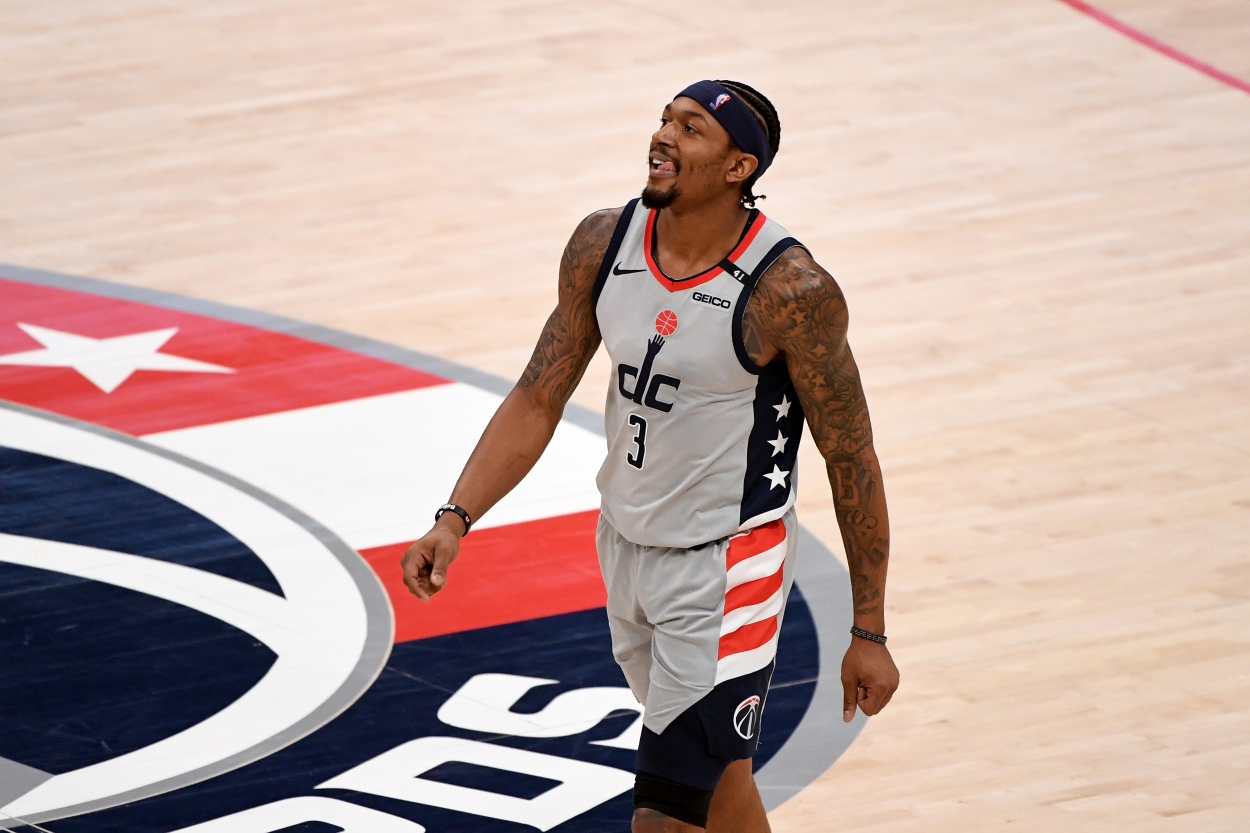 Brad was the third overall pick in the 2012 NBA Draft. He arrived in Gainsville with a reputation as a shooter and the potential to develop a well-rounded offensive game. He also showed glimpses of high-caliber defense during his one-and-done season, posting 1.4 steals and nearly one block per game.
Beal was a somewhat sure thing as far as draft prospects go because of his offensive skill level. But he's developed into an all-NBA player, improving every year he's been in the league.
He's put up superstar stats the past few seasons — more than 30 points, four rebounds, and 1.2 steals per game with a 47.0/35.1/86.6 slash line. The biggest improvement in the three-time all-star's game, though, has been his playmaking. Even with an average-at-best roster around him, Beal has averaged 5.2 assists in 2019-20 and 2020-21 combined.
In his rookie season, he posted 2.4 assists per game. That jumped to 4.5 in 2017-28, to 5.5 in 2018-19, and to 6.1 in 2019-20. This all while finishing second in the league in scoring the last two years.
Bradley Beal is a legitimate superstar but granted he is toiling away with an average franchise.
Beal admitted he's not in a rush to sign a new contract anytime soon
Despite remaining stubborn in his refusal to demand a trade, the nine-year veteran has left the door open for a possible exit from Washington.
Let the speculation begin.
Beal said he's in no rush to sign an extension that is surely on its way from the Wizards, according to The Washington Post:
"My biggest thing is getting us off going to a good start. We worry about the contract money and all that later. I'll let them deal with it when the time comes, for sure. I got all year to sign, too. So I'm not in a rush."

Bradley Beal on his inevitable extension offer from the Wizards
Beal will be heading into his age 28 season in 2021-22. He's been to the postseason five times in his nine seasons and has won only three playoff series. Washington seems to be in a state of perpetual rebuild around its superstar.
His current contract runs through 2022-23, but the former McDonald's All-American has a player option for the final season. Financially, it would be a good call for Beal to opt out after this year as he will be able to sign a veteran max deal that would be worth up to 35% of the salary cap for whichever team he lands with, whether that ends up being Washington or elsewhere.
Obviously, at some point, Beal is going to want to win. If the Wizards can't give him that opportunity, he's likely to try and find it somewhere else. And realistically, he should. But in making his most recent comments, he's only fanning the speculative flames surrounding his exit.
The star shooting guard still has faith in the organization
Even if it can be considered somewhat misplaced, Beal remains confident he can compete for championships in Washington.
As he told the Post:
"We have depth, like, we have playmakers, we have shooters, we have bigs, but we can't just throw it out there and think it's going to work. We have to figure it out, how to mesh and how we jell the right way. But it feels good knowing that we have the pieces we need to be able to compete on a nightly basis to win games."

Beal on the Wizards' roster heading into this season
It's a good sign for the franchise that Beal remains hopeful Washington is the place where he can compete for championships. But it's no secret that if push comes to shove, he could leave for greener pastures.
He just didn't need to expose that secret to the world, because now, the NBA media hive will be swarming.
All statistics courtesy of Basketball-Reference and contract details courtesy of Spotrac.
RELATED: The Next NBA Superstar to Be Traded Won't Be Damian Lillard or Bradley Beal