Bradley Beal Blasts Famous Politician for Trying to Get 'Cool Points' by Tweeting Him and Other NBA Stars: 'You Know Damn Well I Ain't Rockin' With You'
Washington Wizards superstar Bradley Beal has fans across the country, as his elite ability to get the ball into the basket has made him one of the NBA's most popular players. However, while he likely receives encouraging messages from die-hard basketball fans every day, a supportive tweet rubbed him the wrong way.
That tweet came from U.S. Senator Ted Cruz, and Beal has since blasted the politician for trying to get "cool points."
Ted Cruz tweeted about Bradley Beal and other unvaccinated NBA stars
Beal is among the currently unvaccinated NBA stars. And while he still gets to play in home games in D.C. — unlike unvaccinated players in New York who cannot compete in home contests due to the city's mandate — he still must take on different day-to-day responsibilities.
According to The Washington Post, Beal must get tested daily. He also has to maintain social distancing during medical treatments and meetings inside the team facility.
The Wizards star said he isn't anti-vaccine and is open to eventually receiving it. But his status still led to republican politician Ted Cruz mentioning him in a supportive tweet a little over a month ago.
"I stand with Kyrie Irving. I stand with Andrew Wiggins. I stand with Bradley Beal. I stand with Jonathan Isaac. #NBA #YourBodyYourChoice," Cruz tweeted on Sept. 29.
The senator then continued by giving LeBron James a shoutout for refusing to say that other people should get the vaccine.
"I've never said this before: I agree with [LeBron]," he posted. "… [LeBron] is being courageous here. With his box-office power, he could be even more courageous—he could SOLVE the problem—by saying: 'I stand w/ my fellow players. And I won't play in any arena that bans another NBA player because they make a personal healthcare choice.'"
The Wizards star blasted Ted Cruz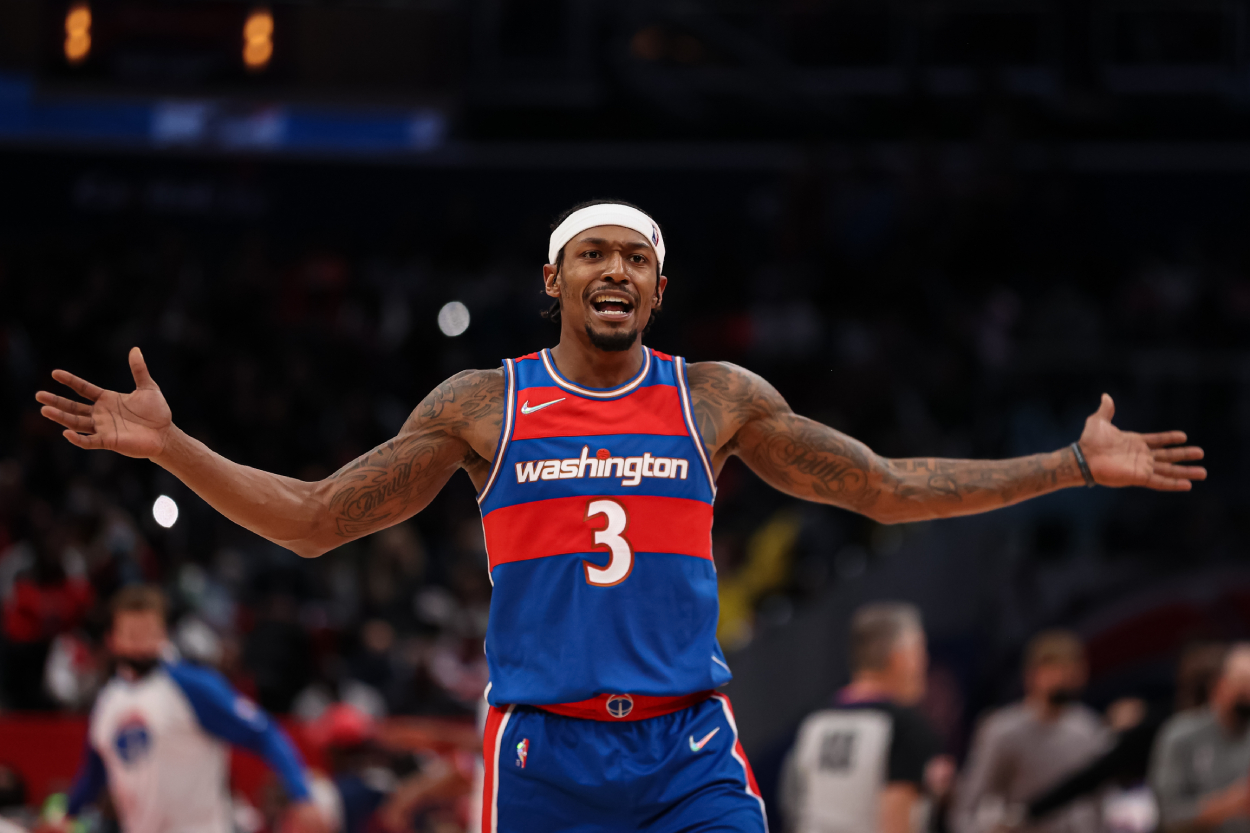 Ted Cruz may have been sending a tweet in support of Bradley Beal, but it seems that the Wizards star doesn't want to be associated with the senator.
"Don't attach me to that. Because that's not what I was trying to do. I'm not sitting here advocating for people not to get it," he said of Cruz's tweet to The Washington Post. "… I've never met you, I don't talk to you, and I don't support you or anything you do. That's a little weird. That's why I don't like social media. Ted, you know damn well I ain't rockin' with you. You're not going to get no cool points if that's what you're in it for." 
Despite Beal clearly not wanting Cruz to tweet him, the politician saw his comments and has since responded via Twitter. 
"Doesn't matter. You may feel obliged to have woke politics. You may genuinely believe it," he posted. "Regardless of your partisan affiliation, I support YOU and YOUR RIGHT to make YOUR OWN medical choices."
The vaccine debate isn't going anywhere, and Cruz and Beal are now just adding more fuel to the fire.
Bradley Beal is in a completely different situation than Kyrie Irving despite both stars being unvaccinated
As mentioned earlier, Beal is likely glad that's he plays in a town like D.C. and not New York City.
Brooklyn Nets star Kyrie Irving is another unvaccinated player, and the New York mandate prohibits him and other stars who don't have the vaccine from playing in any home games. With the team not wanting Irving to be a part-time player, the Nets have since decided to also hold him out of away games until he's allowed to play full-time, whether that comes via his decision to get vaccinated or some other mandate that changes his playing status.
Irving's absence has since made things difficult for the Nets, who expected him to be a part of their Big Three. But after starting 2-3 this season, they have won five straight and are 7-3. Who knows what their record would be, though, if Irving were on the court, as they may never get to find out what their true potential is if he doesn't play at all this season.
The Wizards, on the other hand, are 7-3 with their star. Beal, however, is struggling individually, averaging 24.2 points and shooting a career-low 25.4% from 3-point range. But, unlike the Nets, they will likely get a chance to see what their true potential is whenever Beal breaks out of his slump.
All in all, it's a weird time in the NBA and various other sports. Just because Beal and other stars are unvaccinated, though, doesn't mean they want politicians like Cruz associating themselves with them.
Stats courtesy of Basketball Reference
According to the Centers for Disease Control and Prevention (CDC), "Over 423 million doses of COVID-19 vaccine have been given in the United States from December 14, 2020, through November 1, 2021. COVID-19 vaccines are safe and effective."