Bradley Beal Is On a Path to Become 1 of the Most Lethal Scorers in NBA History Thanks to His Critical Offseason Adjustment
Bradley Beal has already asserted himself as one of the best scorers in the NBA in recent seasons. Yet, he's zeroed in on a specific adjustment that could make him one of the best scorers in league history.
The Washington Wizards star excels at creating off the dribble and filling it up in the midrange. He can get to the cup and finish through contact. As far as Beal sees it, the final step is adding more range and being less hesitant to shoot it from deep.
Bradley Beal put up big stats and finished second among the NBA scoring leaders
Bradley Beal's stats back up his status as one of the best pure scorers in the NBA.
Beal's scoring numbers have risen in each of the past three seasons. He's really made a leap in the last two years, averaging 30-plus points during the 2019-20 and 2020-21 campaigns.
This past season might have been Beal's best in terms of scoring. Not only did he average a career-high 31.3 points, but he also shot a career-high 48.5% from the field on 23 field goal attempts per game, his highest volume in any single season. His 59.3% true shooting clip was the second-best mark of his career.
It was an efficient season of putting the ball in the hoop for Beal, who finished second behind Golden State Warriors Stephen Curry in the race for the scoring title. For his part, Beal hopes to take a page from Curry's book in being a more well-rounded scorer.
Beal is focused on honing his perimeter shooting this offseason
Interestingly, Beal was more of a three-point sniper earlier in his career.
In three of his first five seasons, the former Florida product shot better than 40% from beyond the arc. Beal shot 40.4% from the three-point arc on 7.2 attempts per contest during the 2016-17 season, when his scoring average rose from 17.4 to 23.1 points. He excelled as an outlet for point guard John Wall and routinely knocked down corner triples.
However, as Wall became sidelined with injuries, Beal took on more ball-handling and playmaking responsibilities. He hasn't been as efficient from the perimeter in the last few seasons, shooting a career-low 34.9% from deep this past season.
Beal will still assume much of the ball-handling duties and likely maintain a high usage rate this season. However, he told NBC Sports Washington's Chase Hughes that he is trying to expand his range so as to make the three-ball a more prominent feature of his scoring repertoire.
"Deeper threes. I'm not trying to compete with Dame [Lillard], I'm not Logo Lillard. But I want to shoot deeper threes and shoot more threes,"  Beal said when asked about his primary offseason focus.
"You know I need to shoot more threes. You probably say it all the time. And, obviously, make them. I have to make them."
Beal should benefit from better floor-spacing this season. The Wizards added strong perimeter threats like Kentavious Caldwell-Pope and Aaron Holiday to the roster. First-round pick Corey Kispert, out of Gonzaga, was one of the top shooters in the country in college.
The 28-year-old is still likely to see his share of double-teams and defensive attention. Still, the Wizards should be able to throw different looks at opposing teams, and Beal can catch individual defenders off-balance if he eventually feels more comfortable shooting from well beyond the three-point line.
That adjustment, if successful, could eventually help Beal become one of the all-time NBA scoring leaders.
Can the Wizards star be one of the greatest scorers in NBA history?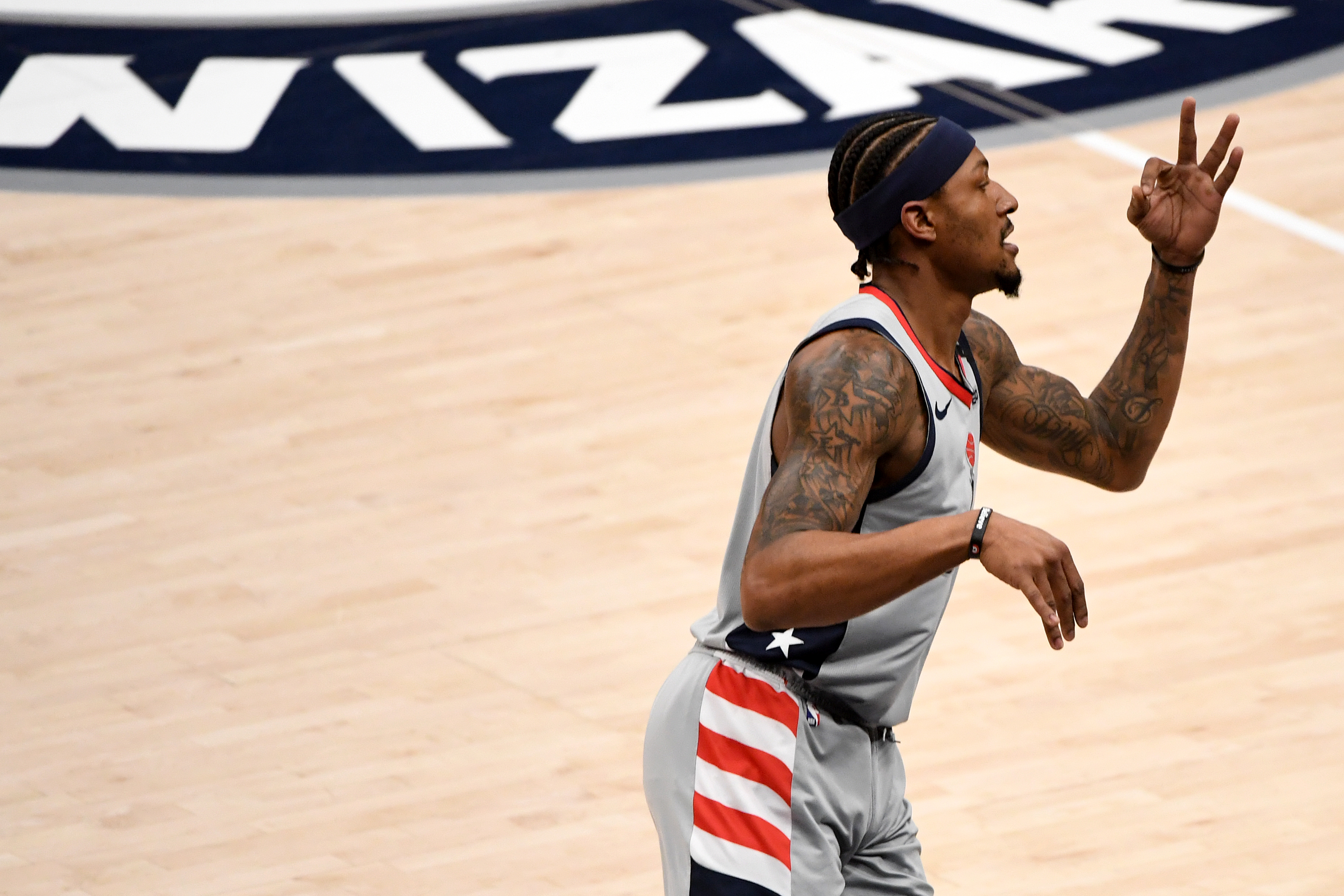 The most notable takeaway about Beal's 2020-21 season is probably this: he clearly has tremendously improved his total scoring, which means his overall offensive game has grown leaps and bounds.
Again, Beal still managed to post a career-high field goal percentage despite his struggles from beyond the arc. His shot-creating abilities are as strong as any other star in the game, and he also told Hughes he hopes to improve his post-up game.
Imagine Beal starts shooting deep threes anywhere close to the same efficiency as Curry's or Damian Lillard's of the basketball world. Who in the NBA is going to stop him from getting the looks he wants? He'd be one of the most unstoppable scorers in the league.
The Wizards made it clear in recent seasons that they see Beal as a franchise player they can build around. The star 2-guard feels he can be even more than that. He wants to be one of the best scorers in NBA history.
Stats courtesy of Basketball Reference.
RELATED: Spencer Dinwiddie Will Make Just $1 If the Wizards Win the NBA Championship