Bradley Beal Not Hitting 'Panic Button' but Issues Stern Message That Should Concern Wizards Fans
Not so long ago, Bradley Beal and the Washington Wizards enjoyed the best start in the franchise's history since the 1974-75 Washington Bullets. Things have changed quite a bit in the last three weeks.
The Wizards are 4-8 since Nov. 17 and have lost four of their last five games ahead of a Dec. 8 date with the Detroit Pistons. After previously sitting atop the Eastern Conference standings, Washington now holds the No. 5 spot. Wes Unseld Jr.'s team is on one of the worst skids among viable NBA playoff contenders.
Is this the beginning of a big slide? Beal doesn't believe that to be the case. Still, his stern message following a Dec. 6 loss to the Indiana Pacers lends cause for concern.
Bradley Beal said the Wizards must show more "urgency" in their effort
Bradley Beal is desperately trying to get his guys going. Much of his motivational tactics implore Wizards teammates to show more effort.
Beal said over the weekend that Washington is getting out-hustled by scrappy teams. He also questioned the validity of the team's early-season wins.
The 28-year-old assured Wizards fans (h/t NBC Sports Washington) he is not sounding the alarm just yet. He also insisted the players in Washington's locker room remain confident. However, Beal wants everyone to up their collective energies.
"I don't hit the panic button. I won't hit the panic button and I don't think anybody here is hitting the panic button. But there is a sense of urgency that needs to increase from everybody just in terms of our approach, our effort. We each just gotta give a little bit more effort. We have the skill and the talent, that's never a question or a problem."

–Bradley Beal, NBC Sports Washington
The Wizards have often appeared lifeless in the past few weeks.
Washington trailed by 15 in the first half of the Pacers loss. It fell behind by as much as 25 points the night before against the Toronto Raptors. The Cleveland Cavaliers led the Wizards by as much as 36 in a Dec. 3 tilt between the two teams.
Slow starts, turnovers, and poor defense could all be products of carelessness and a lack of energy. Beal said he wants the Wizards to rediscover the "joy" in basketball.
One thing is for sure: Washington needs to find some semblance of consistency and show more effort, especially considering Beal's uncertain future with the organization.
Continued lackluster performances might lead to Beal feeling frustrated ahead of the trade deadline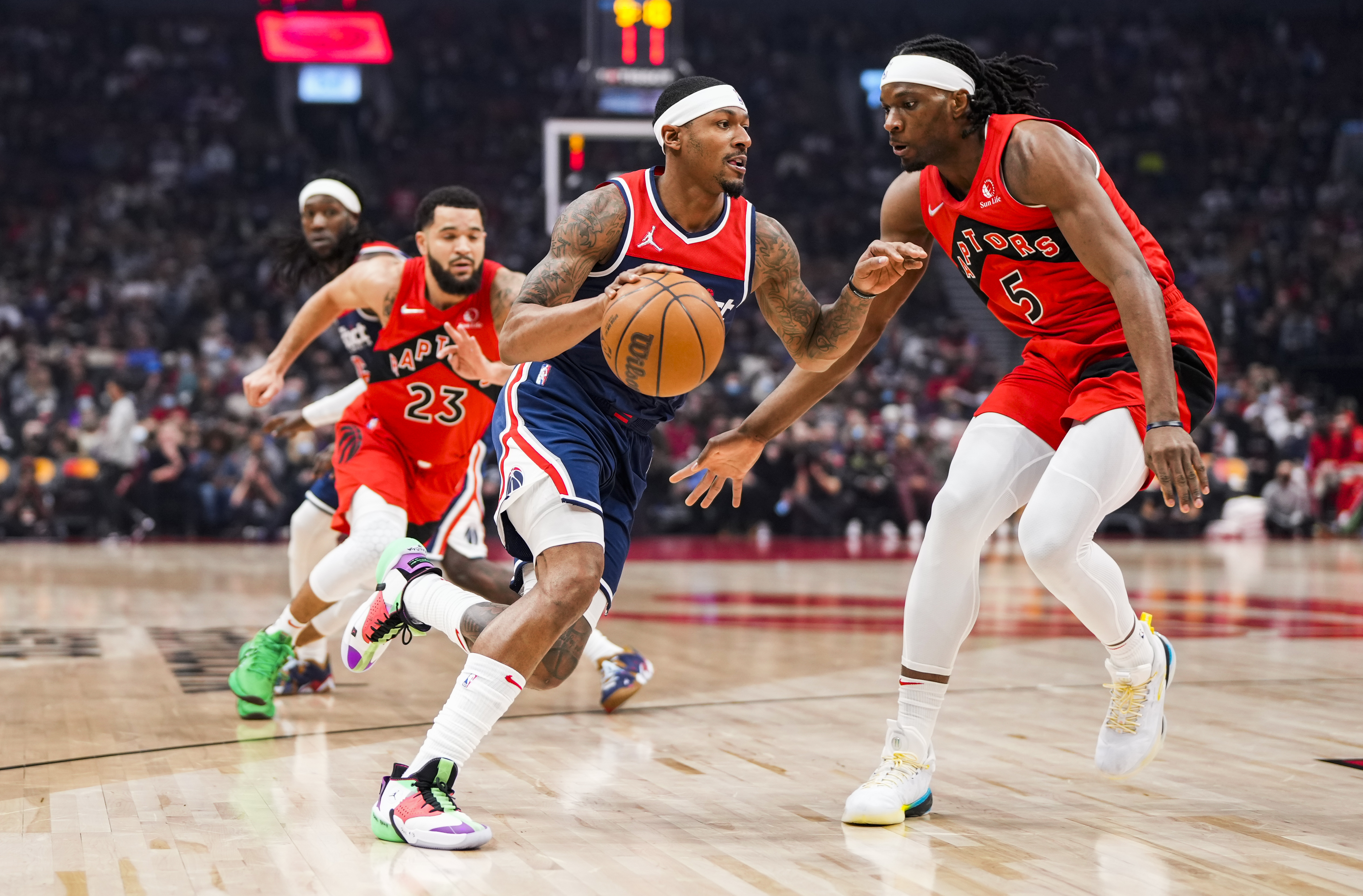 Early in the season, Beal reiterated his desire to build a winner in D.C. However, he's unlikely to want any part of a team lacking in desire and the other intangibles necessary to compete.
If the Wizards do not show fight over the course of the next month-plus, there's a real possibility Beal could start thinking about making a trade request.
The three-time All-Star is, for all intents and purposes, in the final year of his contract. Beal has a $36.4 million player option for the 2022-23 season, but he's almost guaranteed to decline it in pursuit of a more lucrative, long-term deal.
Should Washington continue to slide, it might have to grapple with the possibility of Beal being hesitant to re-sign and thus consider trading him to reap some value.
The Wizards face a critical period in the coming weeks. However, it must also be noted that Beal himself has to play better to get the franchise back on a winning track.
Beal must step his game up if the Wizards hope to stay in playoff position
Bradley Beal cannot afford to simply ask more from his teammates. Given his start to the season, he needs to hold himself more accountable.
Beal's scoring is way down. After averaging over 30 points in each of the past two seasons, his scoring average sits at an underwhelming 22.5 points. His assists are up to 5.9 dimes per contest, but the Wizards need him to score if they want to be successful.
The St. Louis native's improvement has to start with perimeter efficiency. He spent the majority of the offseason working on his 3-point shot but is shooting just 26.6% from beyond the arc on 5.8 attempts per game. That's not conducive to success, especially considering the Wizards (as a team) struggle to shoot the ball well from deep.
Beal announced on Dec. 8 that he signed an extension with Jordan Brand. Fittingly, he must show Jordan-esque leadership in making improvements to his own game and inspiring his teammates to play winning basketball. Otherwise, Wizards fans should brace for the possibility of a breakup.
Stats courtesy of Basketball Reference. Contract information courtesy of Spotrac.