Bradley Beal Just Praised a Vital Wizards Development That Might Guarantee His Staying in DC
The Washington Wizards' early-season success brings a bittersweet element to the table. On the one hand, the Wizards are off to one of the best starts in franchise history and look like dark horses in the Eastern Conference. However, questions about Bradley Beal's future loom in the background.
Beal has a $36.4 million player option for the 2022-23 season that he almost certainly will decline. Thus, the star combo guard can become a free agent at the end of the current campaign. That might sound like an unwelcome prospect for Wizards fans, given he'd almost certainly have a massive market around the NBA.
To that end, though, Beal's emphatic endorsement of general manager Tommy Sheppard could foreshadow his re-signing with Washington.
Tommy Sheppard and the Wizards made it abundantly clear they would build around Bradley Beal
In recent years, Tommy Sheppard made numerous moves to hint at the Wizards' insistence in building around Bradley Beal as the franchise centerpiece.
Sheppard first declared DC belonged to Beal when he traded John Wall, the former face of the franchise, to the Houston Rockets in exchange for Russell Westbrook before the 2020-21 season. When that experiment failed, Sheppard did what he could to reset.
The Wizards traded Westbrook to the Los Angeles Lakers for Kyle Kuzma, Montrezl Harrell, and Kentavious Caldwell-Pope. While the trade made Beal the lone superstar in Washington, it infused the Wizards organization with players who offered different skill sets at different positions. The new acquisitions gelled quickly with their new teammates and new city.
Sheppard didn't stop there, though. He brought Spencer Dinwiddie into the fold, giving the Wizards a necessary secondary playmaker who could take some of the ball-handling and scoring responsibilities off of Beal.
The moves are paying dividends. Washington is 11-5 through 16 games. Additionally, Sheppard recently received a promotion and contract extension, much to Beal's delight.
Beal is thrilled with Sheppard's contract extension
Bradley Beal's reaction to Tommy Sheppard's contract extension is telling.
Beal expressed sheer delight regarding Sheppard's new role with the Wizards. He lauded (h/t NBC Sports Washington) Sheppard's work ethic and reinforced the idea that Sheppard is the decision-maker the franchise needs to build a contender.
"I see Shep in here every single day. He's very in tune, he cares. He's an awesome person and he loves the game. He just wants his team to do well, he wants his team to get better and he holds us to a certain standard. I respect it and I love it. I'm definitely happy for him. He's just constantly working, he's constantly checking on me, checking on everybody. He's a great GM, I'm happy for him and his promotion and his next few years here."

–Bradley Beal, via NBC Sports Washington
That's a pretty ringing endorsement from a star whose future will ultimately become a focal point for Sheppard. Although Beal might have created some uncertainty by saying he'd wait to get into contract negotiations, Washington's strong start and decisive actions in recent seasons have to appeal to his sensibilities.
Beal's praise for Sheppard speaks volumes about the shared vision between the two men. Beal's trust in the front office could determine his future in DC.
Will Beal re-sign with the Wizards?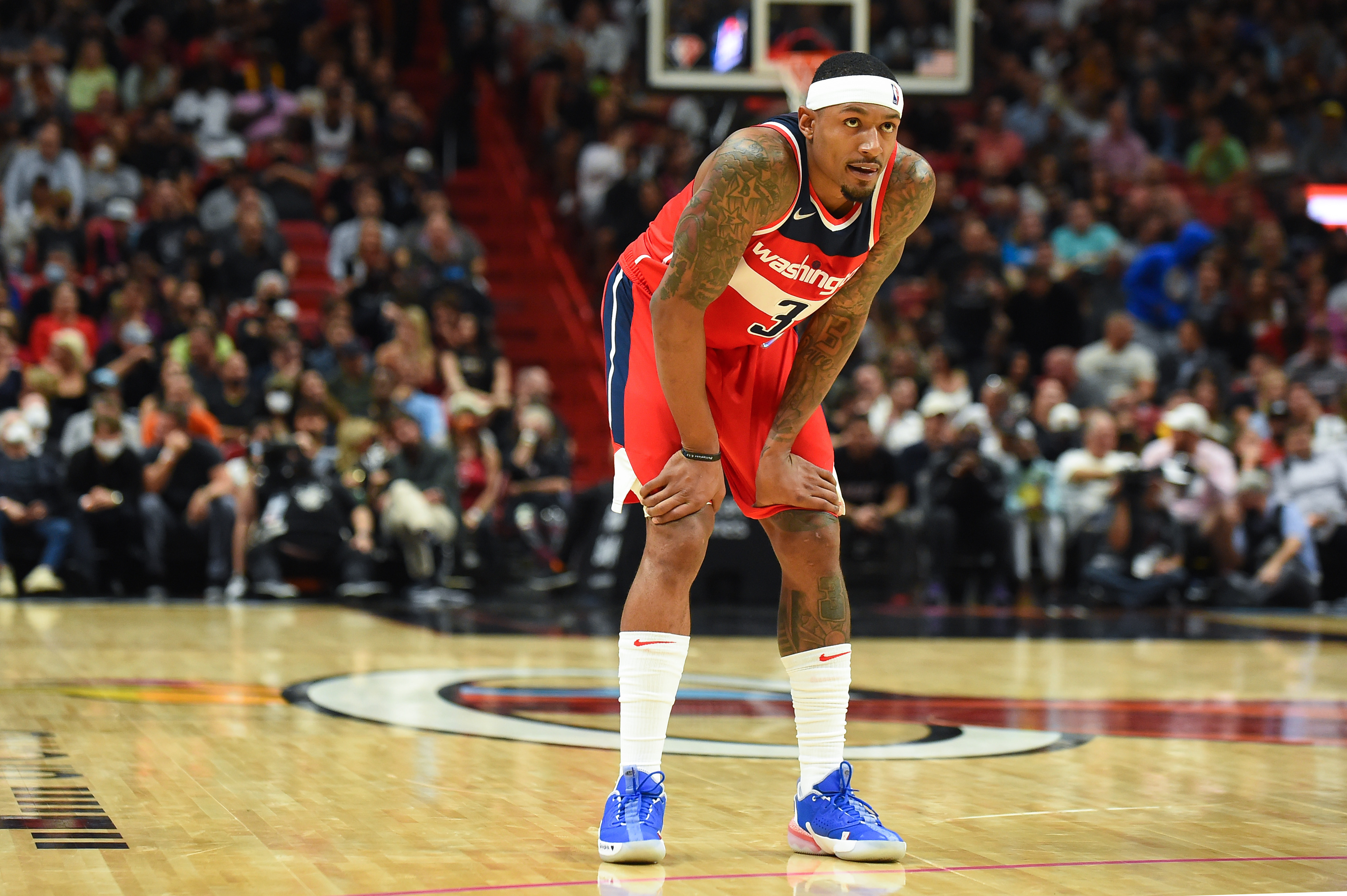 A lot can change between now and the end of the season. However, Washington's early winning ways and the developing working relationship between star and GM are encouraging regarding Bradley Beal's future with the Wizards.
As a 10-year veteran, Beal will be eligible for a maximum starting salary of $41.7 million. The Wizards do not have to worry about going over the salary cap, given that they have Beal's Bird Rights, and their future books look much cleaner after the Westbrook trade.
This past offseason became a crucial turning point for the Wizards. The work Sheppard did to revamp the roster has done wonders thus far and drawn praise from Beal. Ultimately, though, those moves are just the first step in a more extensive process, and they mean nothing if Washington cannot retain their franchise cornerstone.
Fortunately, Beal's backing of Sheppard and previous commitments to winning with the Wizards point to him eventually deciding to stay in DC.
Contract information courtesy of Spotrac.