Bradley Beal Reignites Absurd Trade Speculation With a Single Cryptic Tweet
Washington Wizards star Bradley Beal's trade prospects have taken multiple turns this offseason, and his latest tweet is sure to reinvigorate an unholy swath of NBA trade rumors.
Beal's future in D.C. was thought to be secure after the Wizards traded Russell Westbrook to the Los Angeles Lakers before the 2021 NBA Draft. The deal brought Kyle Kuzma, Montrezl Harrell, and Kentavious Caldwell-Pope back to the Wizards while freeing up future cap space, money the Wizards figured to eventually use on a max contract for Beal.
Yet, Beal has again stoked trade rumors with a single tweet.
Bradley Beal reportedly had "no desire" to leave Wizards after Russell Westbrook trade
The Westbrook trade apparently cured all ills.
Shams Charania of Stadium and The Athletic reported Beal had "no desire" to leave Washington in the immediate aftermath of the Westbrook trade. The deal was a clear indicator the Wizards wanted to build around Beal and free up the cap space to sign him to a massive contract. It also gave Washington draft capital and assets to possibly flip in free agency.
The news surely provided Wizards fans with a breath of fresh air. Beal was the subject of ample trade rumors during the buildup to the 2021 NBA Draft, and other stars around the league even employed subtle recruiting tactics to try to lure him away from Washington.
Yet, Beal himself never once publicly stated a desire to leave the Wizards. He didn't sway from a desire to win in D.C. and seemed encouraged with the direction management was taking.
However, Beal's latest social media maneuver is sure to encourage a ridiculous amount of trade speculation.
Beal gets cryptic on Twitter
It took just one emoji for Bradley Beal to send Twitter into a frenzy.
Beal tweeted out the "thinking face" emoji on Wednesday as free agency rolled along. Things got even more interesting when his wife, Kamiah, tweeted "Oh wow….." just under an hour later.
The tweets aren't any reference to a Beal trade. It seems unlikely news wouldn't leak out to the media if Beal were involved in discussions of some sort or suddenly reconsidering his future with the Wizards.
Might the tweets be about contract discussions? Numerous stars have signed big extensions in the past few days. Beal could technically be in the final season of his current contract since he can opt out of the 2021-22 campaign. Perhaps the star combo guard is upset he and the Wizards haven't come to terms on a new deal.
Or, maybe the tweets are about something else entirely.
The tweets might be referencing Washington's pursuit of Spencer Dinwiddie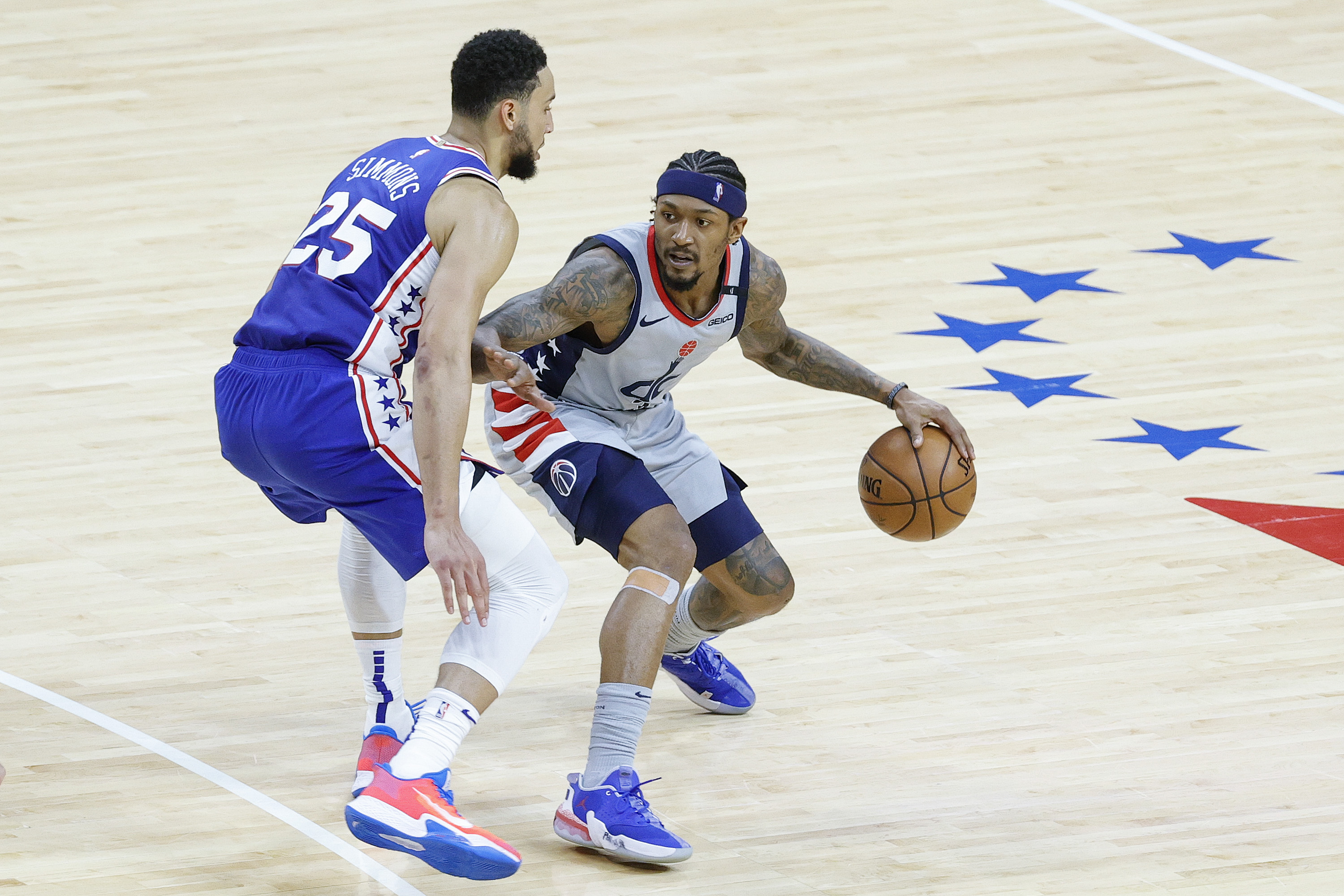 It's possible Beal's tweet is alluding to the ongoing saga regarding the Wizards' hopes of landing Spencer Dinwiddie.
The Wizards were thought to be finalizing a sign-and-trade for the former Brooklyn Nets guard earlier this week, but it had not happened as of Wednesday afternoon. Danny Leroux and Fred Katz of The Athletic explained the complexities of Dinwiddie-to-Washington, noting a deal could take up to five teams.
Beal might be expressing some confusion at the fact a deal has yet to be finalized. Then again, the tweet might not mean anything of significance at all. Regardless, Beal's cryptic nature has given fans the excuse to indulge in all sorts of trade chatter.
RELATED: Bradley Beal and Jayson Tatum are Olympic Teammates, but Is That Just the Beginning of a Long-Term Relationship?