Bradley Beal Rumors: Don't Confuse Extension Refusal With Desire to Leave the Washington Wizards
The Washington Wizards crashed back to earth after their surprisingly strong start. The Wizards are in a tightly packed group of four teams jockeying for the last three spots in the Eastern Conference play-in tournament. With the longest-tenured player in Washington, Bradley Beal, declining a four-year, $181 million extension, the first instinct might be to craft exotic trade scenarios for the All-NBA guard.
The reality is that Beal has a lot of reasons not to sign an extension. The third overall pick in the 2012 NBA Draft also maintains he has no desire to leave DC.
In short, Beal isn't going anywhere.
Bradley Beal played a role in assembling the current Washington Wizards
The Washington Wizards were the surprise of the NBA in October and November. They opened 10–3 after adding free agent Spencer Dinwiddie and acquiring Kentavious Caldwell-Pope, Montrezl Harrell, and Kyle Kuzma while dealing Russell Westbrook to the Los Angeles Lakers.
But the law of averages caught up with the Wizards. Teams started making the open shots their defense surrendered. Since that hot start, new coach Wes Unseld Jr.'s club is 13–20 entering their Jan. 23 matinee against the Boston Celtics.
At 23–23, Washington is ninth in the East, a half-game behind the Toronto Raptors (who beat them on Jan. 21) and only a game up on the 11th-place New York Knicks. With seven teams in the conference within 3.5 games of the top, the Wizards are in the second tier of four teams (the Celtics and Atlanta Hawks are also in the mix) looking to claim a play-in berth.
Washington was the eighth seed last season via the play-in. Boston beat the Wiz to secure the No. 7 seed before Beal and the gang knocked out the Indiana Pacers. It was a short playoff stay; the Philadelphia 76ers bounced Washington in five games.
But according to Brian Windhorst of ESPN, Beal was involved in the decision to trade Westbrook. He actively recruited Spencer Dinwiddie, a valuable combo guard with the Brooklyn Nets.
But if you're still thinking someone could lure Beal away from Washington, you're not paying attention.
Bradley Beal keeps telling us he wants to stay in DC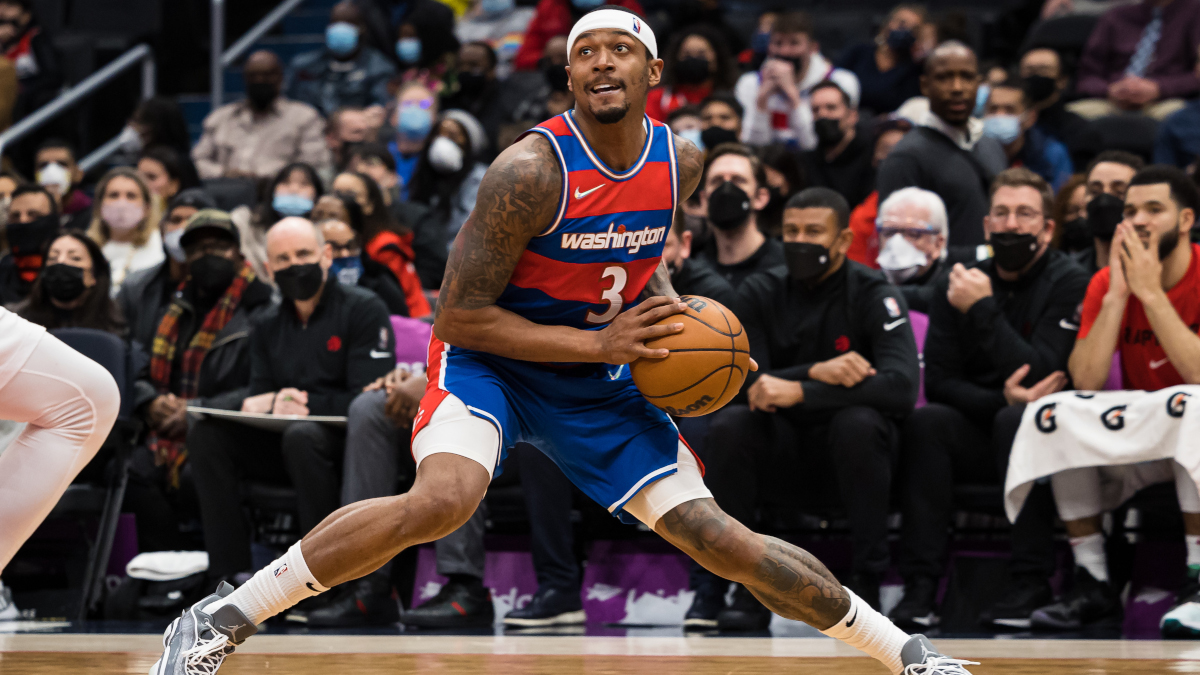 Injuries derailed Bradley Beal early in his career. In three of his first four seasons, he missed at least 19 games a season. But then-Washington Wizards general manager Ernie Grunfeld believed in Beal and signed him to a max contract as a restricted free agent (five years and $127 million) in July 2016.
The St. Louis native rewarded that faith by topping 20 points a game for the first time in 2016–17 while playing a career-high 77 games. Beal reached the All-Star level the next two seasons while appearing in every game.
He hit the elite level as a scorer in the last two seasons. Beal averaged 30.5 points a game in 2019–20 and topped that with 31.3 a night last season while earning his first All-NBA nod.
He's had chances to leave the Wizards and hasn't. In October 2019, Beal signed a two-year, $72 million extension that included a player option for 2022–23.
Yes, the three-time All-Star can hit the open market next summer for the first time in his career. But that's not the plan, at least not according to what he said to Adrian Wojnarowski on The Woj Pod:
"If I have a chance to create my own legacy and make it work here with the team that drafted me, then why not?"
If that's true, and there's no reason to believe it's not, there is a two-pronged next step for Beal and the Wizards.
Beal will opt out to re-sign with the Washington Wizards
As previously mentioned, Bradley Beal has a $37.3 million option for next season. He declined a potential four-year, $181 million extension (the most he could get since he previously extended).
But when the Washington Wizards' franchise player hits free agency in July (not November, not August, as some normalcy returns to the NBA calendar), one of the first announcements will likely be that Beal is re-signing with Washington.
He's got 60 million reasons to do so. The Wizards can offer Beal five years and $241 million using his Bird rights. That's one year and $60 million more than he could get with an extension. It's also considerably more cash than any other team could offer: four years and $179 million is the cap for any other franchise.
Beal has warmed up after a chilly start. He's scoring 23.7 points a game, his lowest mark since 2017–18. He's also at a career-low 30.3% from 3-point range, worse than last year's 34.9% mark.
But Beal is handing out a career-high 6.5 assists nightly and is converting a career-best 69.8% of his rim attempts, which are up over last season.
This season's most significant declines are from floater range (three to 10 feet), where his accuracy fell from 53.0% to 41.8%, and from deep.
Beal isn't going anywhere. The subject of endless trade speculation for almost a decade, it's all but a sure thing that the only jersey Bradley Beal will pull on at media day next fall is the same No. 3 for the Wizards.
Statistics courtesy of Basketball Reference. Contract information courtesy of Spotrac.
Like Sportscasting on Facebook. Follow us on Twitter @sportscasting19.