Bradley Beal Said Goodbye to Russell Westbrook This Offseason but the Wizards' Underrated Moves Might Still Be Enough to Keep Him Around and Make Them a Force to Be Reckoned With
The Washington Wizards made a significant, if not team-wide, overhaul this offseason. In the NBA's biggest summer blockbuster, the Wiz sent Russell Westbrook to the Los Angeles Lakers and received several players in return. Washington was involved in a slew of other deals as well and added a first-round pick in the form of Gonzaga's Corey Kispert to its stable of assets. While franchise superstar Bradley Beal waved goodbye to Westbrook, the Wizards' underrated offseason might just be enough to keep him around and help the team to consecutive playoff berths.
Beal is one of the hottest names on the trade market but has so far refused to demand out of Washington. Maybe the franchise has given him a few more reasons to stay.
Westbrook is gone, but the Wizards surrounded Beal with a new cast of role players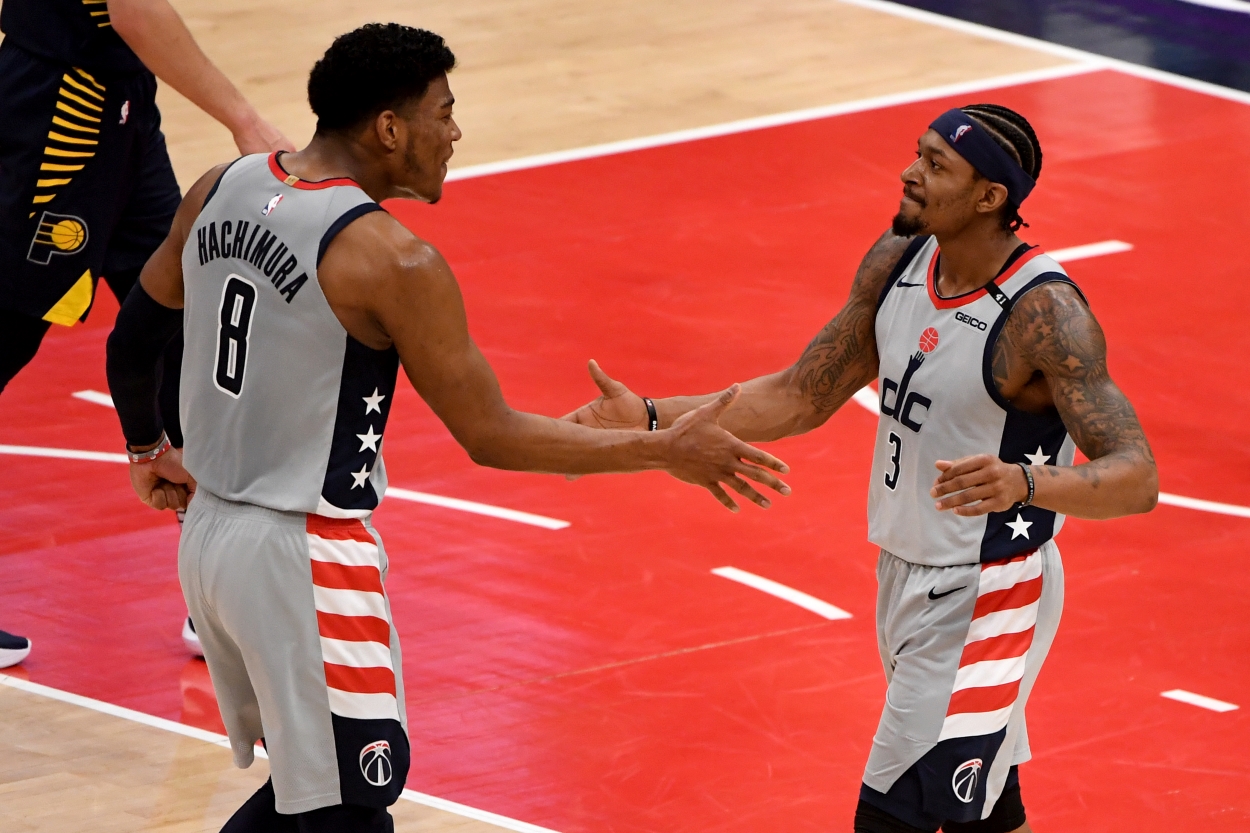 Westbrook joined Troy Brown Jr. and Moe Wagner on the train out of the nation's capital. Beal and Westbrook led the franchise to the playoffs last season, but Washington was eliminated in the first round by the Philadelphia 76ers. The team also fired head coach Scott Brooks and hired Wes Unseld Jr. to lead from the bench.
Washington kept the remainder of a young lineup from last year but also added to it. There will be competition for rotation spots on a deeper roster filled with a combination of both developing players and solidified vets.
There weren't many changes, but the ones the organization did make around Beal were significant.
Bradley Beal will be surrounded by a deeper roster in 2021-22
The team sent Westbrook packing in a relatively surprising deal, but the Wizards received Kentavious Caldwell-Pope, Kyle Kuzma, and Montrezl Harrell in return. Caldwell-Pope is a 3-and-D guard who can play with or without Beal; Kuzma is an offensive threat with playoff experience; and Harrell is a pure-hustle rebounder and defender and a former Sixth Man of the Year Award winner.
Washington also brought in Spencer Dinwiddie and Aaron Holiday in two separate deals to man the point guard spot. Dinwiddie was in the midst of a breakout season in 2019-20 before he tore his ACL. The Colorado product was averaging better than 20 points and nearly 7 assists as a starter with Brooklyn that year.
Holiday is a fourth-year guard who has played mainly off the bench but is a 37.2% career 3-point shooter who plays within a system and takes care of the ball.
Kispert is a sharpshooter selected 15th overall in the 2021 Draft. The 6-foot-7 wing shot 44% from deep at Gonzaga. Washington still has third-year forward Rui Hachimura, stretch big Davis Bertans, and last year's first-round draft pick Deni Avdija.
6-foot-10 center Thomas Bryant tore his ACL near the end of last season but is expected back at some point this year. Before going down, Bryant was averaging 14.3 points per game on a career-high 42.9% shooting from three.
Westbrook is gone, but it seems like addition by subtraction for Beal's supporting cast.
Beal will still be the star, but he has more to work with than he did last season
Westbrook led the team in minutes per game last year. More minutes will now go to Beal.
Behind Westbrook were Raul Neto (21.9 minutes per game) and Ish Smith (21.0), who will now be replaced by Dinwiddie and Holiday. Caldwell-Pope, Kuzma, and Harrell will provide significant minutes that were soaked up by players like Bertans, Avidja, and Jerome Robinson last year. Kispert is a better 3-point shooter than anyone in last season's rotation.
It's significant upgrades across the board around Beal.
The 28-year-old Florida guard has consistently reiterated he wants to stay in Washington for the time being. Maybe the offseason roster enhancements and a playoff surge will keep it that way.
All statistics courtesy of Basketball-Reference and transaction information courtesy of Spotrac.
RELATED: Ben Simmons' Trade Demand Could Help the Philadelphia 76ers Score the Missing Piece of Their Championship Puzzle