Bradley Beal Seemingly Makes Foolish Comment After Embarrassing Loss, but Quickly Takes to Twitter to Clear Things Up
Bradley Beal and the Washington Wizards have had a nice start to the season, but they recently suffered a pretty embarrassing loss to the Cleveland Cavaliers.
After the contest, it appeared that Beal made a pretty disrespectful comment in regards to the team that just beat him. But the three-time All-Star quickly took to Twitter and revealed that he had actually just had some bad luck.
The Cleveland Cavaliers embarrassed Bradley Beal and the Wizards
Despite getting off to a 14-9 start this year, Bradley Beal and the Wizards looked like anything but a playoff team in their most recent game against the Cavaliers.
The Cavs won by a final score of 116-101 behind 32 points, 10 assists, and eight rebounds from Darius Garland, and 28 points and 13 rebounds from Jarrett Allen. But that final score wasn't an accurate indication of how bad the game actually was, as Cleveland led by 36 points at one point during the third quarter.
Beal was one of many Wizards players who didn't play well, as he scored 14 points on 6-of-17 shooting, and it appeared that he made a pretty disrespectful comment after the loss.
Bradley Beal cleared up what appeared to be a foolish comment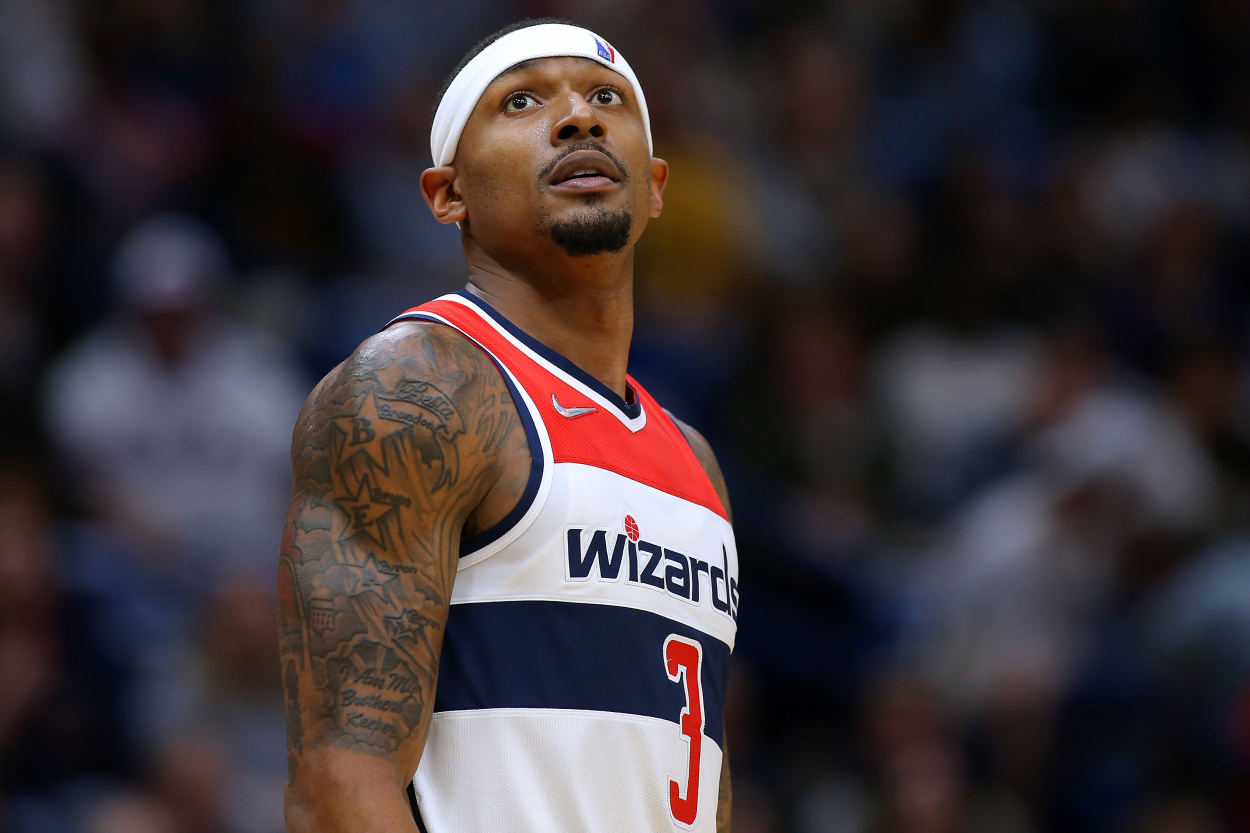 After seeing the Cavs dominate his team in D.C., Beal spoke to the media, and he gave one quote, in particular, that grabbed the attention of fans across all of Ohio.
"I think a lot our wins earlier in the year were kind of, we know we can't win like that against good teams," Beal's comments read on ESPN's recap of the game provided by the Associated Press. "We have these crappy teams who, granted they have good size and they play to their advantage, we can't just flip on that light switch. I think that was another situation like that tonight."
Wait, what. "Crappy" teams?
As expected, Cavs fans didn't appreciate that comment one bit.
"I'm sure this will be remembered," Cavaliers sideline reporter Andre Knott tweeted.
Another fan added this on Reddit: "He might wanna show a tad bit of respect at some point. This Cavs team has an agenda and it's being accomplished."
However, under further review, Beal didn't said "scrappy," not "crappy."
"Bradley Beal definitely said 'scrappy teams' when talking about the Cavs last night and his mic just cut out on the feed," News 5 Cleveland reporter Camryn Justice tweeted. "The universe did that man no favors lol."
Beal then confirmed that he did not say "crappy."
"'Scrappy' not crappy," he posted to Twitter.
Good thing Beal cleared things up; the backlash is now hilarious in hindsight. If he hadn't explained himself, though, he would have had a non-crappy team using his comment as extra motivation the next time it played him and the Wizards this season.
The Cavaliers are, indeed, scrappy … not crappy
I planned to write an article on how Beal's comments were foolish because the Cavaliers have proven they are a good team this year. It, however, was all a misunderstanding, so I didn't entirely take that route. But let's still take a look at the state of the Cavs and what they have done this season.
Cleveland has had a nice start to the 2021-22 campaign, jumping out to a 13-10 record. And some of its losses took place during a stretch when it had been dealing with several absences due to injury or health and safety protocols.
Whenever most of its core has been on the floor, though, the Cavs have been dangerous.
They are one of the top defensive teams in the NBA, only allowing 101.7 points per game, and a lot of it has to do with their size. The Cavaliers essentially start three seven-footers in Jarrett Allen, Lauri Markkanen, and rookie Evan Mobley.
Mobley has proven he's one of the top rookies in the league, averaging 14.1 points, 8.1 rebounds, and 1.9 blocks, while Allen has become one of the best big men around, recording 16.9 points and 11.4 rebounds per game. However, Darius Garland has really come into his own at point guard, posting 19.1 points and 7.3 assists per game so far.
They may not have big names like LeBron James or Kyrie Irving anymore, but the Cavs are the real deal, and their hard play both on defense and in the post proves they are, indeed, scrappy; not crappy.
Stats courtesy of Basketball Reference