Bradley Beal Admits He Was Surprised When Michael Jordan Wanted Him on Jordan Brand: 'Mike Don't Like Nobody'
Bradley Beal has become one of the most entertaining players to watch in the NBA, but it's not just fans he has entertained. Beal's play has impressed NBA legend Michael Jordan, as the Hall of Famer welcomed the Washington Wizards star to his Jordan Brand in 2020.
Beal recently discussed the moment he learned Jordan wanted him to be a part of his exclusive club, and it was a moment that totally surprised him.
Bradley Beal joined Jordan Brand in 2020
Beal started his career with Nike, which is Jordan Brand's parent company. However, after developing into one of the NBA's best scorers, averaging over 30 points per game in 2019-20, Beal joined MJ's club in December 2020.
"It's very exclusive," he said at the time to AirJordan.com, per Bleacher Report. "They take care of their athletes very well, and they do a great job of telling their stories. It's a responsibility to represent the brand. I'm looking forward to this opportunity and being part of the family."
Beal joined the list of Jordan Brand athletes that include his Wizards teammate, Russell Westbrook, as well as Jayson Tatum, Luka Doncic, Carmelo Anthony, Chris Paul, and others.
The Wizards star was surprised when he learned Michael Jordan wanted him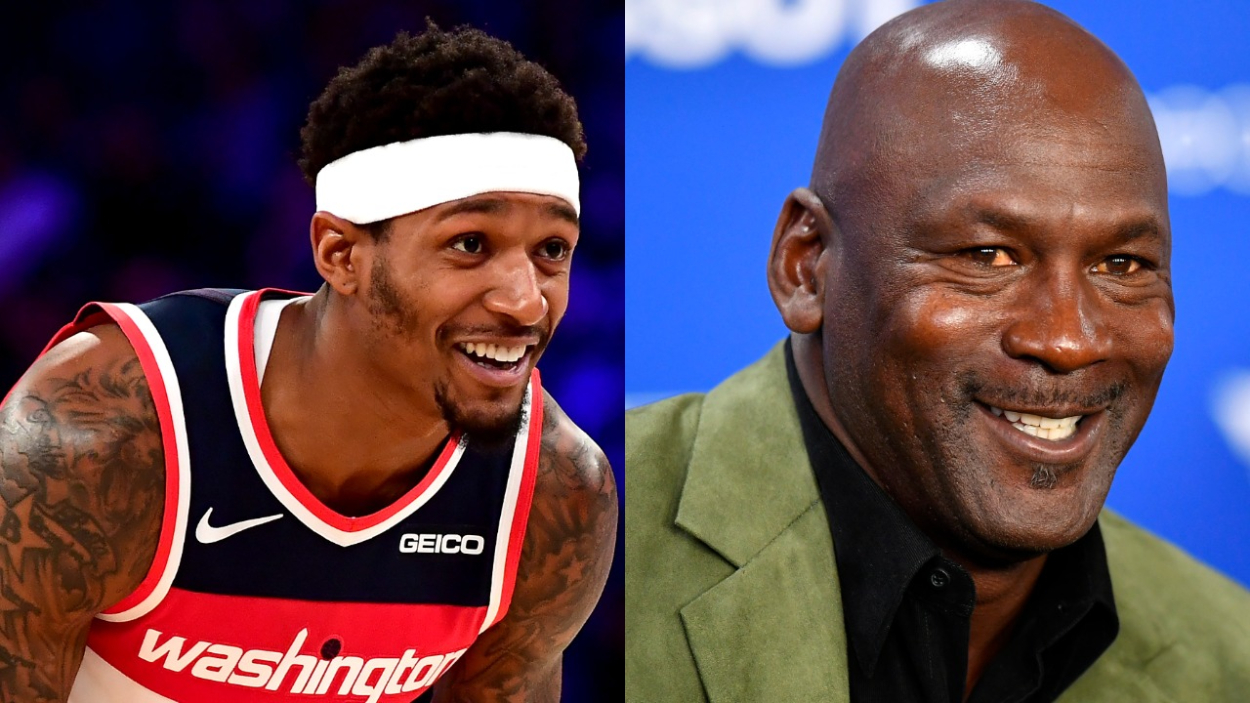 Beal recently appeared on The Players' Tribune's Knuckleheads with Quentin Richardson and Darius Miles podcast. Richardson and Miles joined Jordan Brand just a couple of years after Nike and MJ launched it, so they asked Beal how it felt once he learned the GOAT wanted him.
"This was the last year of my [Nike] deal, and Nike's like, 'Well, Jumpman is very interested in you,' and I'm like, 'Oh. Me?'" Beal said. "… Mike don't like nobody; Mike ain't just fond of anybody. So, I'm like 'OK, well, if he's signing off on it, then it's gotta be something special."
Jordan Brand quickly impressed Beal, too.
"From the presentation to interacting with him, and then meeting the guys — it's unreal," he said. "I got too many boxes. Wifey cussed me out because it's too many boxes. … I love it, man. They treat you like family; it's been all love."
It seems like Beal enjoys being a part of Jordan Brand, and it's probably just adding to his already massive net worth, which is estimated to be at $40 million, per Celebrity Net Worth.
Beal is also coming in at a good time. The brand has grown from a small branch within Nike to a massive moneymaker for the company.
Bradley Beal has joined an extremely profitable Jordan Brand
Nike officially announced that it would launch Jordan Brand in September 1997. Jordan then welcomed his starting five, which included Ray Allen, Derek Anderson, Vin Baker, Michael Finley, and Eddie Jones.
When Allen first heard of it, though, it was essentially just a concept; he didn't even know what it was.
"It wasn't something that we had ever seen before," Allen said on the June 8 episode of Knuckleheads with Quentin Richardson and Darius Miles. "Because I had always worn Nikes, so I was like I'ma wear Nike; Nike's going to be an umbrella company to Jordan, so I'm all for it; I'm down. Jordan's doing it, I want to be a part of it."
Now, over 20 years later, Jordan Brand is one of the most dominant forces in sports. It made $3.1 billion in the fiscal year ending in May 2019, and it has an estimated worth of over $10 billion, according to Forbes. It has also stretched to other sports and leagues. Athletes like NFL quarterback Dak Prescott, MLB legend Derek Jeter, and WNBA star Maya Moore are all Jordan Brand athletes.
Beal may be relatively new to Jordan Brand, but it seems like he's quickly finding out just how dominant it is, similar to Michael Jordan's dominance on the basketball court. He's in good hands.
RELATED: Ray Allen Didn't Know Anything About Jordan Brand When Nike Approached Him About Joining: 'Jordan's Doing It, I Want to Be a Part of It'