Bradley Chubb's Completely Devasting Injury Puts Even More Pressure on Teddy Bridgewater to Play Like the $63 Million QB He Once Was
The Denver Broncos are off to a surprisingly strong start this season.
The Broncos are undefeated through two weeks of football, beating the New York Giants and Jacksonville Jaguars. Granted, these aren't the most formidable of opponents. However, every week is a battle in the NFL — two wins in two weeks is fantastic news for a rebuilding Denver team.
However, as it usually goes in the NFL, the Broncos weren't allowed to be too happy for too long. They were just hit with crushing injury news, which puts even more pressure on QB Teddy Bridgewater and the offense.
Denver Broncos EDGE Bradley Chubb underwent ankle surgery
One of the biggest strengths of the Broncos' roster is their pass rush. They have future Hall of Famer Von Miller on one side and rising star Bradley Chubb on the other. The duo combined for 26.5 sacks in 2018 — they've shown the potential to be scary elite together.
Miller missed 2020 with an injury, which was a big reason Denver's defense struggled. However, with Miller returning to action this year and Chubb coming off an above-average season himself, the expectation was that the Broncos' defensive line would once again emerge as a serious strength.
With Chubb reportedly set to miss the next 6-8 weeks due to his ankle surgery recovery (bone spur removal), some serious doubt is emerging regarding the Broncos' ability to stay afloat.
Losing Bradley Chubb puts pressure on Teddy Bridgewater
With the Broncos' defense set to experience some major regression over the next two months, pressure is diverted to the offense. Bridgewater — acquired from the Carolina Panthers during the offseason via trade — can't "game manage" his way to victory. The Broncos will have to score serious points moving forward to keep up with the rest of their division.
For what it's worth, it's not too long ago that Bridgewater was being viewed as a franchise-caliber QB. The Panthers handed him a massive three-year, $63 million contract before 2020. Obviously, that arrangement didn't work out for Carolina. However, that doesn't negate that Bridgewater had played well enough in a limited role with the New Orleans Saints to warrant such a heavy price tag.
Bridgewater is currently playing on a one-year deal with the Broncos following a recent contract restructure (Sports Illustrated). The days of him being a $60-plus million arm are over. However, that doesn't mean he won't be expected to perform like one moving forward.
The Denver Broncos' schedule starts heating up moving forward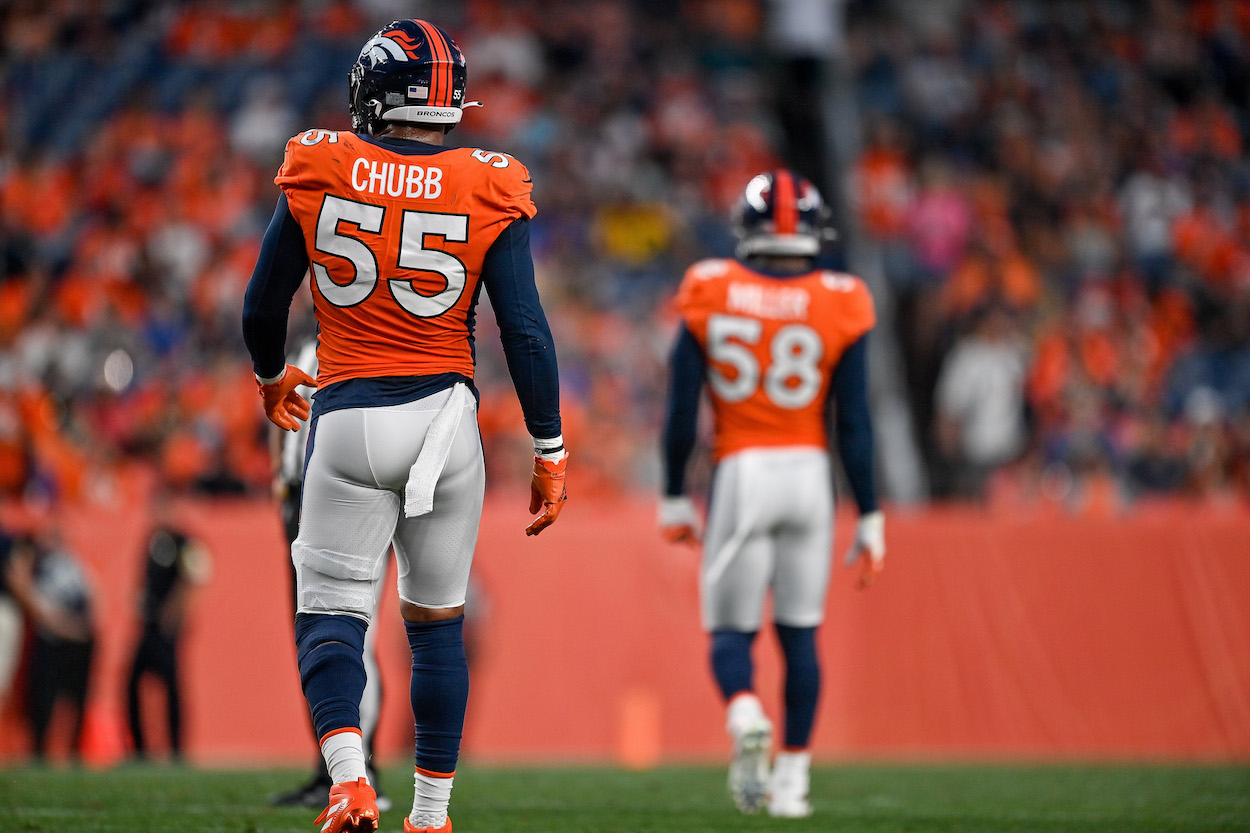 The Broncos play the New York Jets next, which is great news for Bridgewater and the team's now-hobbled defense. However, looking past that, things start to look real worrisome for Denver.
They play the Baltimore Ravens Week 4, the Pittsburgh Steelers Week 5, the Las Vegas Raiders Week 6, and the Cleveland Browns Week 7.
That's a whole slew of tough opponents. For the Broncos to have any shot during these four games, Bridgewater will unquestionably have to play like an elite QB. He doesn't have Chubb to lean on anymore on defense.
Can he do it? Only time will tell.
All stats courtesy of Pro Football Reference.
RELATED: Aaron Rodgers and His Miserable Week 1 Performance Opens the Door for 2 AFC Teams to Become Super Bowl Contenders