Brandin Cooks Ruthlessly Blasting the Texans for Trading Mark Ingram Should Be a Precursor to His Looming Departure
The Houston Texans are attempting to tank this season. This is not groundbreaking news to anyone who's been following their organization over the past year-plus. Between trading away DeAndre Hopkins, releasing J.J. Watt, and the legal situation involving quarterback Deshaun Watson, this is not a team looking to win football games anytime soon.
They hired a new general manager and new head coach this past offseason and appear locked into the idea of gunning for the No. 1 overall pick in the 2021 NFL Draft. They have steep competition with the likes of the Detroit Lions and Miami Dolphins. However, one can safely assume the Texans will be in the mix for the top draft choice by the season's end.
The Texans are trading RB Mark Ingram to the Saints
The latest piece to the Texans' tanking puzzle involves sending veteran running back Mark Ingram to the New Orleans Saints via trade. Ingram began his career with the Saints and had several productive years there. Now, he gets to rejoin Alvin Kamara in the New Orleans backfield, creating a formidable one-two punch.
For the Texans, this was a pretty easy decision to make. They signed Ingram to a one-year deal this past offseason and presumably didn't view him as a long-term building block in any way, shape, or form. Flipping him for a draft pick midway through the regular season is a solid outcome for the Texans front office as they look to stock up on draft capital moving forward.
At 1-6, the Texans don't need a veteran like Ingram on the roster right now. They still have David Johnson and Philip Lindsay in the backfield to rely on.
While this move was a fairly cut-and-dry decision for Houston, it still managed to piss off some people within the team's locker room. Brandin Cooks, arguably the team's best all-around player, took to Twitter to voice his frustrations following the trade.
Brandin Cooks is tired of the Texans' tanking efforts
Clearly, Cooks is not happy with the Texans' decision to ship out one of his teammates.
With five 1,000-yard seasons to his name at only 28 years old, Cooks is one of the last remaining elite pieces left on the Texans' roster. Outside of left tackle Laremy Tunsil and the before-mentioned Watson (who will likely never play for Houston again), Cooks truly is the only redeemable quality the Texans can brag about.
He's flown under the radar the past few seasons due to playing behind more talented receivers. However, Cooks is everything you could ask for in a WR1. He played a huge role in helping the New England Patriots reach Super Bowl 52 in 2017.
While Cooks' tweet was likely referring to his frustration at Houston continuously trading away his friends and teammates, he's seemingly voicing a sense of envy as well. Cooks also began his career in New Orleans and would have likely welcomed a trade back there. At this point, Cooks would presumably welcome a trade anywhere. Common sense says he wants to escape the tanking Texans as his past teammates did.
Cooks on the move?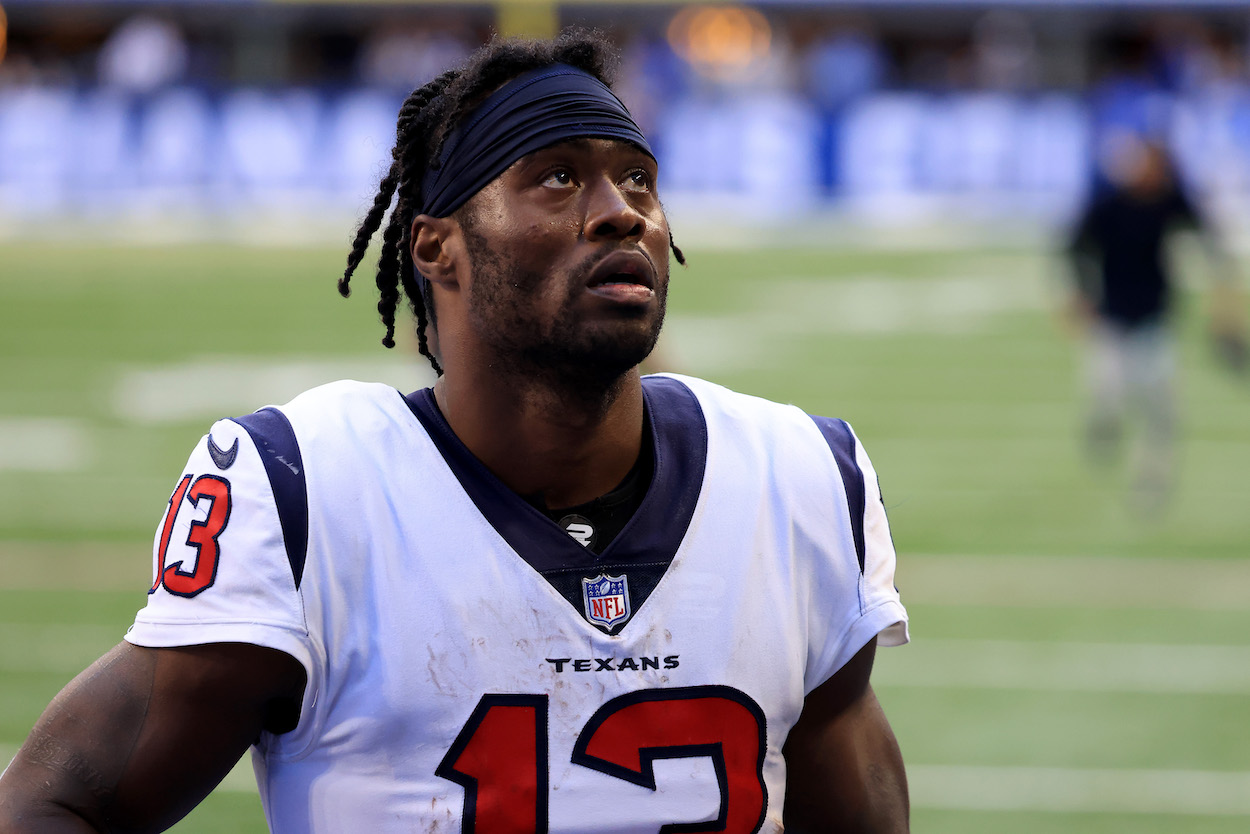 Cooks publicly voicing his frustration online is a flashing, neon sign for opposing general managers.
He would make a massive difference on a contender in need of a wide receiver, and his value should be at an all-time low following his Twitter comments. Plenty of teams will come calling for him as the trade deadline inches closer.
Will the Texans actually trade their current No. 1 wide receiver? Only time will tell. For Cooks' sake, let's hope they do. He deserves another shot at playoff football.
All stats courtesy of Pro Football Reference.
RELATED: The Houston Texans and Detroit Lions Both Have Their Eyes Set on a Franchise-Altering Move That Would Drag Their Team out of the Dumps