Brandon Ingram Is Giving the New Orleans Pelicans a Gift They Can Cash in at the Trade Deadline
Two-and-a-half years after parting with franchise cornerstone Anthony Davis, the New Orleans Pelicans are still waiting for the good times to come. A franchise once centered around young stars Zion Williamson, Lonzo Ball, and Brandon Ingram has failed to produce anything closely resembling a winning season. Now, Zion's future is in doubt and Ball is off succeeding with the Chicago Bulls.
That leaves Ingram, 24, to carry the load. And he's doing so almost single-handedly, placing him in line for a second All-Star appearance. But in the process, he's also giving the Pelicans every reason to explore trading him for a massive haul.
Brandon Ingram has been a bonafide star for the New Orleans Pelicans
Ingram's star power has risen ever since he traded in the purple and gold for the navy blue of New Orleans.
Three seasons with the Los Angeles Lakers saw Ingram develop from a raw rookie to a promising young player. It wasn't until his first year with the Pelicans in 2019-20 when the former second-overall pick began realizing his potential.
The 24-year-old averaged a career-best 23.8 points on 46.3% shooting in his NOLA debut. His breakout season was essentially duplicated the following year, averaging 23.8 points on 46.6% shooting.
Now, with Zion on the shelf and Ball in the Windy City, Ingram is still showcasing his game-changing abilities. The 6-foot-8 forward is averaging a more-than-respectable 23.5 points on 45.2% shooting. As of Wednesday, that places him 14th in the NBA, just behind Damian Lillard and slightly ahead of the former Pelican Davis.
Ingram's lone hiccup this year came from a seven-game absence due to a hip contusion. After scoring less than 20 points in five of his first six games back in action, the star forward has earned 20 or more points all but twice in the last month. He has even helped New Orleans go 4-1 in its last five contests, going a combined +53 in the plus-minus department.
The Pelicans should consider parting with Brandon Ingram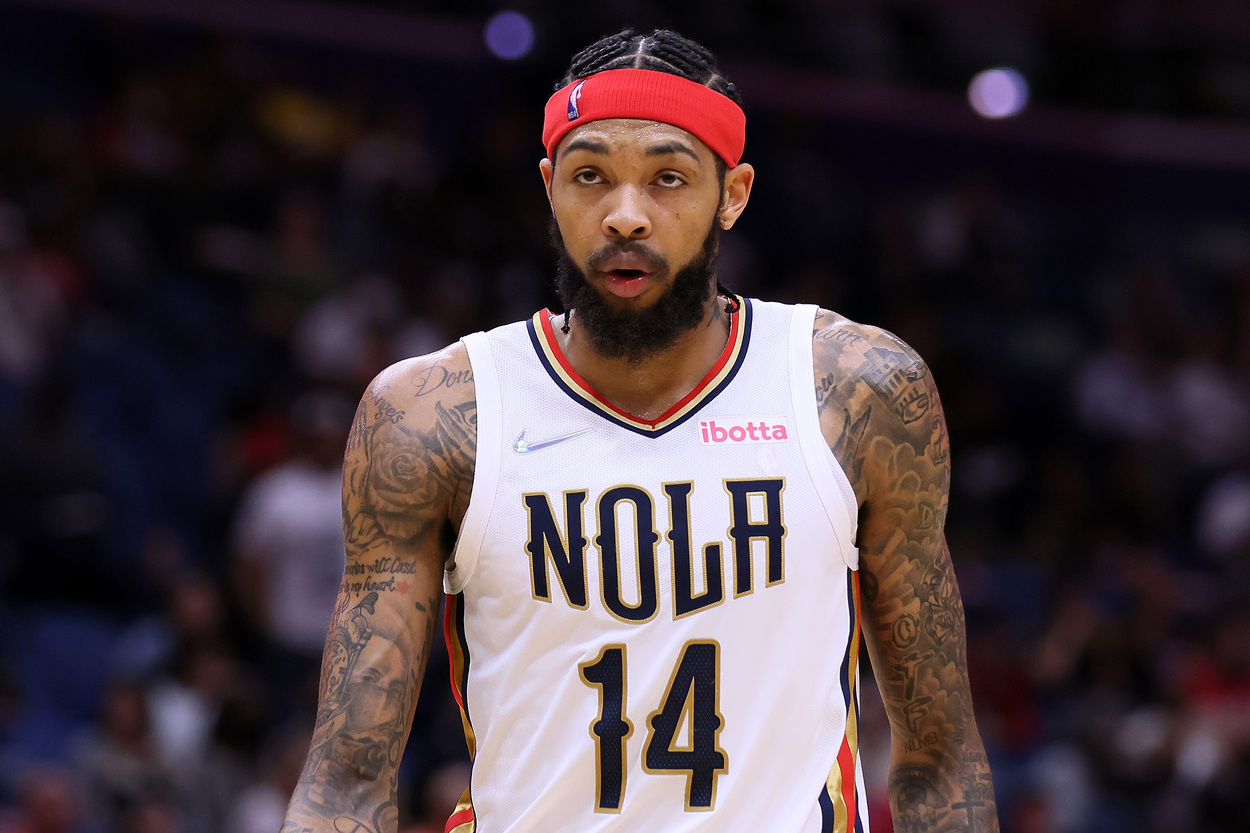 The Pelicans believed the combination of Ingram and Williamson would be a foundation for success for years to come. Yet every losing season lessens the chances of that duo working.
Thanks to heroics from Ingram, the Pelicans have improved to 11-21. That still places them 14th in the West, a half-game ahead of the Houston Rockets for last place in the entire conference. However, while teams like the Rockets and Oklahoma City Thunder are openly rebuilding, New Orleans had every intention of being a playoff team in a top-heavy Western Conference.
So where does that leave Ingram? There's little doubt whether Slenderman is one of the league's better scorers. But his production hasn't resulted in team success, at least not at the level the Pels are hoping for. And while there's an argument for holding onto him for when Zion eventually returns, the third-year forward is both hampered by injuries as well as general unhappiness with the team. In other words, New Orleans can't look at Zion's possible return as a means of justifying whether to hold onto Ingram or not.
Given their place near the bottom of the conference and no real signs of optimism, trading Ingram might be the only way for the Pelicans to reset and try things again in a few years.
Ingram would command a serious haul in any trade
One of the top-15 scorers in basketball. A dominant point forward with a lengthy build. 24 years old and under contract through 2025. Depending on who you ask, these are reasons the Pelicans should hold onto Ingram. But they present a very convincing case for why New Orleans should sell high on their young superstar.
The Pelicans received Ingram, Ball, Josh Hart, and three first-round picks and cash for Davis. Keep in mind, AD was very much a star. But he was also a 26-year-old malcontent with only one year left on his deal. It's not inconceivable to think New Orleans receives a similar package should it part with B.I.
As for who could target the valuable star, a team like the Golden State Warriors could be a noteworthy suitor. In a hypothetical deal, New Orleans might package Ingram with a veteran like Tomas Satoransky to make the money work. In exchange, it would receive second-year center James Wiseman, rookie Jonathan Kuminga, as well as veteran scorer Andrew Wiggins and any number of picks. The Warriors would then have a bonafide All-Star to assist in their title run, while the Pelicans have promising young players and picks to accelerate the rebuild.
In the NBA, it's better to be bad than mediocre. The Pels are at best mediocre when everyone is healthy, a sign that another rebuild may be in order. If that's the case, trading Brandon Ingram is the quickest and most effective way to get things started.
All statistics courtesy of Basketball Reference and contract figures courtesy of Spotrac.
RELATED: Zion Williamson Needs to Shut it Down Before the Pelicans' Nightmare Season Becomes Even Worse