Brandon Marshall's Dispute With Chad Johnson Is Ironic Given His Embarrassing McDonald's Injury
Anyone who's eaten fast food has heard about how it's not good for your health. Fast-food giant, McDonald's, is as bad for you as it is famous. Don't tell Chad Johnson. The former receiver believes McDonald's was the key to his health during his NFL days. It's a strange claim made all the stranger by the fact that he told this to Brandon Marshall, a retired NFL player who once had a McDonald's-related injury.
A tale of two NFL careers: Chad Johnson and Brandon Marshall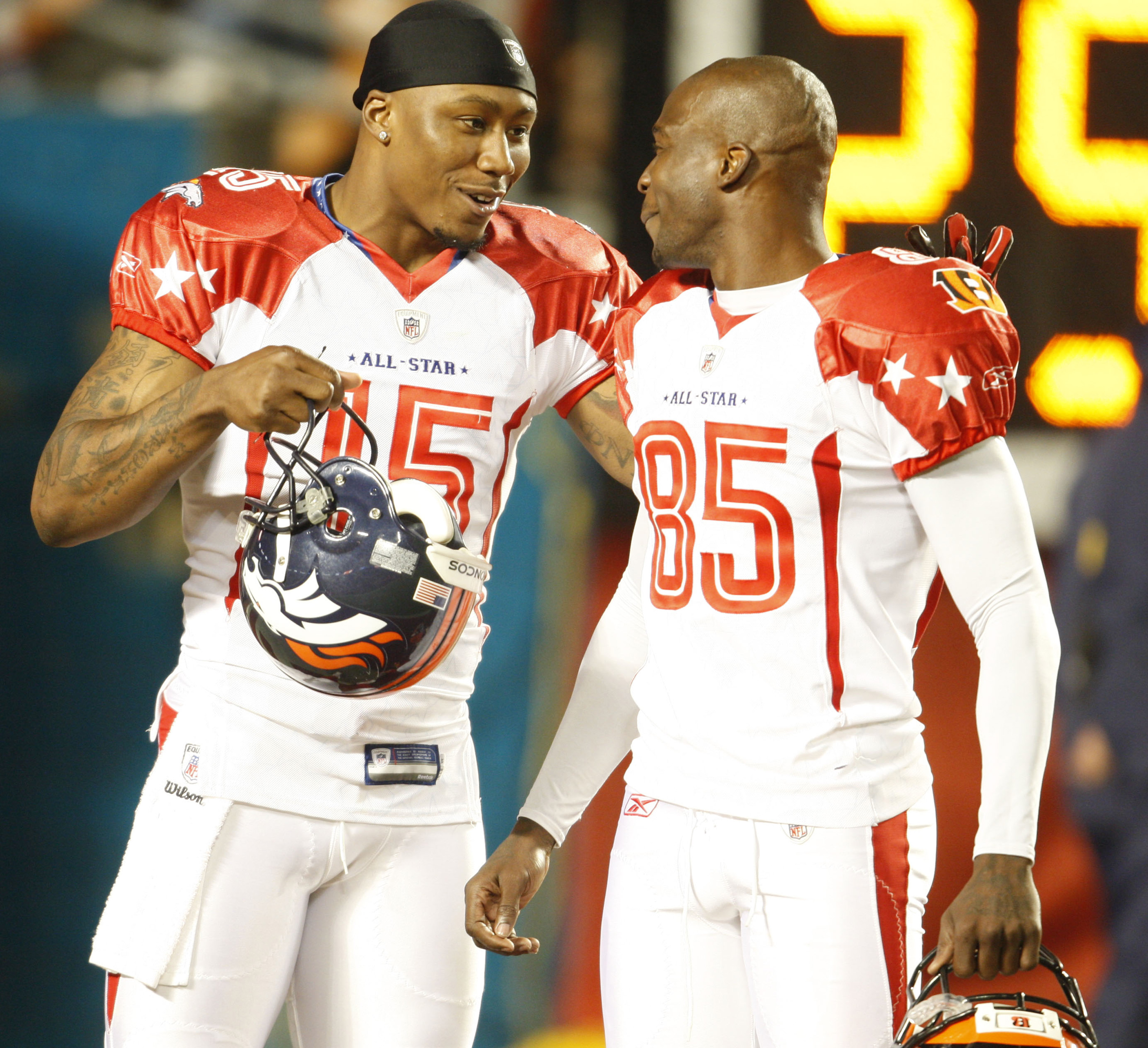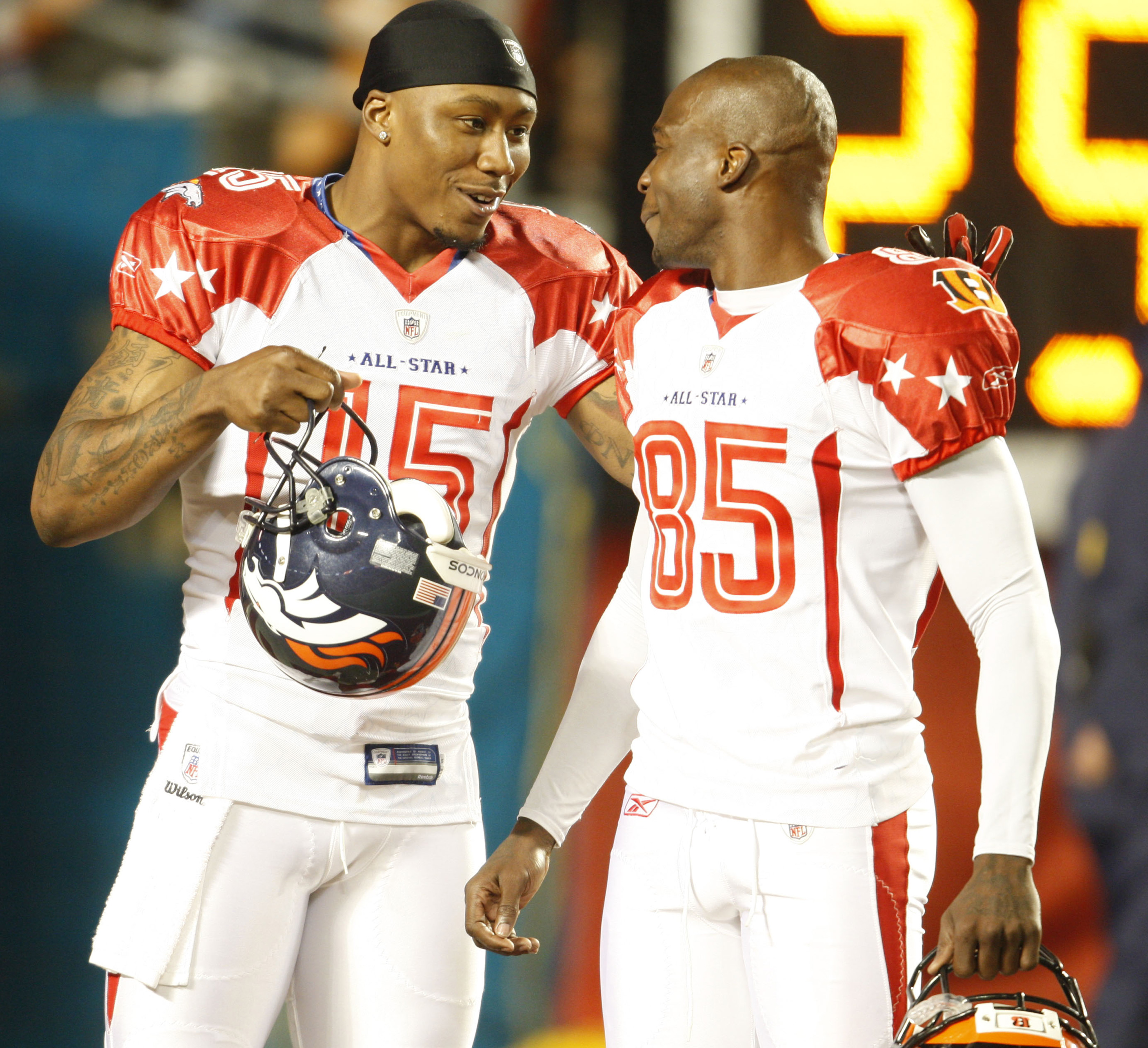 Johnson was as infamous off the field as he was on it. However, while he led a tumultuous career filled with triumphs on the field and embarrassment off of it, he hardly ever got injured. Johnson missed games in just four of his 11 years in the league, according to Pro Football Reference. He never played less than the 12 he played as a rookie making his name. He only missed more than two games twice in his career. 
Brandon Marshall had a similarly illustrious career that was, for the most part, healthy. He entered the NFL as a Denver Bronco in 2006, details Pro Football Reference. He rarely missed any games until the last two years of his career. One of his injuries, one he suffered in 2008, was a notable exception. However, one must explore a recent podcast episode including the two former All-Pro receivers.
A McDonald's connection
During Marshall's interview on the I Am Athlete podcast, he and Johnson spoke about their career's triumphs and downfalls. For all that was said about Johnson, his antics, and his mouth in his playing days, his durability was never in question. Speaking to Marshall about how he stayed off the injured list for most of his career, he credited an unlikely source: McDonald's. 
Johnson claimed that he ate McDonald's every day and built up a callus in his body that helped keep him immune to common injuries. He told Marshall during their discussion:
"People at home if you see this, eat whatever the f— you want to eat. The body has to build up a callus, you eat all this healthy stuff and sterilize everything, when s— happens to you, you're immune system can't fight s— off, you're body can't react to shit. Just live, man. All this f—ing science is what's killing everybody."
While Johnson argues that McDonald's helped keep him in game shape, Marshall has a different outlook. The health concerns regarding the world's largest fast-food chain are well-documented. However, in Marshall's case, his most embarrassing injury did not come from too many fries. 
The irony of Chad Johnson and Brandon Marshall's conversation
It's ironic that Johnson gave this example with Marshall. In 2008, with the Broncos, Marshall endured a bizarre injury. While staying at an Orlando resort, Marshall claimed he slipped on a McDonald's wrapper in his room, stuck his hand out to brace the fall, and ran it through a TV entertainment center. The injuries required stitches and two weeks on the injured list, but the embarrassment was the worst part, according to Patriots.com:
"I want to thank everybody for their concerns and let everyone know that I'm OK. It's funny because I pride myself on YAC yards and being one of the toughest players to take down once I have the ball in my hands … So for the next couple of days, I'm going to take the time to build my confidence back up after allowing that McDonald's bag to take me down and send me through the entertainment center."
Now retired, Marshall can laugh about it. The correlation between McDonald's and their NFL careers is hyperbolic at best. However, Johnson's humorous quip, combined with Marshall's strange mishap, makes for an intriguing listen. It just shows how McDonald's has become something far bigger than fast food in the eyes of many.