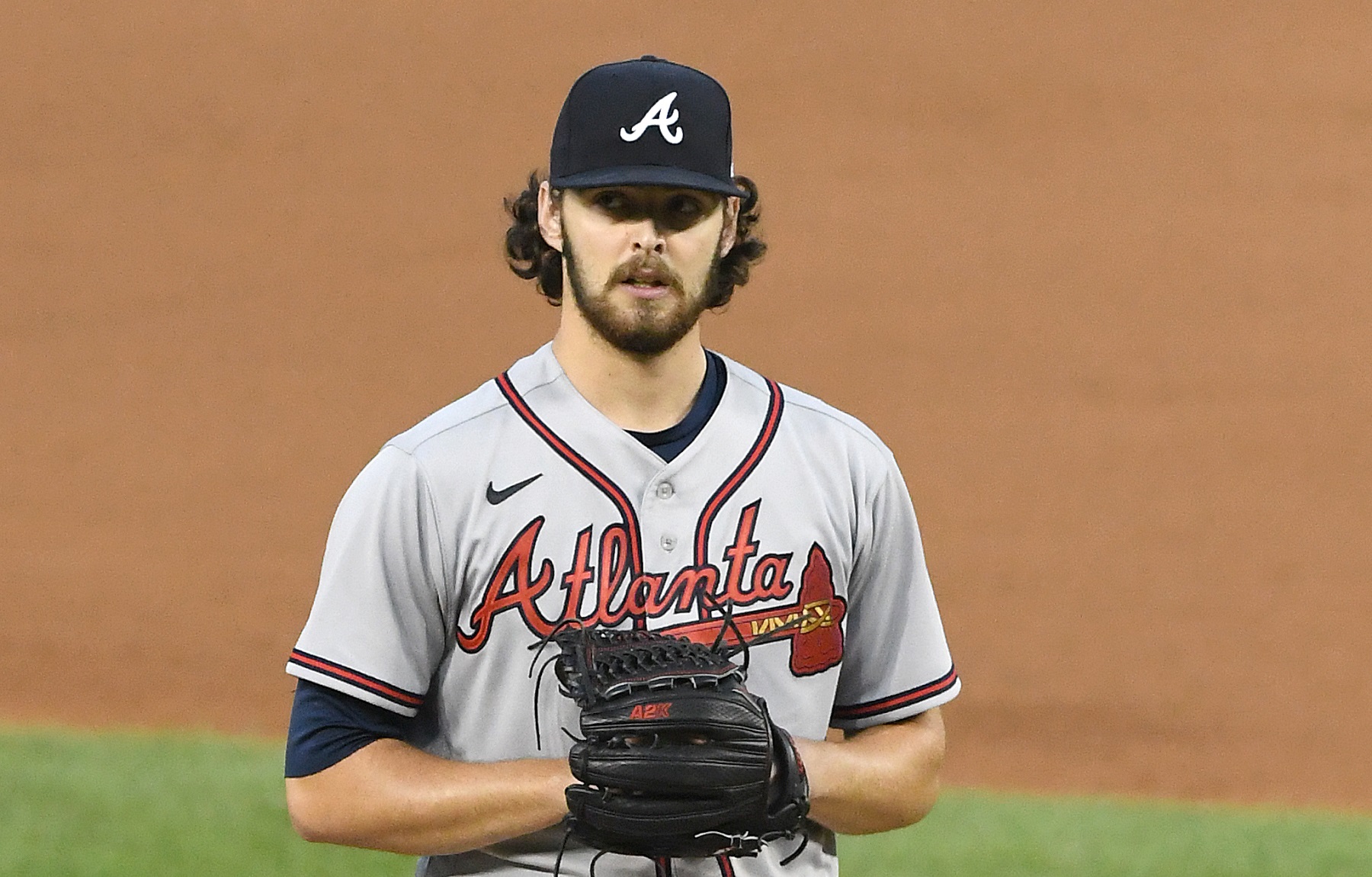 Braves Rookie Sensation Ian Anderson Shares a Bond With a Rising Atlanta Hawks Star
Right-hander Ian Anderson has made a splash as a rookie pitcher for the Atlanta Braves.
The Atlanta Braves haven't been to a World Series since 1999 but are now eight victories away from winning one. That journey has begun with the National League Championship Series against the Los Angeles Dodgers, and a substantial share of the responsibility rests on the shoulders of rookie pitcher Ian Anderson.
Anderson is one of the best stories of the strangest season Major League Baseball has ever seen.
Ian Anderson made it to the majors in just four years
Major-league teams are understandably leery of investing in high school pitchers. All else being equal, college pitchers are easier to project I the annual draft based on the higher level of competition and are also more likely to reach the majors in three or four years instead of five or six.
When the Atlanta Braves made high school senior Ian Anderson the first pitcher taken and the third player overall in 2016, they knew exactly what they were doing. The lanky right-hander from Clifton Park, New York, impressed at each level coming up through the minors. He was on schedule to throw in Triple-A this season and likely make his way to the majors for a couple of spot starts with the Braves until the pandemic hit.
Instead, he started the summer at the alternate training site with little expectation of joining the Braves. Instead, injuries and ineffectiveness plagued the big-league club, and Anderson got the call. He made his debut with six one-hit innings against the New York Yankees in late August.
He would finish the regular season with a 3-2 record, a 1.95 ERA, and 41 strikeouts in 32 1/3 innings.
Ian Anderson has been clutch in the playoffs
The late-season stint was all that Braves manager Brian Snitker needed to see. In building his postseason rotation, Snitker slotted Anderson, 22, in the No. 2 spot behind Max Fried.
Anderson has won his two playoff starts with 17 strikeouts in 11 2/3 shutout innings. He could be staring at four more starts this month, beginning with Game 2 against the Los Angeles Dodgers.
"Amazing how cool he is," catcher Travis d'Arnaud told Sports Illustrated,  "and he's like that every day."
Anderson's weapon of choice is an 87-mph changeup that comes in relatively flat compared to his 95-mph fastball. The pitch wasn't even part of his repertoire until two years ago. As recently as his senior year at Shenendehowa High in upstate New York, he was strictly a fastball/curveball hurler.
Atlanta Hawks guard Kevin Huerter is an old friend
Against all odds, two long-time friends from a town of under 40,000 people 900 miles to the north are now sports celebrities in Atlanta. Whereas Atlanta Braves pitcher Ian Anderson is getting his first taste of the big time, Atlanta Hawks guard Kevin Huerter just completed his second NBA season.
Anderson and Huerter grew up playing baseball together. They teamed up to win a New York state championship for Shenendehowa High in 2016 before Huerter went off to play two years of basketball at the University of Maryland and Anderson began his baseball career.
The 6-foot-7 Huerter is averaging 10.8 points a game as a reliable 3-point shooter.
The odds of reuniting in Atlanta four years later as budding professional starters are incredibly remote.
"I wouldn't even guess," Huerter told the Times Union in Albany, New York. "Obviously, extremely, extremely low … It's crazy. You don't get two players from the same town make it to their respective pro leagues, let alone the same city. So, it's kind of crazy, how it ended up."
Said Anderson: "It's awesome. He's been doing it for a couple of years now. Down in the minor leagues, I didn't really get a true taste of Atlanta, so he's been great. I've been in contact with him quite a bit. Hopefully, once COVID ends, all of this, we can meet each other around a little bit."