Braxton Miller Position Change: Was it the Right or Wrong Move?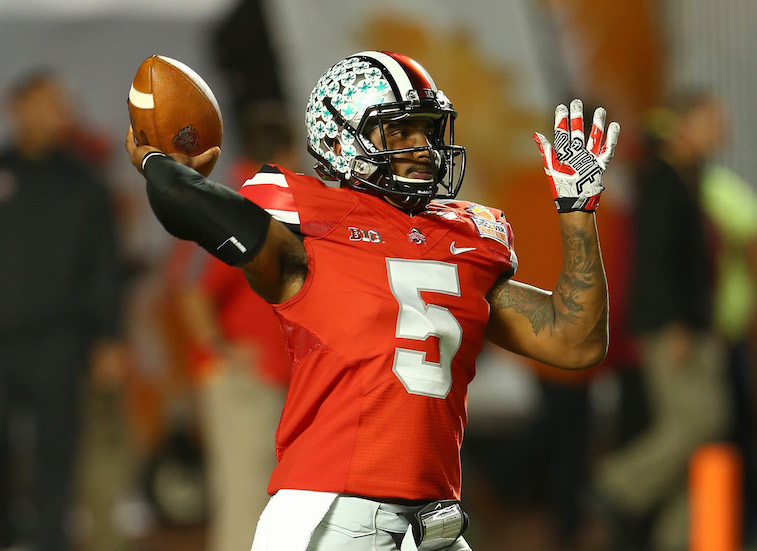 And then there were two. The ongoing quarterback competition at the Ohio State University just became a lot less confusing as senior Braxton Miller announced that he was going to finish his college career as a wide receiver and punt returner rather than battle it out with two young, up-and-coming stars for playing time at quarterback. As a refresher, Miller missed the entire 2014 season after suffering a shoulder injury during training camp that required him to undergo season-ending surgery. The position change validates the speculation surrounding the health of Miller's shoulder and his ability to put his best foot forward in what has been, and will continue to be, an extremely competitive battle for the role of starting quarterback for the Buckeyes in their quest to repeat at national champions. Furthermore, Ohio State head coach Urban Meyer said on Thursday night that Miller told him in a previous meeting that he wants "to have a good Plan B in case, with the shoulder."
In a recent interview with Sports Illustrated, Miller said that he will spend roughly 80-percent of his time practicing at H-Back and wide receiver, and the other 20-percent practicing with the quarterbacks. On the flip side, Meyer has yet to commit to a specific role for Miller for the upcoming season. As the 51-year-old head coach told The Columbus Dispatch on Thursday night in response to Miller's comments, "I haven't made those decisions yet, it's a little bit jumping the gun here." We believe it's only a matter of time before the Miller's new role becomes official, despite Meyer's best efforts to downplay the idea of Miller changing positions. You can chalk the three-time national title winning coach's comments up to him just being another coach who doesn't want to tip his hand.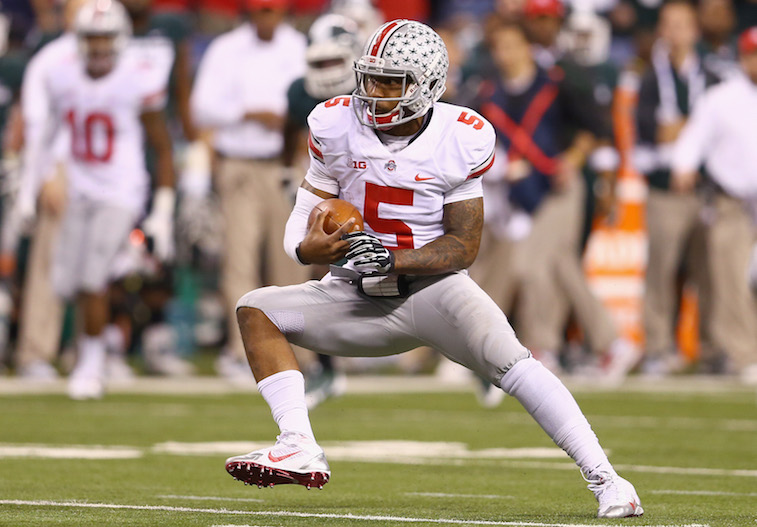 As a quarterback, Miller won the Big Ten Offensive Player of the Year award in both 2012 and 2013. Knowing this, you may find it hard to believe that he would want to change positions for his final season of college football in a year where the Buckeyes are the overwhelming favorites to win the national title. Well, the decision actually does make sense on several levels.
First and foremost, the position change will give Miller the opportunity to get on the field and help his team compete for a second-straight national championship. It was rapidly becoming painfully clear to everyone involved with Ohio State that the team's starting quarterback in 2015 would be either J.T. Barrett or Cardale Jones – with Miller being the only quarterback who has the athletic ability to play another position. Miller's combination of acceleration, lateral agility, and overall speed should lead to a seamless transition to his new position. In fact, you can throw out his skillset as a quarterback, and his ability with the ball in his hands would still make him one of the most dangerous playmakers in the country.
The second reason this move makes sense is that it gives Miller an excellent opportunity to have a career in the National Football League. With multiple shoulder injuries on his medical report, and a track record as a somewhat erratic passer from within the pocket, Miller's chances of being drafted or even landing an undrafted free agent contract as a quarterback were extremely small. Moving to wide receiver during his college career not only shows NFL teams that Miller is clearly willing to make the change, but it also gives him an entire season to learn the position and shows teams that he is an unselfish player. All three factors could very well result in Miller hearing his name called sometime the 2016 NFL Draft.
The writing has been on the wall for some time now. Miller's football future revolves around him embracing and thriving in his new role as a wide receiver and punt returner – something that he clearly understands. In his own words, Miller had this to say, "This is the smarter thing for right now, God blessed me with a lot of talent and different opportunities. I'm going to have fun with that (position change) and still score a lot of touchdowns and help the team out and be dominant at that."