Breaking Down the First Round Quarterback Draft Picks Since 2009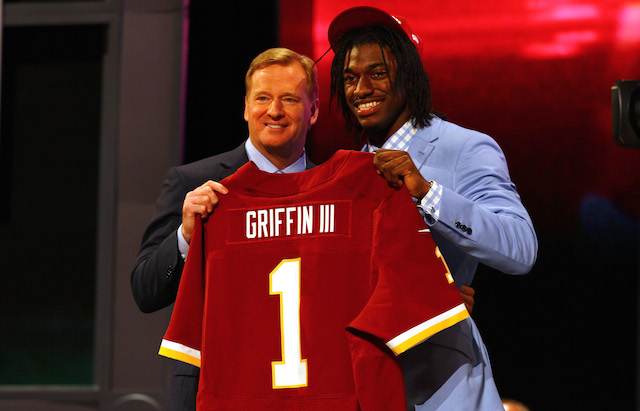 Quarterback is the most important individual position in the NFL. The 2013 Seattle Seahawks proved that a dominating defense can lead the way to a Super Bowl title, but their quarterback, Russell Wilson, is proving he is far more than just a game manager. In fact, you would have to look back all the way to the Tampa Bay Buccaneers Super Bowl XXXVII winning team to find a Super Bowl champion that wasn't led by a franchise quarterback. Furthermore, 20 of the last 22 Super Bowl winning teams were lead by franchise quarterbacks. Given these overwhelming statistics, it should come as no surprise that the quarterback position is a major emphasis in the NFL Draft league-wide.
Since the 2009 NFL Draft, 17 quarterbacks have been taken in the first round. Given the importance of quarterback play and the emphasis coaching and player personnel staffs place on the position, one would think that the time and money invested into finding the next great quarterback prospect would yield higher returns. In compiling this list, it was somewhat surprising to see how many first-round quarterbacks have been busts in the last five years alone. Here is a look at the 14 quarterbacks selected in the first round of the NFL Draft since 2009 that have at least one full season of NFL experience.
All statistics courtesy of Pro Football Reference.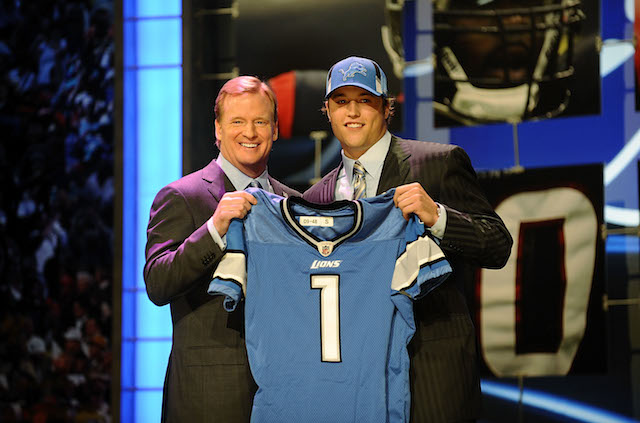 2009 NFL Draft
Matthew Stafford — 1st Overall Selection, Detroit Lions 
Stafford is in his sixth year as the starting quarterback for the Lions where he has developed into one of the top quarterbacks in the NFL. His life has been made easier by having Calvin Johnson as his main target, but there is no denying Stafford is one of the more gifted pure passers in the league.
Career Stats: 67 starts, 59.7% completion rate, 19,049 yards, 116 touchdowns, and 77 interceptions.
Mark Sanchez — 5th Overall Selection, New York Jets
Although Sanchez quarterbacked the Jets to AFC Championship games in his first two seasons in the NFL, he is still widely considered a bust. In fact, the Jets' success with Sanchez at quarterback was more of a success despite Sanchez situation. He was the beneficiary of a solid running game and one of the league's premier defenses. While he did have some success and is still in the league (he is the backup in Philadelphia), his play has yet to, and probably never will, reflect his draft status.
Career Stats: 62 starts, 55.1% completion rate, 12,092 yards, 68 touchdowns, and 69 interceptions.
Josh Freeman — 17th Overall Selection
At one point, Freeman looked like the long-term answer in Tampa Bay. Now, he falls into the bust category. In 2010, he was a Pro Bowl alternate and had another strong season in 2012. That's where things took a turn for the worse for Freeman. Off-field immaturities and a clash with head coach Greg Schiano led to his mid-season release in 2013. He was signed by the Minnesota Vikings for the remainder of the 2013 season, but started only one game. He is currently a free agent, and at this point, his NFL future looks very bleak.
Career Stats: 60 starts, 57.6% completion rate, 13,724 yards, 80 touchdowns, and 67 interceptions.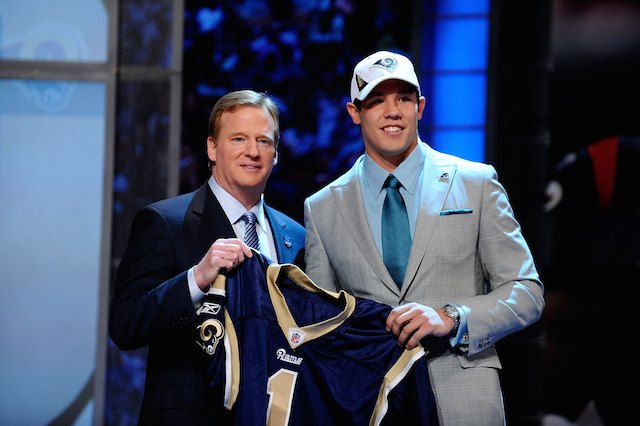 2010 NFL Draft 
Sam Bradford — 1st Overall Selection, St. Louis Rams
Bradford has battled injuries throughout his entire career dating back to his college days at Oklahoma. He has played well at times and shown that he has the ability to be a franchise quarterback when he has been on the field, but he is currently on the Rams' Injured Reserve list for the second season in a row. At this point, it is likely that the Rams will begin looking for a new face of the franchise at quarterback going forward.
Career Stats: 49 starts, 58.6% completion rate, 11,065 yards, 59 touchdowns, and 38 interceptions.
Tim Tebow — 25th Overall Selection, Denver Broncos 
Tebow's NFL career has been well-documented ever since the Broncos shockingly took him in the first round of the 2010 NFL Draft. While he was a fiery leader and fierce competitor during his time as a NFL quarterback, there was no hiding or denying that he was an awful pure passer and could not successfully lead an offense playing from the pocket, something that is critical to long-term NFL success as a quarterback. Following a wild run with Denver in 2011 where the Broncos won several games in improbable fashion, Tebow was traded to the New York Jets where he never really saw any significant time at quarterback. He was released following one season with the Jets and eventually signed with the New England Patriots who released him during training camp. Without a position change, Tebow's NFL career is likely over, making him another first round quarterback bust.
Career Stats: 16 starts, 47.9% completion rate, 2,422 yards, 17 touchdowns, and 9 interceptions.
2011 NFL Draft 
Cam Newton — 1st Overall Selection, Carolina Panthers
Newton is the face of the Carolina Panthers and is on the verge of signing a massive contract extension with the team. He has started every game for the Panthers since being drafted and led the Panthers to the playoffs in 2013. He has been named to two Pro Bowl rosters and was the 2011 NFL Rookie of the Year.
Career Stats: 53 starts, 60.0% completion rate, 12,566 yards, 71 touchdowns, 44 interceptions with 2,181 yards rushing, and 29 rushing touchdowns.
Jake Locker — 8th Overall Selection, Tennessee Titans
The jury is still out on Locker as he has battled injuries and seen limited starting action in his career to this point. He was drafted as a raw but gifted athlete with a lot of developmental potential. His development may have been hindered due to coaching changes and uncertainty in Tennessee. He is currently the Titans' starter, but again has been battling injuries in 2014.
Career Stats: 22 starts, 57.3% completion rate, 4,738 yards, 26 touchdowns, 19 interceptions with 609 yards rushing, and five rushing touchdowns.
Blaine Gabbert — 10th Overall Selection, Jacksonville Jaguars
Gabbert has been a bust up to this point in his career. After three unsuccessful seasons with the Jaguars, Gabbert was traded to the San Francisco 49ers for a 6th round draft pick. He is currently the backup quarterback for the 49ers and will likely never again be a long-term starter in the NFL.
Career Stats: 27 starts, 53.3% completion rate, 4,357 yards, 22 touchdowns, and 24 interceptions. 
Christian Ponder — 12th Overall Selection, Minnesota Vikinga
Ponder is still in Minnesota, but there is no doubting that he hasn't lived up to his draft status. Teddy Bridgewater was drafted in 2014 and is now the future at the quarterback position for the Vikings. Ponder may be able to stick as a backup in the league, but will likely never be in the long-term plans of a NFL franchise again during his career.
Career Stats: 36 starts, 59.8% completion rate, 6,658 yards, 38 touchdowns, and 36 interceptions.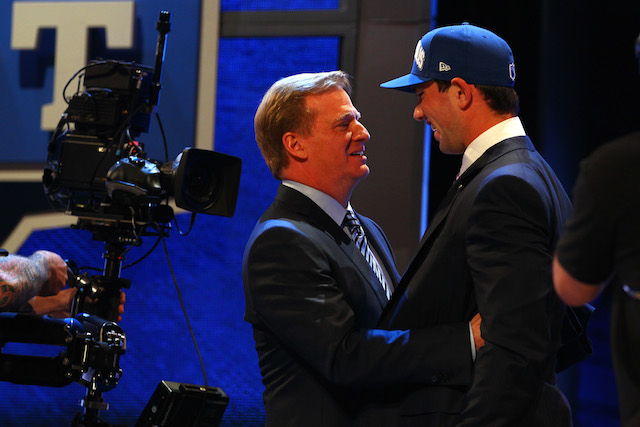 2012 NFL Draft 
Andrew Luck — 1st Overall Selection, Indianapolis Colts 
In his third NFL season, Luck is a legitimate MVP candidate. Enough said.
Career Stats: 38 starts, 58.6% completion rate, 10,183 yards, 63 touchdowns, 34 interceptions with 725 yards rushing, and 11 rushing touchdowns.
Robert Griffin III — 2nd Overall Selection, Washington Redskins
RG III's rookie season had everyone in Washington thinking that they had found their long sought after franchise quarterback. However, Griffin was injured late in the 2012 season and played most of 2013 injured, and his play reflected it. He was completely healthy heading into 2014 before suffering a dislocated ankle. Kirk Cousins has stepped in and played well enough that RG III may be continuing his career with another team.
Career Stats: 30 starts, 63.3% completion rate, 6,708 yards, 36 touchdowns, 17 interceptions with 1,328 yards rushing, and seven touchdowns. 
Ryan Tannehill — 8th Overall Selection, Miami Dolphins 
Tannehill has started every game for the Dolphins in his NFL career and has had mixed results. At times, he looks like an elite NFL quarterback, and at other times, he looks like a guy who is in over his head playing in the NFL. He hasn't received the strongest vote of confidence from the Dolphins' coaching staff in 2014, but will likely get more time in Miami to develop.
Career Stats: 37 starts, 59.6% completion rate, 8,340 yards, 44 touchdowns, and 35 interceptions.
Brandon Weeden — 22nd Overall Selection, Cleveland Browns
Weeden is no longer with the Browns and is now the backup quarterback for the Dallas Cowboys. He struggled during his two seasons in Cleveland and a coaching change combined with a general manager change ultimately ended Weeden's career in Cleveland before it ever really got going. He is likely going to be a backup for the rest of his NFL career.
Career Stats: 20 starts, 55.9% completion rate, 5,116 yards, 23 touchdowns, and 26 interceptions.
2013 NFL Draft
EJ Manuel — 16th Overall Selection, Buffalo Bills
Manuel was recently benched by the Bills in favor of Kyle Orton. Manuel remains a part of the Bills' long-term plans but needs to make serious strides both mentally and physically. He is physically gifted, but continues to struggle with certain throws and fully grasping head coach Doug Marrone's offense.
Career Stats: 14 starts, 58.6% completion rate, 2,810 yards, 16 touchdowns, and 12 interceptions.