Breaking Down the NBA All-Star Game by the Numbers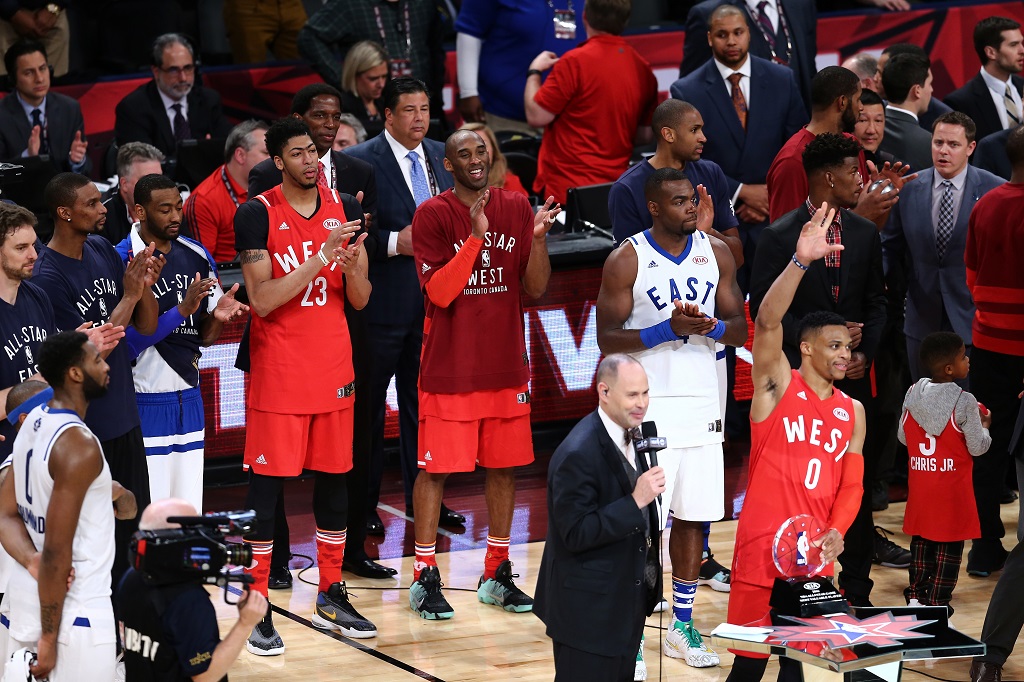 The 2016 NBA All-Star Game is in the books, which means that we have officially seen Kobe Bryant's last appearance (as a player, at least) at the mid-season celebration of basketball excellence. This is heavy, in some ways, but it's also inspiring, because Kobe is finally, truly, looking like our elder statesman of hoops — rather than a guy trying to outrun father time — and becoming the least-effective starting All-Star in history in the process. But we're not here to harp on the Black Mamba, we're here to examine the state of the game and take one last look at the numbers behind Bryant's 18th consecutive All-Star appearance.
It bears mentioning that the All-Star Game is never really about basketball — at least not in an NBA sense. By that, of course, we're referring to the positively park-level pickup game defense and the celebration of the individual. (You don't find the Spurs at the ASG even when the Spurs are at the ASG, if you know what we mean.) That said, the game's accomplishments are a different sort of achievement, since it's an invite-only affair for the game's best and brightest. Here's a fast breakdown of the important milestones hit over Sunday's game.
26 Minutes
The number of 'em that Kobe played in his final All-Star Game. Three fewer minutes than Kyle Lowry, the East's starting point guard, and Steph Curry, who both lead all players at 29 minutes. LeBron, who never looked more like a bridge between generations as he did on Sunday night, played a scant 20.
In all, Kobe's 414 career minutes will see him second to Kareem Abdul-Jabbar (449) and 32 minutes ahead of Michael Jordan, who saw the floor for 382 minutes during his career. Bryant, the third-most prolific scorer in league history, finishes between them there as well (shout out to Karl Malone), although he does lead the NBA in missed shots.  This seems as best a description of Kobe's career as any you could imagine.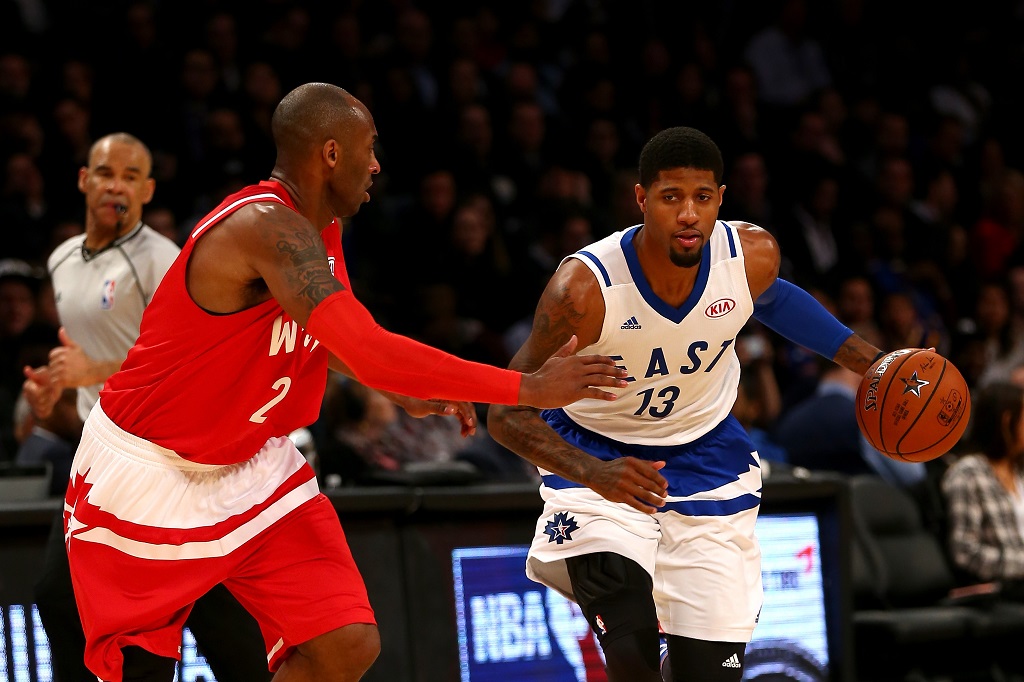 9 three-pointers made
Paul George, quietly recovering from a gruesome leg injury as his ECF-caliber Pacers disintegrated, is back. Sure, Indiana may not be on many folks' lips these days, but PG13's game has been anything but safe for children this year, and his shooting performance at the 2016 All-Star Game proved it. George drained nine three-pointers, snatching the record from Carmelo Anthony, who sunk eight in 2014. Of course, there's something to be said for the fact that George also set the record for three pointers-attempted on Sunday (he shot 19), but we'll leave the parsing for the regular season. Welcome back, Paul George.
291 points
While LeBron may have "just" played 20 minutes last night and "only" scored 13 points, he succeeded in giving Kobe one last statistical jab as the curtain closed. Those 13 points, you see, gave James one more than the Black Mamba's all-time All-Star game total, knocking Bryant down to second on the totem poll. (Jordan is third, and we would bet a hefty amount of money that he knows he's been leapfrogged by two of the game's greatest.) Who else fills out this list? Just some guys like Kareem, The Big O, Bob Pettit, and Dr. J. You know, no titans of the sport or anything.
1 mascot leapt over
Admit it, you weren't expecting this out of the Dunk Contest. It wasn't even the dunks (even though they were all amazing), it was the competition. For the first time in a hot minute, the Dunk Contest felt like a contest, instead of a goofy sideshow to a goofy sideshow. Zach LeVine wound up taking the crown for the second straight year in a row, but we're not afraid to say what everyone else is thinking: Aaron Gordon might have been robbed.
Statistics courtesy of Basketball-Reference.com.