Breaking News: Penn State Football's Postseason Ban Is Over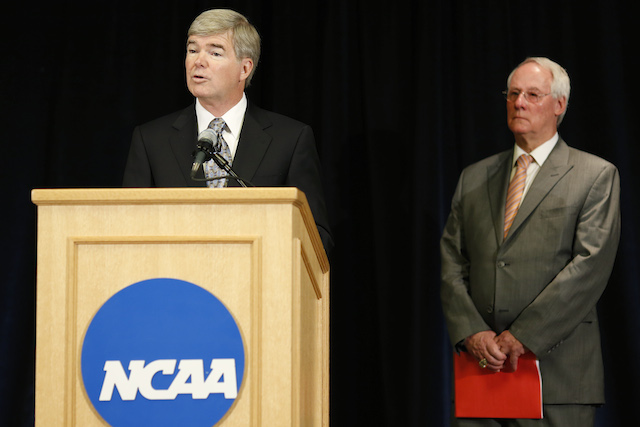 The NCAA announced Monday that it has eliminated Penn State's football bowl ban (effective immediately) and will restore the university's full allotment of football scholarships in 2015-2016.
The decision comes a little more than two years after NCAA president Mark Emmert imposed a four-year postseason ban, significant scholarship reductions, a $60 million fine, and the vacating of more than 100 victories in the wake of Penn State's Sandusky scandal.
The NCAA is following the recommendation of independent athletics integrity monitor George Mitchell, who also suggested in this week's annual report that his monitorship could end significantly earlier than 2017 if Penn State continues to make progress as it has over the past two-plus years.
Today's decision gives Nittany Lions fans hope of a bright future on the football field in the near term, and will have an enormous impact in three different areas.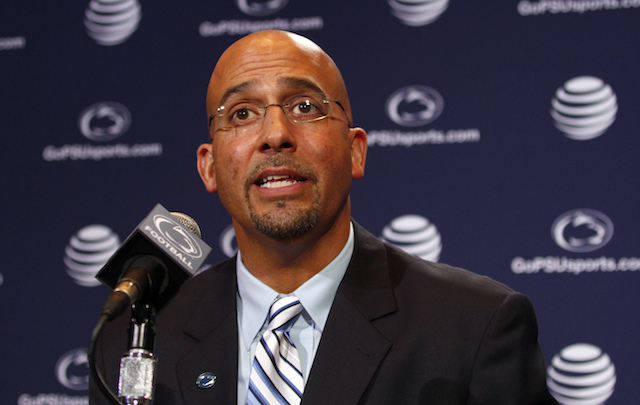 Bowl hopes
When Penn State coach James Franklin woke up this morning, his team was at least two years and three months away from earning an invitation to a bowl game; the soonest the Nittany Lions could hope to play in a bowl was December 2016. That's all changed in a hurry. At 2-0, PSU is now only four wins away from bowl eligibility and its 2014 seniors have something to play for besides pride.
Each of Penn State's last two football teams have finished with winning records (8-4 in 2012 and 7-5 in 2013) but with nothing else to show for their successful seasons. Now, 2014 can — and likely will — be different. Today's news also has to beg the question: would Bill O'Brien still have jumped to the NFL's Texans if he'd known there was much closer light at the end of the tunnel in Happy Valley?
Bottom line: Franklin's program was always going to matter nationally whether its season ended in November or January, but now the Lions' bowl hopes are real and alive much sooner than his players could have dared to dream.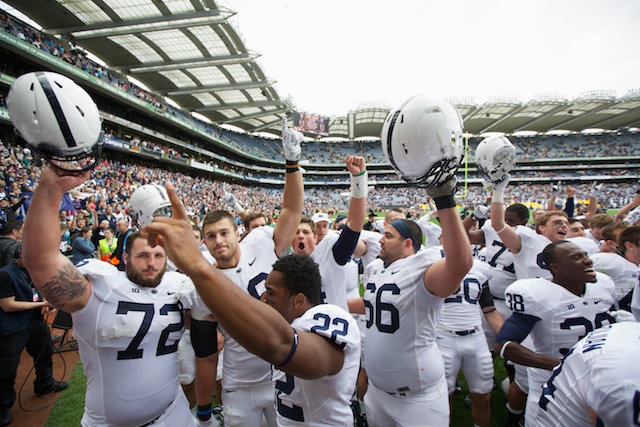 Championship implications
Based on the NCAA's announcement, the Big Ten has decided to restore Penn State's eligibility for the league's football championship game, effective this season. The Nittany Lions have their work cut out for them after the latest round of conference realignment, playing in a loaded East division that includes 2013 BCS teams Michigan State and Ohio State, but at least the opportunity is there. Or, to put it in pop culture lingo: "So you're telling me there's a chance."
Early returns on the Franklin era have been mixed. PSU needed a field goal on the final play to escape UCF in Dublin and didn't exactly look dominant in a 21-3 win over Akron at home, but undefeated is undefeated. Give credit to the Penn State players for how they've competed the last few years with no championship carrot for the coaching staff to dangle. Only time will tell if the added motivation of a potential 13th game in 2014 could lead to a special season at Beaver Stadium.
Since we're talking championships, we're obligated to include one other reminder: while the Nittany Lions aren't anywhere near the College Football Playoff picture as of this point in September, they're infinitely closer than they were 24 hours ago.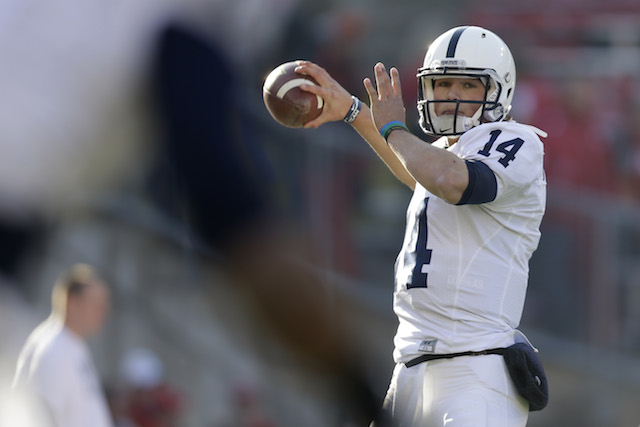 Recruiting progress

Franklin and his predecessor O'Brien have done an admirable job of recruiting players to Penn State despite the obvious restrictions, both in number of scholarships and postseason opportunity. For Penn State to land five-star standouts like Christian Hackenberg with no guarantee they'd ever play in a non-regular season game speaks volumes to both the skill of the recruiter and the prestige of the program.
With that said, imagine where Penn State will be when National Signing Day rolls around in February … or the year after that … or the year after that. Yes, today's news is big for the current players, but the argument could be made that the NCAA's decision has even greater ramifications for the future of Penn State's program than for the present.
The doomsday scenarios so many pundits predicted in the summer of 2012 — with the Lions not having any sort of prayer to compete because of limited depth and limited talent — didn't come to fruition. If sanctions-riddled Penn State could win under probation, the sky is the limit now that Franklin can promise his top targets four years of postseason eligibility, and promise it to more of them because the scholarship reduction is going away sooner than expected.