5 Breakout NBA Players to Watch for This Season
The bulk of free agent signings are done, teams are relatively set, and NBA training camp is just around the corner. But taking the focus away from the best rookies and the stars who moved around in free agency, what about the underrated or unnoticed players? Every year, we see several breakout NBA players who move from a bench role to the starting lineup; transition from being promising young projects to quality role players; or go from All-Star to superstar. Here are five breakout NBA players for the 2016–17 season.
1. Nikola Joki?, Denver Nuggets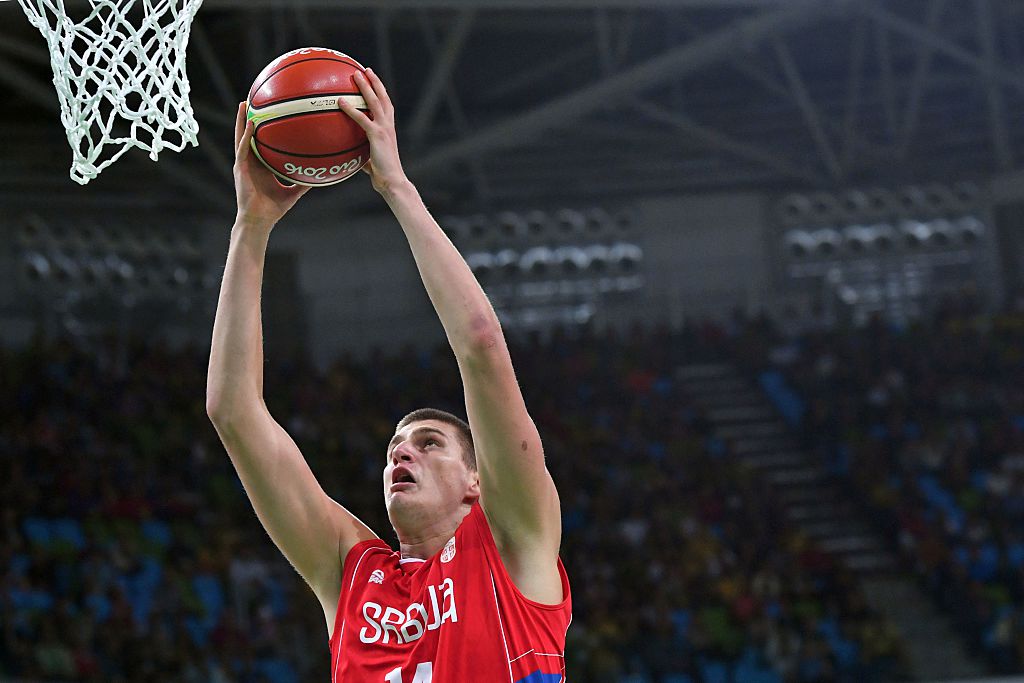 A center who was drafted in the second round back in 2014, Nikola Joki? made his debut for the Denver Nuggets last season with a pretty solid rookie campaign. He averaged 10 points and seven rebounds in 21.7 minutes per game, while shooting 51.7% from the field and knocking down 28 three-pointers. All in all, Joki? has good range on the floor, is an underrated passer, and is a quality player under team control for three more years.
Joki? improved as he got more accustomed to the NBA game in his rookie year, eventually moving into the starting lineup. From the beginning of March through the end of the year, he averaged 11.1 points and 9.3 rebounds in 26.5 minutes per game. His per-36-minutes averages for the season were an impressive 16.3 points, 11.6 rebounds, and 3.9 assists per game. Joki? may not be one of the guys heading toward superstardom, but he might be the next good offensive center in the NBA.
2. Gary Harris, Denver Nuggets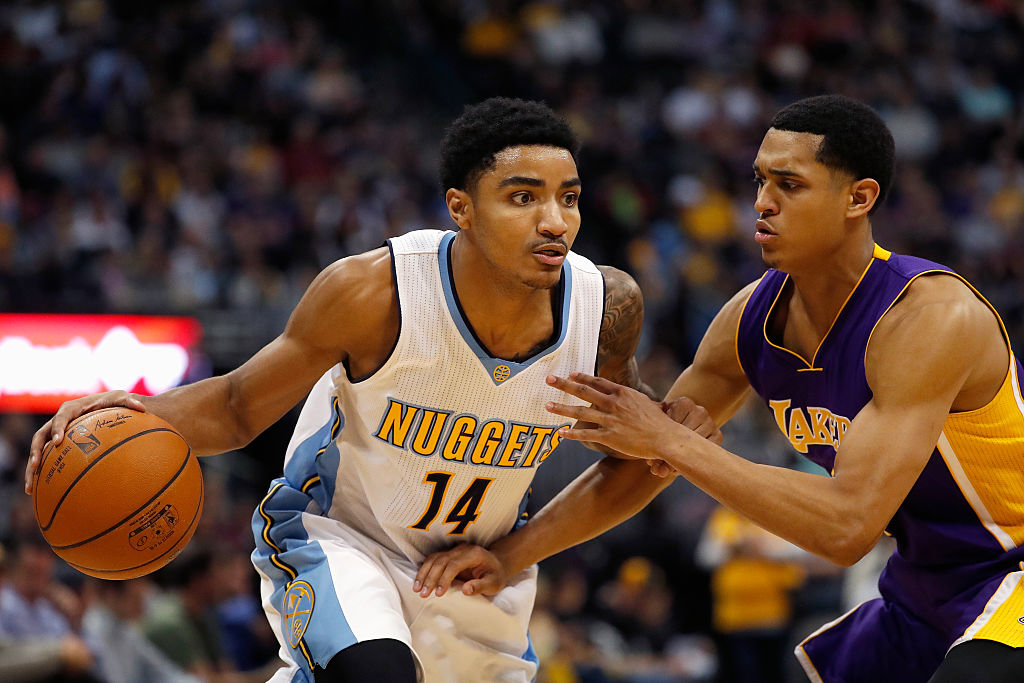 Another promising young player for the Denver Nuggets, Gary Harris already broke out to a certain degree in 2015–16. Drafted by the Chicago Bulls in 2014 and traded as part of a package deal for forward Doug McDermott, 21-year-old Harris improved his shooting in a big way last year, moving into the starting lineup and posting 12.3 points on 46.9% shooting overall, with 35.4% shooting from three-point range and knocking down 1.4 threes per game.
But there's a feeling around the league that Harris could be even better, given his age and skill set. From February 24 until the end of the season, Harris averaged 14.8 points on 48.8% shooting from the field, 36.2% from three-point range, and 33.6 minutes per game. He only averaged 10.1 shots per game on the season, and with the high rate of efficiency from the field there's no reason to believe he couldn't be a higher volume scorer — should the Nuggets look to get more offense from him this season.
3. Doug McDermott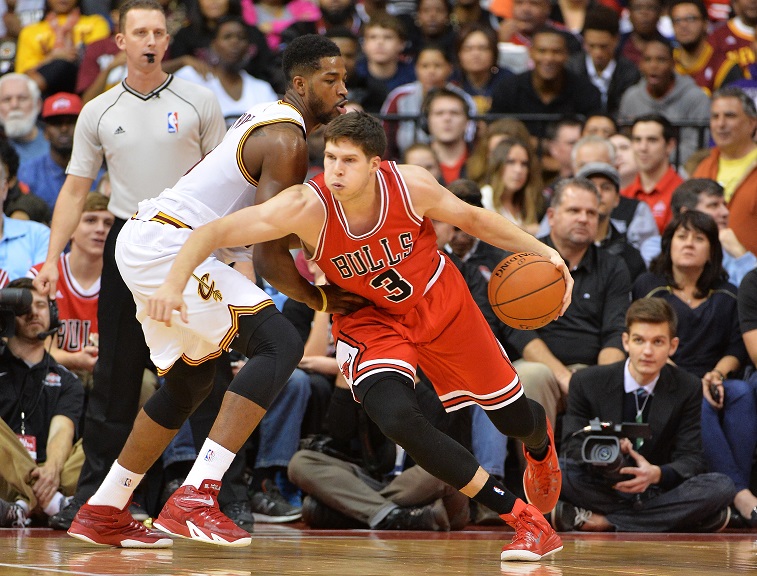 The player who the Bulls traded Harris for is another one who could break out this season. Doug McDermott had an awful rookie season, culminating in a knee surgery that limited him to just 36 total games. He averaged three points on 40.2% shooting and 31.7% from beyond the arc. He had a much better second season, getting into 81 games and averaging 23 minutes with 42.5% shooting from three-point range — averaging 9.4 points per game.
With the Bulls bringing in Dwyane Wade and Rajon Rondo while getting rid of Mike Dunleavy Jr., there's one major thing missing from the offense: three-point shooting. That's where McDermott comes in. He had a stretch last season where he was getting regular playing time, averaging 27 minutes in 14 games from mid-February until mid-March. McDermott put up 15.6 points on 51.7% shooting and 46.4% from deep. If utilized well by the Bulls, those kinds of numbers could be what you see from the sweet-shooting McDermott this season.
4. Jabari Parker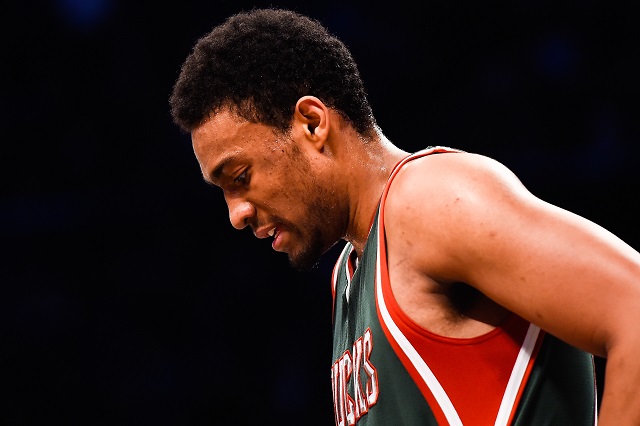 The Milwaukee Bucks' No. 2 overall pick just two years ago, Jabari Parker had to deal with an ACL tear that prematurely ended his rookie season. He came back and played a full season last year, but he'd spent the entire first offseason of his NBA career rehabbing an injury rather than focusing on becoming a better overall player. Parker averaged 14.1 points, shooting 49.3% from the field and just 9-for-35 on three-pointers.
But now the extremely talented forward has had the benefit of a healthy summer, working on his shooting and several other aspects of his game. If Parker comes back with even a decent three-point shot, he could take a massive leap forward in 2016–17. As it stands, just natural progression for the 21-year-old should mean more scoring and better defense; he averaged 16 points with one steal per game per 36 minutes last season. Expect a big improvement from the athletic Parker.
5. Devin Booker
The 19-year-old rookie had quite the first season of his career for the Phoenix Suns. Drafted with the 13th overall pick, Devin Booker started the year with a bench role behind shooting guard Eric Bledsoe. He did well, averaging 13.8 points in 27.7 minutes per game. He's extremely athletic and a developing shooter, averaging 34.3% from three-point range while knocking down 99 long-balls over 76 games played.
But Booker really showed what he could do once Bledsoe's season ended with a knee injury. He moved into the starting lineup, and from the start of January through the end of the season averaged 18.3 points in 35 minutes per game. Even before turning 20 years old, he has six games in the NBA where he's scored 30 or more points. This isn't just a possible breakout player; Booker is a potential NBA superstar as he develops his frame, becomes an even better shooter, and learns the NBA style of play.
Follow Ryan on Twitter @RyanDavisBP
Statistics courtesy of ESPN and Basketball-Reference.