Breanna Stewart Slams Atlanta Dream Owner Over BLM Comments: 'I'm Not Going to Say Her Name'
More athletes than ever are speaking out about racial injustice and police brutality. One of the most politically active leagues is the WNBA, where many players are demonstrating in support of Black Lives Matter. Seattle Storm forward Breanna Stewart was recently asked about Atlanta Dream owner Kelly Loeffler's opposition to the BLM movement, and Stewart had plenty to say about it. 
Kelly Loeffler's role in the WNBA and Black Lives Matter
RELATED: Masai Ujiri Incident Confirms Why Black Lives Matter Is Needed Now More Than Ever
Loeffler is a co-owner of the WNBA franchise, Atlanta Dream, as well as a Georgia senator. According to ESPN, she wrote a letter to WNBA commissioner Cathy Engelbert this summer. It expressed disapproval that the league is participating in the movement: 
"I believe it is totally misaligned with the values and goals of the WNBA and the Atlanta Dream, where we support tolerance and inclusion … This is not a political movement that the league should be embracing, and I emphatically oppose it."
To be clear, Loeffler makes the claim that while she supports the sentiment of the phrase itself, she doesn't represent the organization known as Black Lives Matter. 
How the WNBA reacted to Kelly Loeffler
RELATED: Jimmy Butler's Social Justice Message Was Too Unique for the NBA
The statement was an unequivocally unpopular one in WNBA circles. The Dream players released a statement of their own. While they didn't call out Loeffler by name, they reaffirmed their belief in the movement and encouraged fans to "Vote in November." 
Meanwhile, Stewart, one of the league's best players for the Seattle Storm, has been an active protestor for the Black Lives Matter movement according to a New York Times article about Stewart's activism. She had some strong thoughts on Loeffler as well. 
Breanna Stewart's reaction to Kelly Loeffler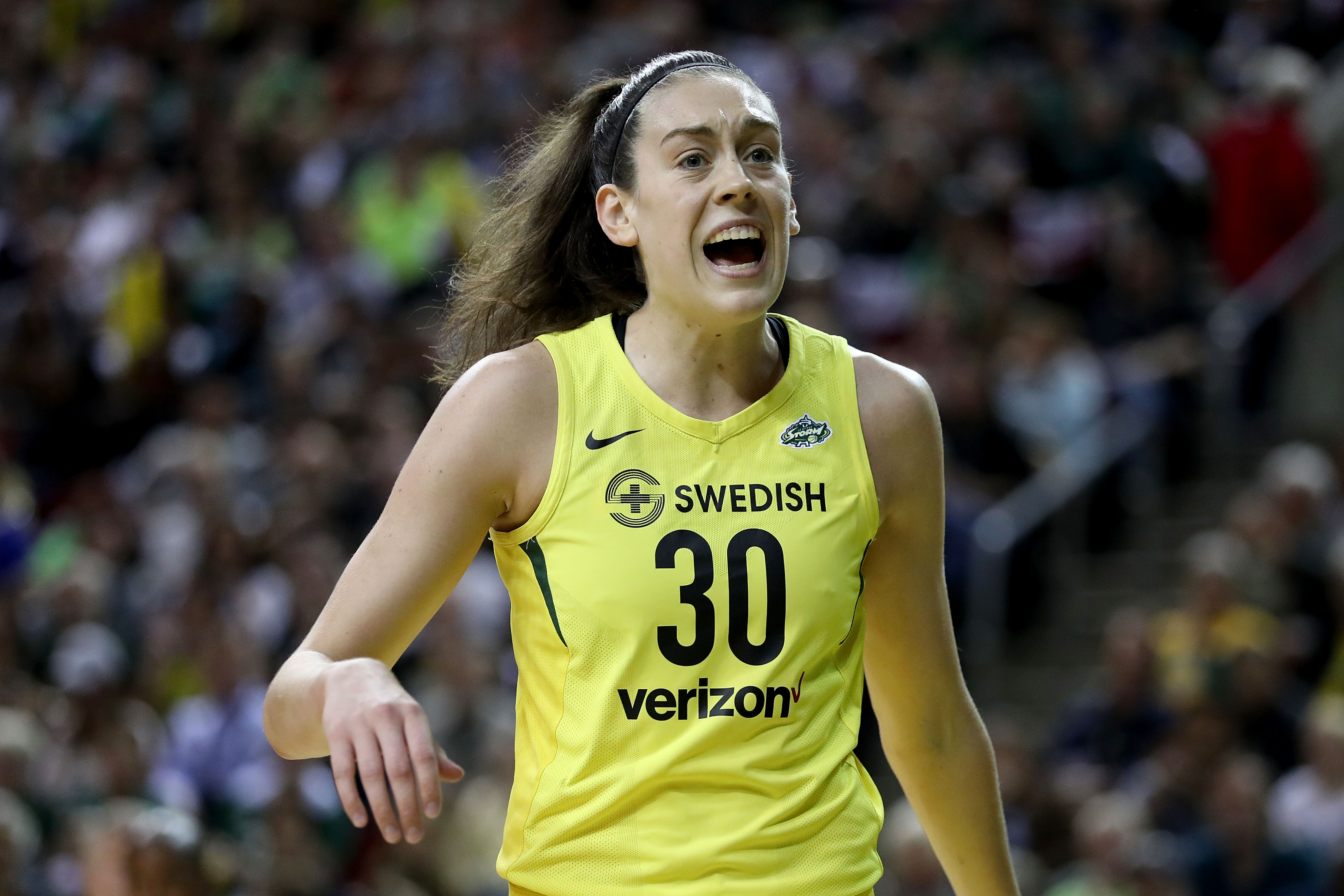 Another New York Times article about Stewart covered her return to the WNBA amid the coronavirus pandemic. The subject of Loeffler came up. While Stewart refuses to name Loeffler, she sounded off about her stance on Black Lives Matter: 
"Well, I'm not going to say her name, so I don't give her any type of power, but I think that from a political standpoint, what she did was just try to ruffle the feathers in the league and create more attention for herself because her Senate seat is up for grabs.

I think as the co-owner of the Dream, to make those comments when you're in that position in a league that is 80 percent women of color? We don't appreciate that, we don't appreciate that at all. Personally, I don't think she should be an owner, but it is not my job to decide who should not be an owner."
Stewart's last point raises an interesting issue and paradox that leagues currently face. Many of the issues these athletes are championing disproportionately affect people from a lower socioeconomic class as well as minorities and people of color. The majority of sports owners are white and male (with Loeffler being an obvious outlier as a white woman).
The league has largely support players. But what happens when the owners' interests conflict with the protests? Will owners remain tolerant? Will players like Stewart call for them to be removed? There are no easy answers. For now, Stewart won't legitimize Loeffler's views by even stating her name.