Brett Favre Makes a Bold Prediction About Aaron Rodgers' Future While Also Taking a Subtle Shot at the Packers: 'It's Going to Be Interesting to See if Management Yields to His Demands'
It seems that following a Week 1 stinker, Aaron Rodgers and the Green Bay Packers are currently back on track and ready to contend for a Super Bowl. Rodgers has looked like his normal self in the past two games, and Green Bay's offense has played like one of the best units in the league.
Many people, though, still have a specific question in the back of their minds: What is Rodgers' future with the Packers?
It was, obviously, a highly-asked question throughout the offseason as trade and retirement rumors flew around from every direction. But Rodgers is still in Green Bay, so all that speculation has been put on hold for the time being.
Maybe, however, it can be put to bed entirely.
Packers legend Brett Favre recently discussed Rodgers' situation in an interview, and he made some comments that should have Green Bay fans excited about the future.
Aaron Rodgers and the Packers had an interesting offseason
One of the major storylines of the 2021 NFL offseason was Aaron Rodgers' relationship with the Packers. After he first made eyebrow-raising comments following the team's loss in the NFC Championship Game, reports later came out that he wanted to leave the team.
The speculation then took off from there. People began wondering whether the Packers would end up trading Rodgers; some even thought he could just retire.
His former teammate Brett Favre, on the other hand, said he thought the QB "would sit" if the situation didn't get resolved, per NFL.com.
Despite all the rumors and speculation, though, Rodgers showed up to training camp. He confirmed there had been issues between himself and the organization and that the Packers hadn't taken his opinions into consideration in past years. But all in all, he seemed committed to his team for the 2021 season.
Favre, however, seems to think he's in it for the long haul.
Brett Favre made a bold prediction about Aaron Rodgers' future
Favre has changed his tune a bit in regards to Rodgers' situation with the Packers. In September, he said on SiriusXM NFL Radio that he thought the Packers would now start listening to Rodgers moving forward, per ProFootballTalk.
In an interview with Rich Eisen on Oct. 1, he took it a step further.
"I was surprised by the whole deal this past offseason; they got a good thing going, and they still got a good thing going," Favre said on the Oct. 1 episode of The Rich Eisen Show. "… I just don't know if his chances to win the Super Bowl will go up going anywhere else. I just find it hard to believe that he would go anywhere else and management would let him go anywhere else, nor would he choose to go anywhere else. I assume they got everything resolved, so I see him finishing his career in Green Bay."
Well, that's a bold prediction. Sure, Rodgers decided to return, but he also reworked his contract to make it easier for himself and the organization to part ways after this season. It seems the door for his departure is still open if both sides want it.
Favre then added that he doesn't know if Rodgers will play in the NFL as long as Tom Brady, although he said the 37-year-old still plays like he's 25. The Hall of Fame QB also admitted that while he thinks Rodgers will finish his career with the Packers, he's still not 100% sure if that's how this whole scenario will end.
"I think I'm maybe assuming too much even though they got a good thing going. I don't think Jordan Love is the issue. I think it's more retaining players and bringing players back that he felt comfortable with," Favre said. "… It's going to be interesting to see if management yields to his demands. And that would be sort of a first if it happens."
That final sentence can certainly be seen as a subtle shot toward the Packers, the franchise Favre left toward the end of his career. But from the looks of the former QB's comments, it seems he thinks that as long as the organization respects Rodgers' opinion moving forward, there's a good chance the three-time MVP stays in Green Bay.
Aaron Rodgers' future with the Green Bay Packers is still up in the air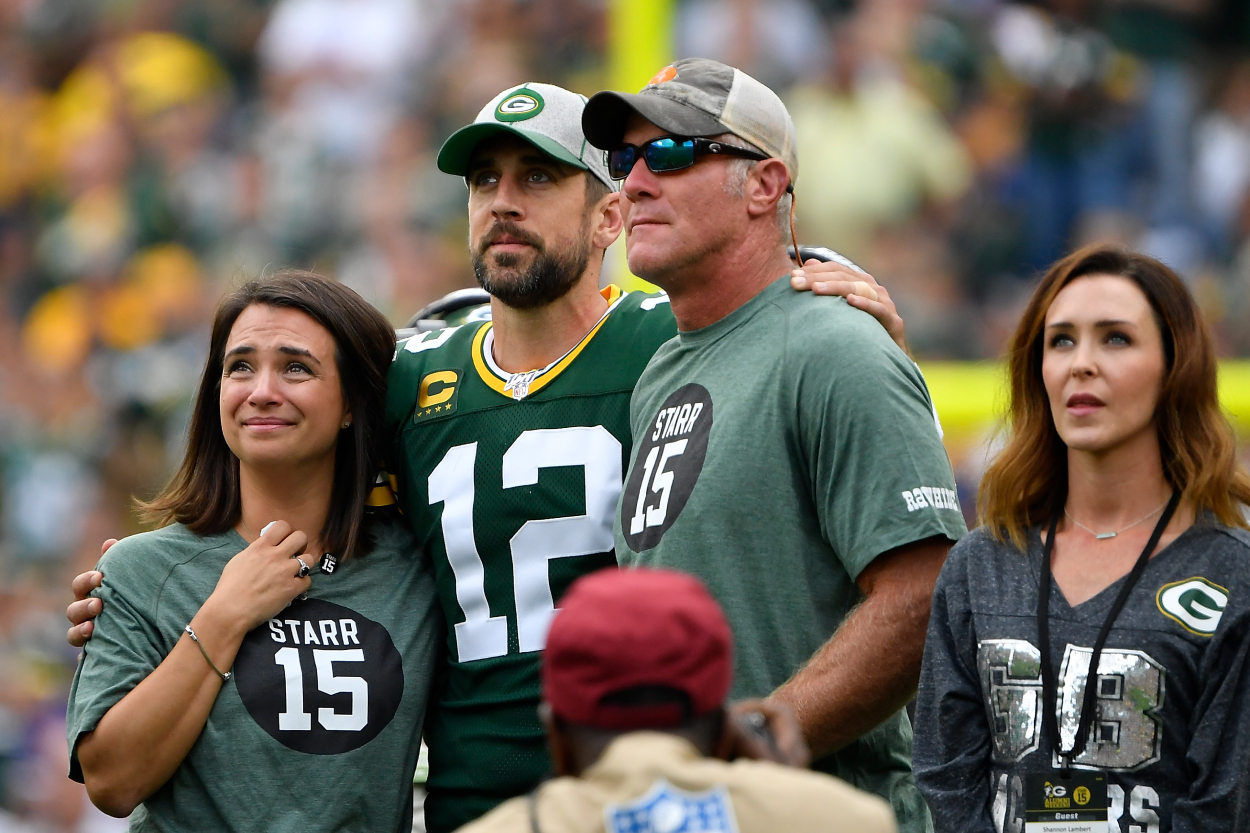 No one really knows what's in store for Rodgers' future with the Packers.
It's important to note, though, that he has a close relationship with Favre. In a recent episode of The Pat McAfee Show, Rodgers said he and Favre have "become good friends over the last few years." So, maybe Brett's comments about Aaron are based off conversations he has had with the QB.
However, given Rodgers' restructured contract and Green Bay's history of not putting his opinions into consideration, the idea of him joining another team is still not out of the question.
But for now, we just have to sit back and wait. At least for Packers fans, Favre just gave them a glimmer of hope to hold on to while they do that.
RELATED: Aaron Rodgers Leaned on an NFL Legend to Help Him Through Concussions Early in His Career