Brett Favre Earned Over $130 Million in the NFL but Found Himself Drawn to a Much Different Sport in Retirement
Legendary Green Bay Packers quarterback Brett Favre spent two decades embodying what the NFL seemingly stood for.
Before newer faces like Patrick Mahomes and Russell Wilson took over the top quarterback tier, Favre was among the most famous faces in football. Favre threw touchdowns and shook off brutal hits in a career that landed him in the Pro Football Hall of Fame.
In the years since he retired, Favre has shifted his attention to a much different sport.
Brett Favre became a volleyball fan after he retired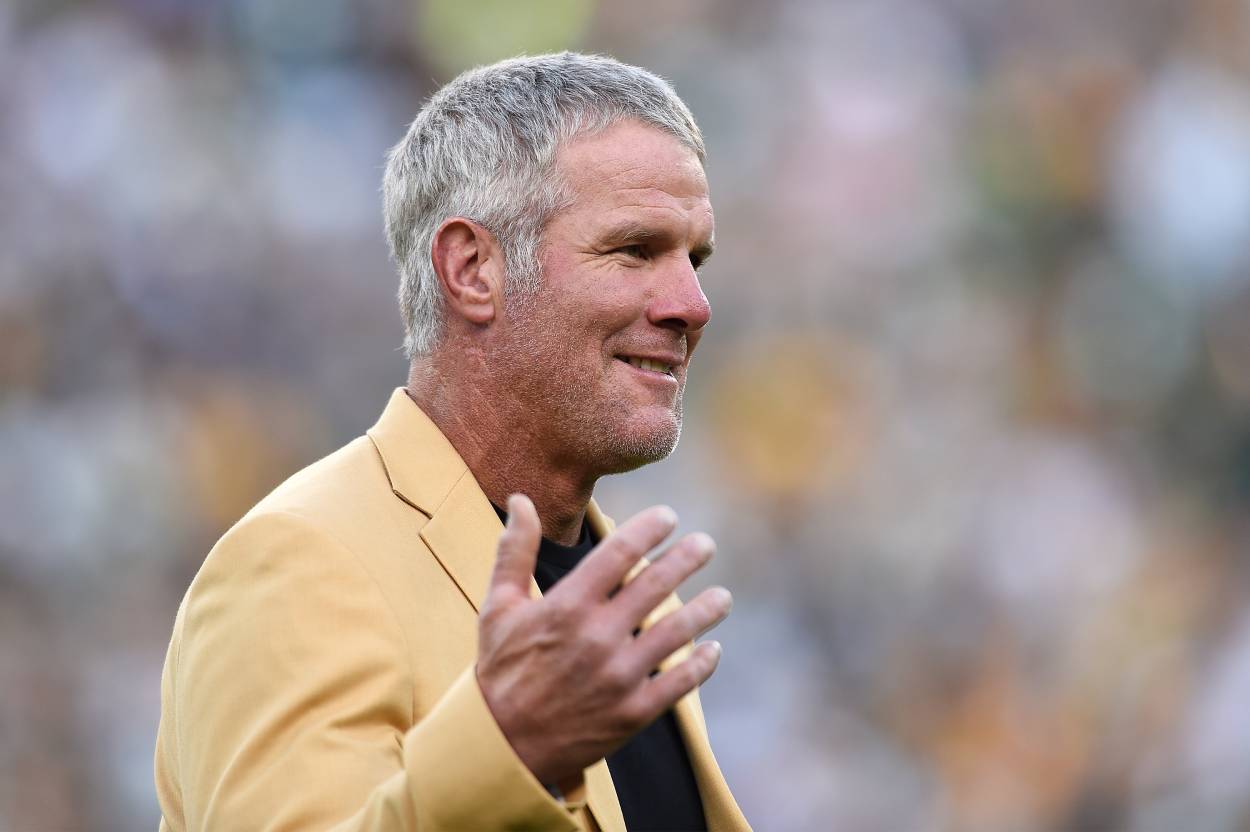 Those who watched volleyball matches in Mississippi may have seen Brett Favre, gray hair and all, in the stands.
Favre's daughter, Breleigh, was a high school volleyball standout who later played at Southern Miss. Her father played for the Golden Eagles from 1987-91.
Favre retired from the NFL after the 2010 season with a Super Bowl ring and $137 million to his name. With football in his rearview, Favre began focusing on the simple things in life.
When he wasn't mowing his lawn, Favre attended his daughter's volleyball games and quickly became enamored with the sport.
Favre found volleyball to be quite different from football
With his professional football career over, Favre became a mainstay at his daughter's volleyball games. 
Favre has been outspoken about his love for volleyball. In a 2017 interview with VolleyballUSA, Favre explained how becoming a volleyball fan meant moving on from certain ideas he'd developed ahead of time.
"As a parent, many times I have looked at an opposing team on the court and, thinking from a football mentality, decide that team doesn't have a chance. They are all short and un-athletic looking. But then they play circles around other teams because they play together as a team, even without a standout player. Ability is trumped easily by fundamentally being sound, playing together, and relying on the coach's game plan. This is definitely true in football as well."

Brett Favre
Leave it to Favre, a brilliant football mind and one of the most prolific quarterbacks in NFL history, to find a way to tie volleyball and football together.
Favre has also spent retirements earning various honors
Favre has been a busy man since he played his final NFL down nearly 11 years ago.
The Packers retired Favre's No. 4 and inducted him into their Hall of Fame in 2015. A year later, Favre entered the Football Hall of Fame in his first year of eligibility. Former Colts receiver Marvin Harrison and head coach Tony Dungy, along with the late Kevin Greene, were among the seven total inductees that year.
Favre also earned a spot on the NFL 100th Anniversary All-Time Team in 2019. He was among 10 total quarterbacks, a list that also included Peyton Manning and Tom Brady, who received that honor.
All contract figures courtesy of Spotrac.