Brett Favre Earned Over $130 Million in the NFL but Never Really Considered Himself a Celebrity: 'The Reality Is That You Are Just a Regular Person'
Green Bay Packers legend Brett Favre personified the gunslinger for a generation of football fans. He fought through injuries and age to sling touchdowns (and some ugly interceptions) until he finally retired in his early 40s.
With a charming attitude and prolific passing numbers, Favre served as one of the league's top ambassadors for years. But despite his resume and his wealth, the Pro Football Hall of Fame quarterback didn't see many differences between him and the Packers fans in the stands.
Brett Favre never considered himself a celebrity during his playing career
For three hours each Sunday, Favre wore a helmet, threw touchdowns, and took a hard beating from athletic defensive linemen and linebackers. Once the helmet came off, he was nothing more than a man from Mississippi. 
According to the Packers' official website, a reporter asked the quarterback if he considered himself a celebrity during a 2004 press conference. Favre immediately made it clear he thought of himself as a "regular person." 
"To be totally honest with you, I don't know what I feel like. I don't know how you classify a celebrity. Is it a person who is signing autographs, who is always being tugged at? I mean, I have always thought of myself as a football player – as a younger kid, as a football player and baseball player. I just love to do what I do. I never dreamed of all the other things that go along with it."

Brett Favre
Say what you want about Farve, but there's something commendable about him wanting people to understand he didn't see himself as a greater figure than them solely because of his money or statistics. It's worth noting that he threw for over 4,000 yards and 30 touchdowns that season. According to Spotrac, he earned $9.5 million that year.
But neither the uniform nor the paycheck made the man, and Favre wanted everyone to understand his feelings.
All professional athletes can learn from Favre's wisdom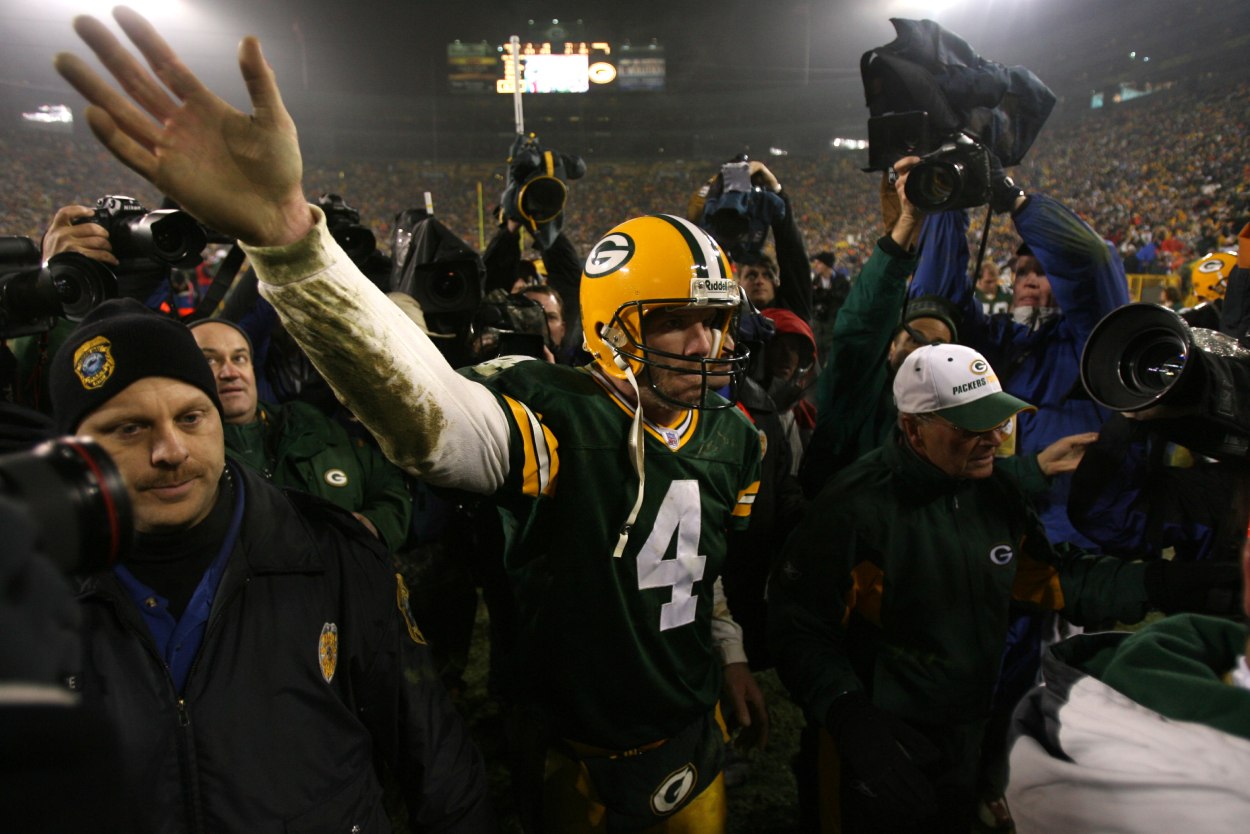 Professional athletes have been treated as forces larger than life for over a century. It can be easy to forget that LeBron James and Tom Brady, for all of their accomplishments, probably share the same interests and dislikes as plenty of their fans.
During that 2004 press conference, Favre explained how proud he was, knowing that he and his family were, in his words, regular people.
"Sometimes, you get caught up in what's going on around you. The reality is that you are just a regular person. At some point, the career will be over; the bright lights turn off. That can come back to haunt you if you're not just a regular guy."

Brett Favre
If the NFL is looking for another motivational speaker anytime soon, it might not be too late to call Favre. He certainly has enough experiences, good and bad, to educate the next generation of players on how to live life and what they need to avoid.
Favre nonetheless remains an extremely popular figure among sports fans
Favre might consider himself a regular person, but he's far from that in Green Bay. Packers fans, even those who booed him when he played for the rival Minnesota Vikings from 2009-10, will always see him as a football legend.
The Lambeau Field faithful have showered him with cheers and applause when he's returned to Packers games in recent years. The loud ovations have followed him across the United States. Those in attendance loudly celebrated when Favre arrived at Ridgedale Center in Minnetonka, Minn., for a signing event ahead of Super Bowl 52 in 2018.
Farve has spent decades understanding who he is and hoping others will appreciate him as a person, not just an athlete. Even if the majority still want to simply see him as a Hall of Fame player, it's far from the worst goal for someone famous to have.
Like Sportscasting on Facebook. Follow us on Twitter @sportscasting19.