Brett Favre and an Inexperienced Packers Receiver Bonded Over a Simple Wink
Green Bay Packers legend Brett Favre didn't just throw touchdown passes and lead his team down the field. He also served as one of the greatest characters in NFL history.
The Pro Football Hall of Fame quarterback used a carefree attitude and love of pranks to bond with teammates, even those who had recently joined him in Green Bay. That extended to Ruvell Martin, a wideout who saw extended action with the Packers beginning in 2006.
Brett Favre and Ruvell Martin bonded over a wink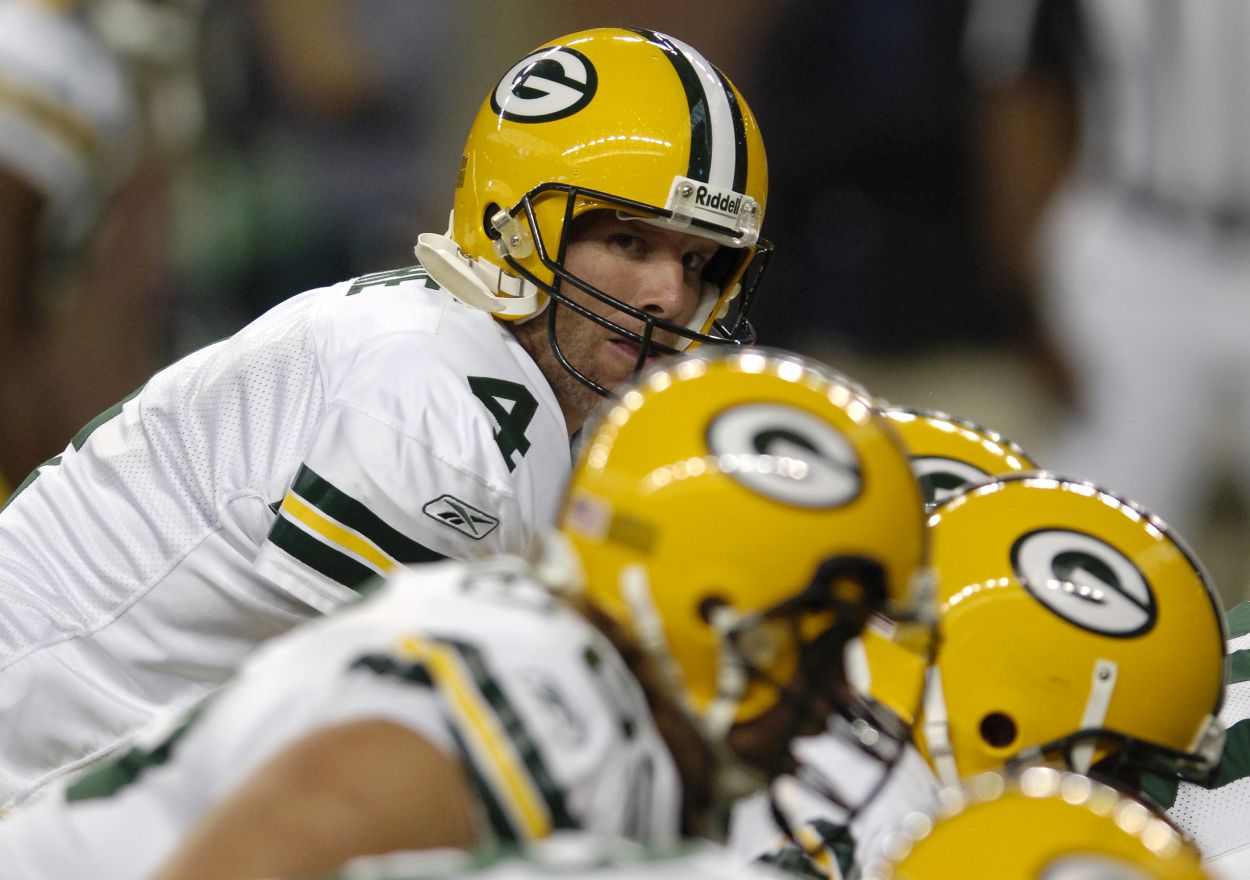 Early in the 2006 season, the Packers gave Ruvell Martin, a former undrafted rookie who had recently played in NFL Europe, more snaps at receiver.
In a 2016 interview with Sporting News, Martin recalled his first real interaction with Brett Favre. The former undrafted receiver saw increased action in a Week 6 matchup with the Miami Dolphins after Greg Jennings suffered an injury.
Martin took the field, and he had a simple gesture for his quarterback.
"So I line up, and I had a go route, and I remember the defender was pressed up to me in man coverage. I look at [Brett], and I wink at him. And so you see him kind of nod. He's the type of person that likes that kind of stuff. He's all about playing the game, you know?. He's like, 'OK, well, I don't really know who this kid is, but shoot, alright. Want to wink at me? Let's go.'"

Ruvell Martin
Favre threw the ball at Martin, who didn't haul it in. However, he finished the Packers' 34-24 victory with two catches for 25 yards. Martin said Favre later shared the receiver's wink with the team during a meeting a few days later.
"So he's imitating the whole thing, and he goes, 'I dropped back, and I threw a perfect pass … and he DROPS it!' So everyone's just dying laughing at me," Martin recalled. "So for the rest of the season, every time he'd see me, he'd jump in a wideout stance and wiggle his neck around and give me this long, drawn-out wink."
Favre had a reputation as a prankster and character
Martin took Favre's reactions in stride, and that proved to be the right call. After all, Favre had a legendary reputation for pranks and humor.
From flatulence machines to being a 'shower bandit,' the quarterback loved making himself and others laugh. Even as he grew into one of the league's oldest active players, he kept his sense of humor alive.
The Packers certainly needed that humor amid a tough 2006 season. Green Bay went 8-8 and missed the playoffs in Favre's penultimate season as the team's quarterback.
Martin, at least, ended the year with 21 catches for 358 yards and a touchdown. Most of that action came in a meaningless Week 17 victory over the Chicago Bears when he hauled in seven catches for 118 yards.
Martin spent the 2020 season on the Packers' coaching staff
Favre entered the Pro Football Hall of Fame in 2016, a year after the Packers retired his trademark No. 4.
Martin, who caught his final NFL catch in 2012, got another chance with the Packers in 2020. He received an assistant coaching position through the club's minority coaching fellowship program. The longtime NFL wideout spent the 2020 season working with the offense, specifically the receivers.
It is not known if Martin advised tight end Robert Tonyan, a breakout star in 2020, to attract Aaron Rodgers' attention by winking.
Like Sportscasting on Facebook. Follow us on Twitter @sportscasting19.