Brett Favre Just Revealed Where His Loyalty Lies in the Donald Trump vs. NFL Battle
Many people wondered where legendary NFL quarterback Brett Favre stood in terms of his politics, especially after calling Colin Kaepernick a hero but then later golfing with President Donald Trump. Well, the former Green Bay Packers legend has finally taken a stance. Despite all of the attacks that Trump has made on Favre's former employer, the NFL, as well as its current players, Favre has officially sided with the President of the United States ahead of the upcoming presidential election.
Donald Trump has attacked the NFL and its players
RELATED: Shaquille O'Neal Makes His Political Allegiances Clear After His First-Ever Vote
Ever since Colin Kaepernick chose to take a knee during the national anthem to protest racism and social injustice, President Donald Trump has attacked any players who have followed suit.
"I think it's a terrible thing, and you know, maybe he should find a country that works better for him. Let him try – it won't happen," Trump said in 2016, according to The Guardian.
In 2017, Trump took it a step further.
"Wouldn't you love to see one of these NFL owners, when somebody disrespects our flag, to say, 'Get that son of a b**** off the field right now. Out! He's fired. He's fired,'" Trump said at a rally in 2017, according to The Guardian.
This year, following the killings of George Floyd and Breonna Taylor at the hands of police, more and more athletes have since decided to also protest the national anthem. NFL commissioner Roger Goodell even admitted that the NFL was "wrong" in how it handled player protests.
However, Trump has since attacked Goodell's statements via Twitter: "Could it be even remotely possible that in Roger Goodell's rather interesting statement of peace and reconciliation, he was intimating that it would now be OK for the players to KNEEL, or not to stand, for the National Anthem, thereby disrespecting our Country and our Flag?"
Trump has also attacked the league's ratings this year, saying that they are down due to the political stances some of the players have taken.
Brett Favre's political allegiances have been in question
RELATED: Barack Obama Just Praised LeBron James While Donald Trump Continues His Bashing of the NBA
Earlier this year, Favre said that "hero status will be stamped with" Colin Kaepernick like it was with Pat Tillman, per NBC Sports. Tillman played in the NFL but later enlisted in the Army before sadly getting killed in action. 
Favre, though, ultimately clarified his statement via Twitter.
"Including Pat Tillman's name in the interview on Colin Kaepernick was not a comparison of the two, but a recognition that they both sidelined their football dreams in pursuit of a cause," Favre tweeted. "Pat tragically lost his life, making the ultimate sacrifice, and deserves the highest honor."
About a month later, Favre then golfed with Trump, and many suggested that golfing with the president was Favre's way of endorsing him ahead of the 2020 Presidential Election. However, Favre said this in an interview with USA Today.
"I would have played golf with any president because I respect the office of the United States. It's an honor," Favre said, per USA Today. "If Barack Obama asked to golf with me, I would have taken the invitation."
Favre then showed his cards a little more during a town hall in October.
"The NBA and the NFL are struggling with lower ratings, as fans clearly do not want political messaging mixed with their sports," Favre said. "So how should the leagues support and promote an anti-racism position without becoming political and alienating fans?"
With this statement, some thought that Favre was revealing that he agrees with Trump's belief in that the NFL's ratings are down due to political messages being mixed with sports.
Now, Favre is making his allegiances very clear.
Brett Favre gives Donald Trump his endorsement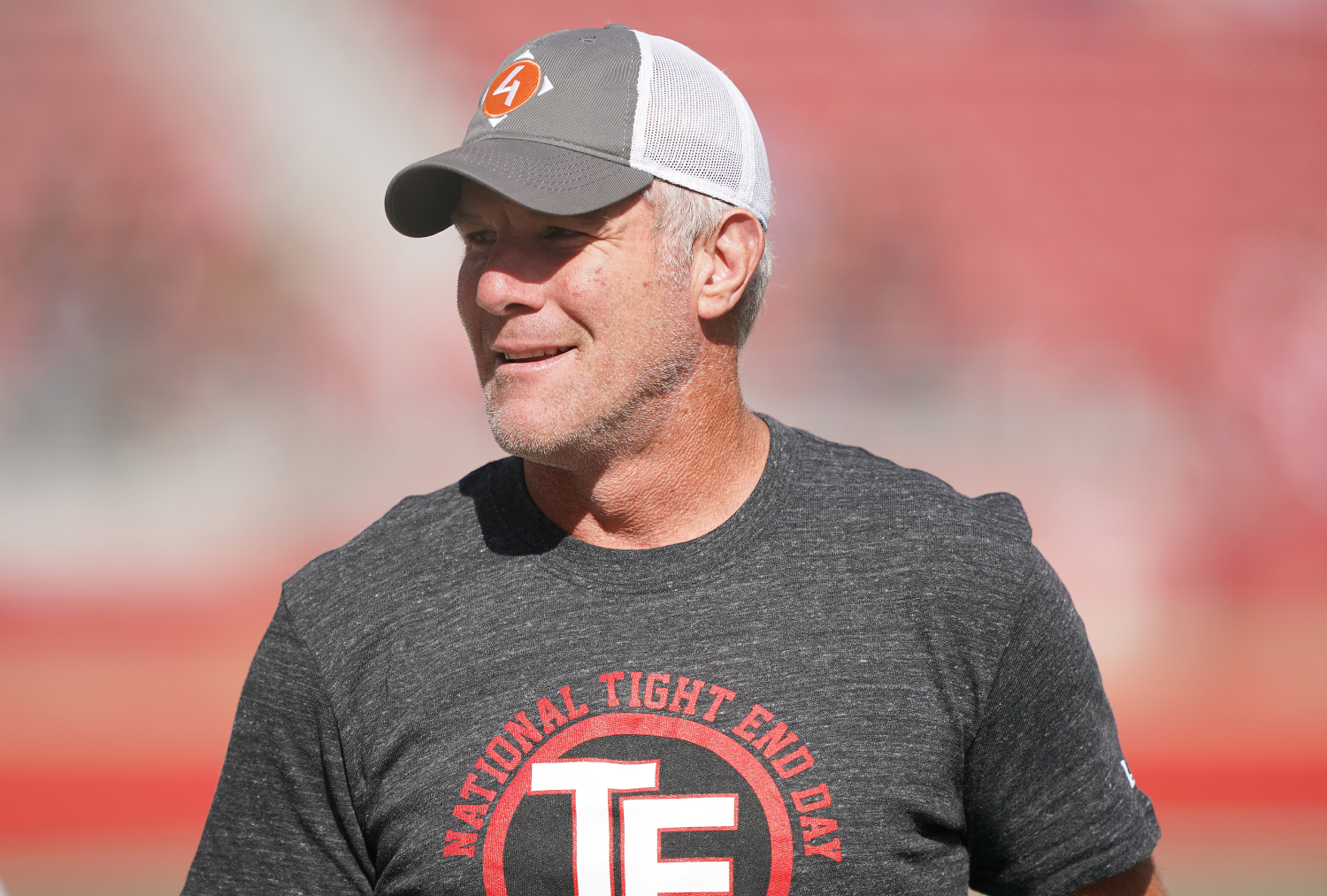 RELATED: Brett Favre Sides with President Trump and Blames Politics in Sports for Lower TV Ratings
On Oct. 30, Favre finally revealed where he stands politically.
"My Vote is for what makes this country great, freedom of speech and religion, 2nd [amendment], hard working tax paying citizens, police and military," Favre tweeted. "In this election, we have freedom of choice, which all should respect. For me and these principles, my Vote is for [Donald Trump]."
No one is faulting Favre for having a political opinion. Everyone has that right. However, his stance makes it appear that he has completely looked past Trump's attacks on his former employer, the NFL. He appears to be siding with the president over the players who play in the same league that he used to dominate.
Maybe, that's not his intention, though. Favre might just think that Trump has been a good president and that he wants to keep him in office. Many others have that same belief. However, political decisions are pretty polarizing, so it will be interesting to see the backlash that Favre receives for this endorsement, as well as the potential support.