Brett Favre's Rookie Card: How Much Is It Worth Today?
Brett Favre is a gridiron legend. His prowess earned the NFL quarterback a spot in the Football Hall of Fame. Throughout his 20 years in the league, Favre energized the field with his stamina, agility, and speed. Various trading cards show stages of his career up to his retirement. But his rookie cards are the most prized. Here are the values of some must-haves.
 Brett Favre's career highlights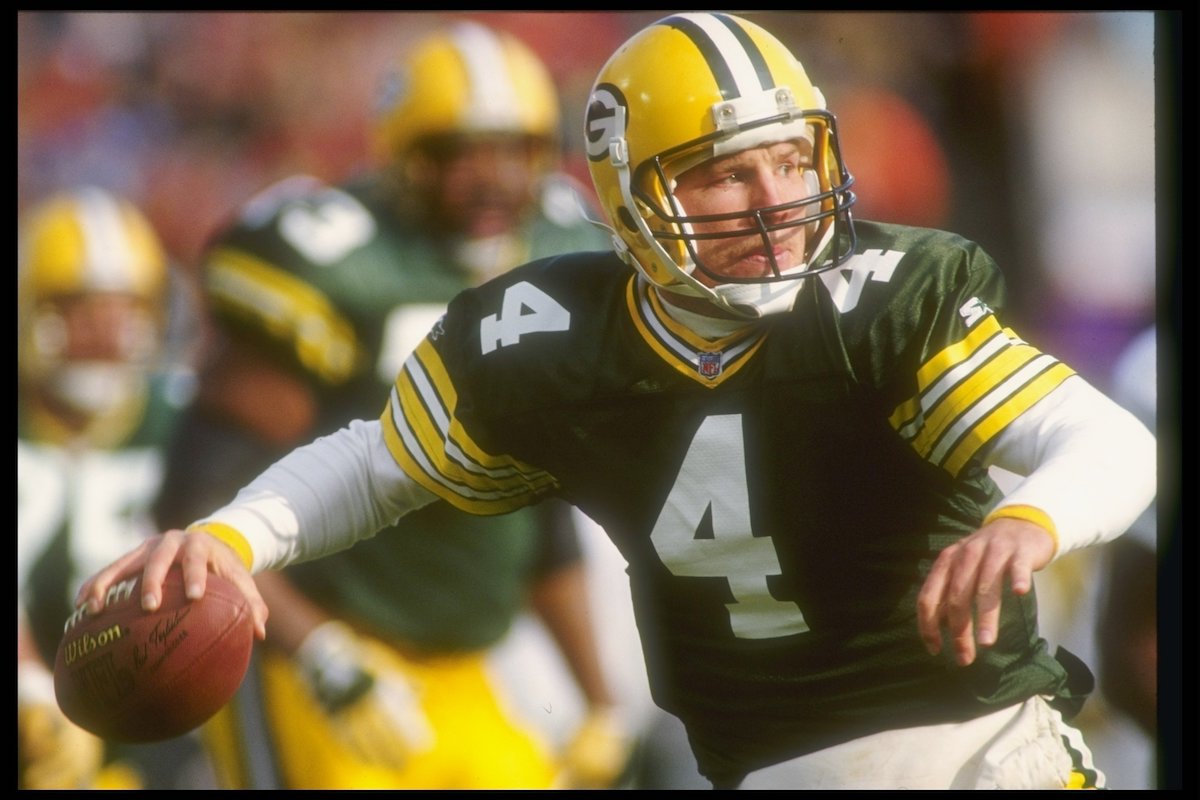 Favre, aka "the Gunslinger," spent most of his career with the Green Bay Packers. But his career began when the Atlanta Falcons picked him 33rd overall in the 1991 NFL Draft. Before then, he had played college ball at Southern Miss, Sports Reference reports.
After playing for a year with the Falcons, Favre was traded to Green Bay Packers, where he played for the next 15 years. During that time, he revolutionized the team's gameplay, propelling him to fame. Later, he joined the New York Jets and Minnesota Vikings for one and two years, respectively.
Favre made 321 consecutive starts, including 297 games in the regular season, a new record in league history. He also made history as the first NFL quarterback to reach 10,000 pass attempts, 70,000 passing yards, 500 touchdowns, 6,000 completions, and 200 wins.
On top of that, the three-time AP MVP led Green Bay to two Super Bowls, winning one.
What is the value of Brett Favre rookie cards?
The value of Favre's rookie cards depends upon the quality of the design and availability. Meticulously finished cards and rare pieces fetch high prices. Here's a look at the value of various Brett Favre rookie cards.
1991 Classic #30
According to Old Sports Cards, the '90s-styled 1991 Classic was produced in a pack of 50 cards. It has a straightforward design that includes thick borders. The card shows Favre seated on a bench as if prepared to substitute another player. It's one of his cheapest rookie cards, valued at $10.
1991 Pacific #551
This design is unique with a gray/white scheme and a pink nameplate. The card shows Favre cocked to launch the ball. It also offers an excellent focus on his facial expression. Old Sports Cards reports the PSA value is $20.
1991 Brett Favre Upper Deck Rookie Card #18
This card shows a side shot of the quarterback wearing a black jersey and gold football pants while sitting on the sidelines. A collector sold an autographed version for about $80. However, Card Board Connection says the PSA value of the unsigned version at about $20. 
1991 Brett Favre Action-Packed Update RC #21
This rookie card shows Favre in a classic Atlanta Falcons uniform as he races with the ball in hand. It also shows another player bent over behind him. The estimated $30 card has a gray border with lines on the upper part of the frame.
The most valuable Brett Favre rookie cards
1991 Wild Card 1000 Stripe #119
The 1991 Wild Card 1000 Stripe #119 is one of the rarest Brett Favre cards. PSA estimates its value at more than $1,000. No records indicate how many were made. The card has a black border, which is easy to scuff, making it difficult to find one in pristine condition. However, cheaper variations exist.
1991 Star Pics RC #65 Autograph
This card's frame is filled with footballs, with a locked and loaded Favre in the middle. It bears his autograph on the back. The signed card is rare because there are only a few. One in mint condition can sell for upward of $400.
1991 Stadium Club Super Bowl XXVI #94
This premium card debuted in small quantities after Favre's season with the Vikings in 1992. The card has a design similar to many other cards but has a Super Bowl XXVI emblem in the upper right-hand corner. It sells for about $700.
So if you love Brett Favre and football, acquiring any of these unique rookie cards would be a win.
RELATED: Aaron Rodgers Slams the 'Woke Mob' and 'Cancel Culture' While Explaining His Tirade Against Bears Fans: 'I Don't Regret It at All'