Brett Favre Surprisingly Compared Derrick Henry to 1 of the Greatest Wideouts in NFL History: 'This Is Kind of an Odd Comparison'
After a slow start to the 2021 NFL season, the Tennessee Titans are right in the thick of things in the AFC. They're riding behind their star running back Derrick Henry, one of the most dominant players in the league. Hall of Famer Brett Favre gave Henry high praise, comparing him to one of the greatest wide receivers of all time, Randy Moss.
Derrick Henry is playing like an MVP right now
Derrick Henry is putting up insane numbers in his sixth NFL season. His career started slow after the Titans drafted him with the No. 45 overall pick in the second round of the 2016 NFL Draft.
Henry started to hit his stride during the 2018 season. The former Alabama Heisman Trophy winner rushed for 1,059 yards and 12 touchdowns, including an explosive 99-yarder.
The Titans have made Henry their workhorse back. He paced the NFL in rush attempts in 2019 and 2020, leading to back-to-back rushing titles for Henry.
Henry is currently on pace to lead the league in rushing for a third consecutive season. The 27-year-old now has 783 rushing yards and 10 touchdowns on 162 carries.
Ryan Tannehill and Tennessee's passing attack has struggled, but Henry's dominance has given the team new life.
Brett Favre compared Henry to Randy Moss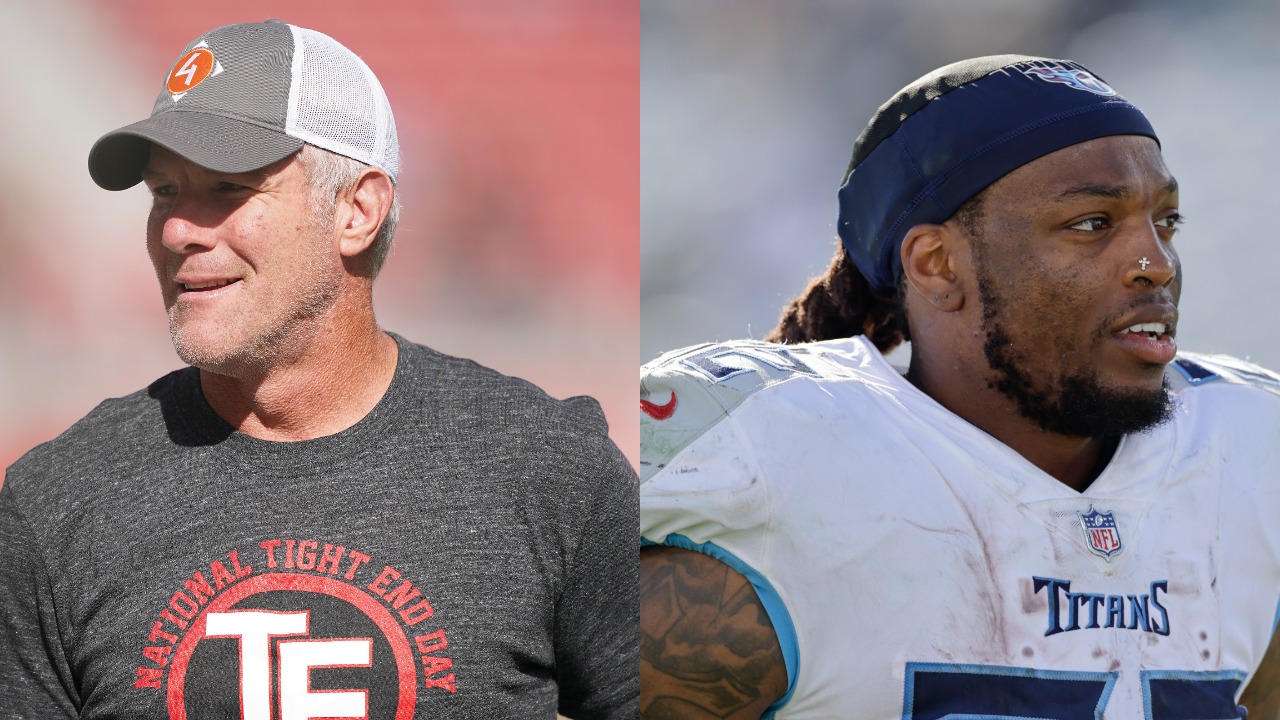 People in and around the NFL are marveling at the greatness of Derrick Henry. Hall of Fame quarterback Brett Favre is the latest to join the party.
Favre did a recent interview with SiriusXM NFL Radio and discussed the similarities between Henry and Hall of Fame wide receiver Randy Moss.
"I watch Derrick, and he reminds me so much – and this is kind of an odd comparison, but he reminds me a lot of Randy Moss and how he controlled the game," said Favre per Titans Wire.
The Green Bay Packers' great argued that the game never got too big for Moss. It's the same way with King Henry. 
"The only person that would stop Randy Moss would be Randy Moss. We double-covered him, we triple-covered him, and yet he still made the plays. You put nine guys in the box (to stop Henry), and it doesn't matter."
Favre added that Henry possesses deceptive speed like Moss. "A big comparison to me is they both look like they're barely running, but they are pulling away from people," he said. "I am like, 'Why doesn't Derrick show a little pizzazz? And then he runs for 76 yards, and no one can catch him."
Henry is unstoppable, just like Moss was
The NFL features plenty of talent at the running back position. However, no player probably instills more fear in opposing defensive coordinators than Derrick Henry.
The Yulee, Florida native stands 6-foot-3, 247 pounds, and runs a 4.54 40-yard dash. There's not another player in the league quite like him.
Henry makes a living run through defenders larger than him and stiff-arming those who have no chance of getting him to the ground. 
The two-time Pro Bowler has dominated for the past few seasons. Teams don't game plan against the Titans. They game plan against Henry, similar to how teams did for Randy Moss.
Moss was unstoppable as well. He exhibited an elite combination of size, speed, and athleticism. He even has a football move named after him.
"When you know someone is going to get the ball, either passing or running, and you can't stop him, that is when you know you're pretty good," said Brett Favre.
Sure, it's an odd comparison, but Favre makes a valid point.
All stats courtesy of Pro Football Reference
RELATED: Derrick Henry Is Running Over Defenses and Sprinting to the Top of the NFL MVP Conversation With Video Game Numbers