Brian Cushing Works as a Texans Strength Coach Despite Two PED-Related Suspensions
Brian Cushing learned full-on that there is no such thing as a lasting punishment in the NFL.
A capable linebacker who teamed up with J.J. Watt on various playoff teams in Houston, Cushing also served two suspensions for performance-enhancing drugs.
The Houston Texans didn't care much, though. Once Cushing retired, the Texans hired him to their strength staff despite his history and ties to drugs.
Brian Cushing played nine seasons for the Houston Texans
RELATED: J.J. Watt Refuses to Play Football If the NFL Forces Players to Do This
An All-American linebacker at Southern Cal in the mid-2000s, Brian Cushing joined the Houston Texans as a first-round pick in 2009.
The 6-foot-3, 255-pound Cushing totaled four sacks, two forced fumbles, four-interception, 10 pass breakups, and 12 tackles for loss as a rookie; he also forced a safety. That standout season earned him All-Pro and Pro Bowl honors, as well as NFL Defensive Rookie of the Year.
Although Cushing played another eight seasons, he never grew into the fearsome defensive talent the Texans thought he'd become. Cushing only played 16 games in a season twice after 2009 and never made another Pro Bowl.
He ended his career after the 2017 season with 13.5 sacks, 42 tackles for loss, nine forced fumbles, and eight interceptions. With 664 career stops, he retired as the Texans' all-time leading tackler.
Cushing served two suspensions for performance-enhancing drugs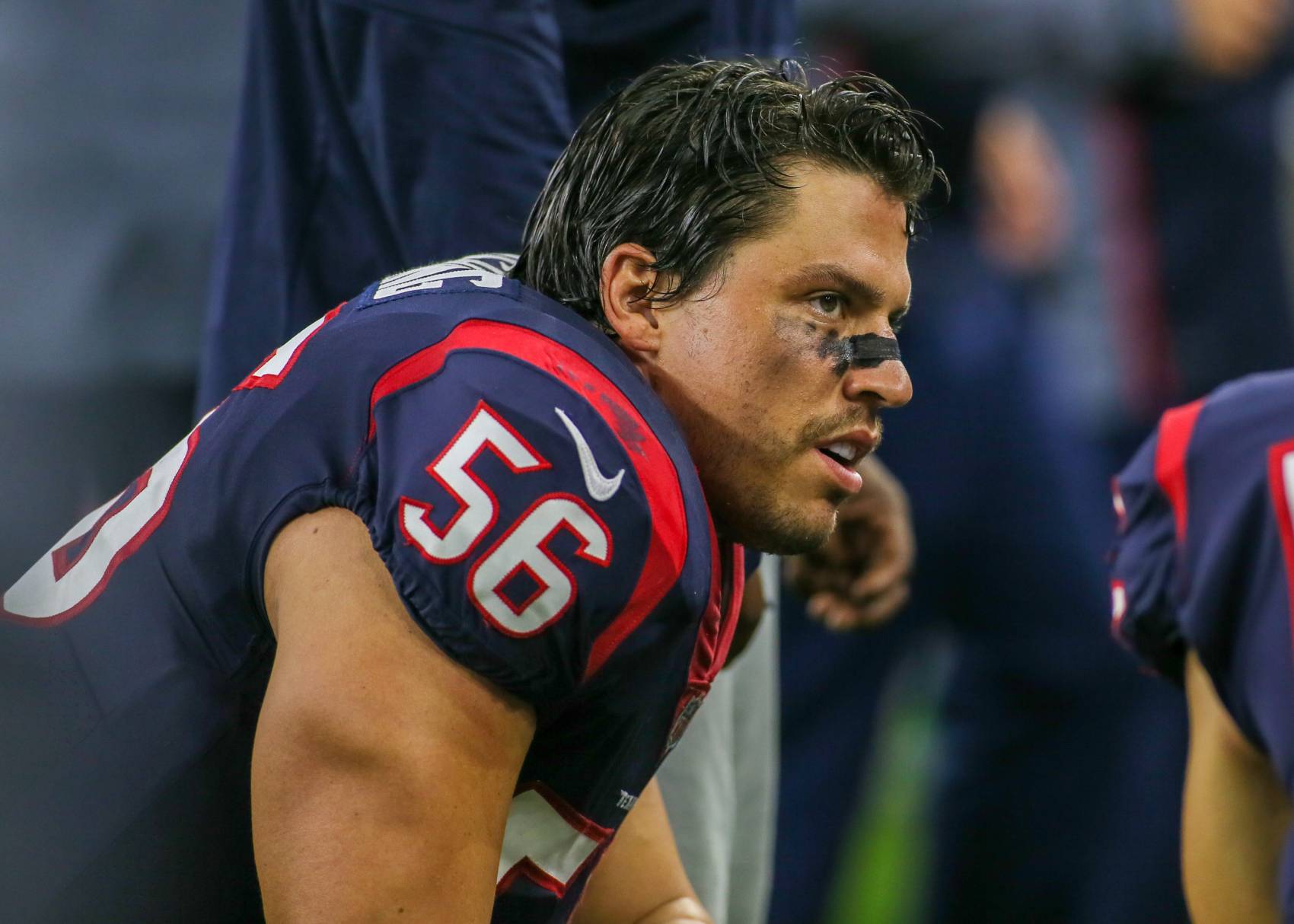 RELATED: Peyton Manning's Steroid Scandal Still Makes Some Fans Uncomfortable
Brian Cushing's lasting NFL legacy, unfair as it may be to some, is that of a repeat offender.
Cushing served a four-game suspension to start the 2010 season after he violated the league's performance-enhancing substances policy. Cushing denied taking the substances and said the positive test, which came in September 2009, was a result of a cancerous tumor.
The Associated Press held a revote on the 2009 Defensive Player of the Year. Cushing still won, but he lost his second-team All-Pro spot.
In 2017, Cushing earned another suspension, this time for 10 games. Cushing did not appeal the ban and returned that November.
Brian Cushing works on the Texans' strength and conditioning staff
RELATED: Matt Schaub Has Quietly Made Nearly $100 Million in the NFL
Although Brian Cushing hoped to continue his NFL career after the Texans released him in 2018, the veteran linebacker never caught on anywhere.
When the Texans released him, Cushing released a statement emphasizing what football meant to him.
"Anyone who says that, 'It's just a game,' is full of s—. This is my lifestyle, my profession, my heart and soul. There wasn't a day in 9 years I didn't thank God for allowing me to compete as a Texan. You can say a lot of things about me, but I left all out there every Sunday."
Cushing wouldn' be away from the Texans for long. The team hired him as an assistant strength and conditioning coach in 2019.
Despite serving two suspensions for performance-enhancing drugs, the second of which he didn't appeal, Cushing still somehow earned a job on an NFL S&C staff.
Evidently, there are no lingering punishments in the NFL. Players who train to make a difference on the field and play the game the right way now work with a two-time offender.
Then again, it's not like Texans head coach Bill O'Brien hasn't made stunning decisions before.