The Bizarre Brian Flores Circus Continues as Tua Tagovailoa Leads Dolphins Over Ravens Despite Not Being Healthy Enough To Start
The Miami Dolphins stunned the world by upsetting the Baltimore Ravens on Thursday Night Football.
Lamar Jackson and the Baltimore offense went stagnant, and the Dolphins pulled out the win thanks to a rejuvenated offense by none other than Tua Tagovailoa.
Despite not being healthy enough to start the game, Brian Flores had no choice but to play him after Jacoby Brissett went down with an injury. But, the puzzling coaching of Flores was on display and reminded everybody of the confusing mishandling of the former first-round draft pick out of Alabama.
Tua Tagovailoa not healthy enough to start but played hero after Jacoby Brissett went down
All week questions swirled about whether or not Tagovailoa would be able to suit up for Thursday's game. Well, the good news is that he was in uniform, but he was apparently not ready to get the start.
So, the emergency role it is for Tagovailoa as Brissett took the ball. Unfortunately, the Dolphins fill-in starter went down to start the second half after suffering a knee injury, and in came Tua.
The Dolphins' first-round draft choice came in and led the team to a victory after they took a narrow 6-3 lead into the half. Tagovailoa's touchdown run capped off the night to seal the deal.
It wasn't how anybody expected the night to go, but Tagovailoa — despite not being healthy enough to be named the starter — walked away with the victory for the Dolphins.
Brissett was ready to return to the game before being sent away by Brian Flores in a confusing sequence
After Brissett went down, he was listed as questionable. However, it was then reported that he was good to come back in the game.
It didn't matter. Flores waved Brissett off and signaled for Tagovailoa to come in. How bizarre.
So, Tagovailoa was not ready to start because of his injured finger. Brissett got injured, then was ready to go back in, and Flores insisted on letting Tagovailoa enter the game.
This leads to a massive question: Why not start Tagovailoa to begin with?
It makes no sense and adds even more layers to Flores' absurd mishandling of their first-round choice from a year ago.
Furthermore, Tagovailoa looked fine on the field with the injured finger. He finished the game 8-of-13 for 158 yards with the rushing score to finish out the game. Nonetheless, the Dolphins' offense got a noticeable boost with him under center instead of Brissett, and one can only imagine what would have happened if Tua started the game.
The Dolphins quarterback carousel continues to churn after Tagovailoa's heroics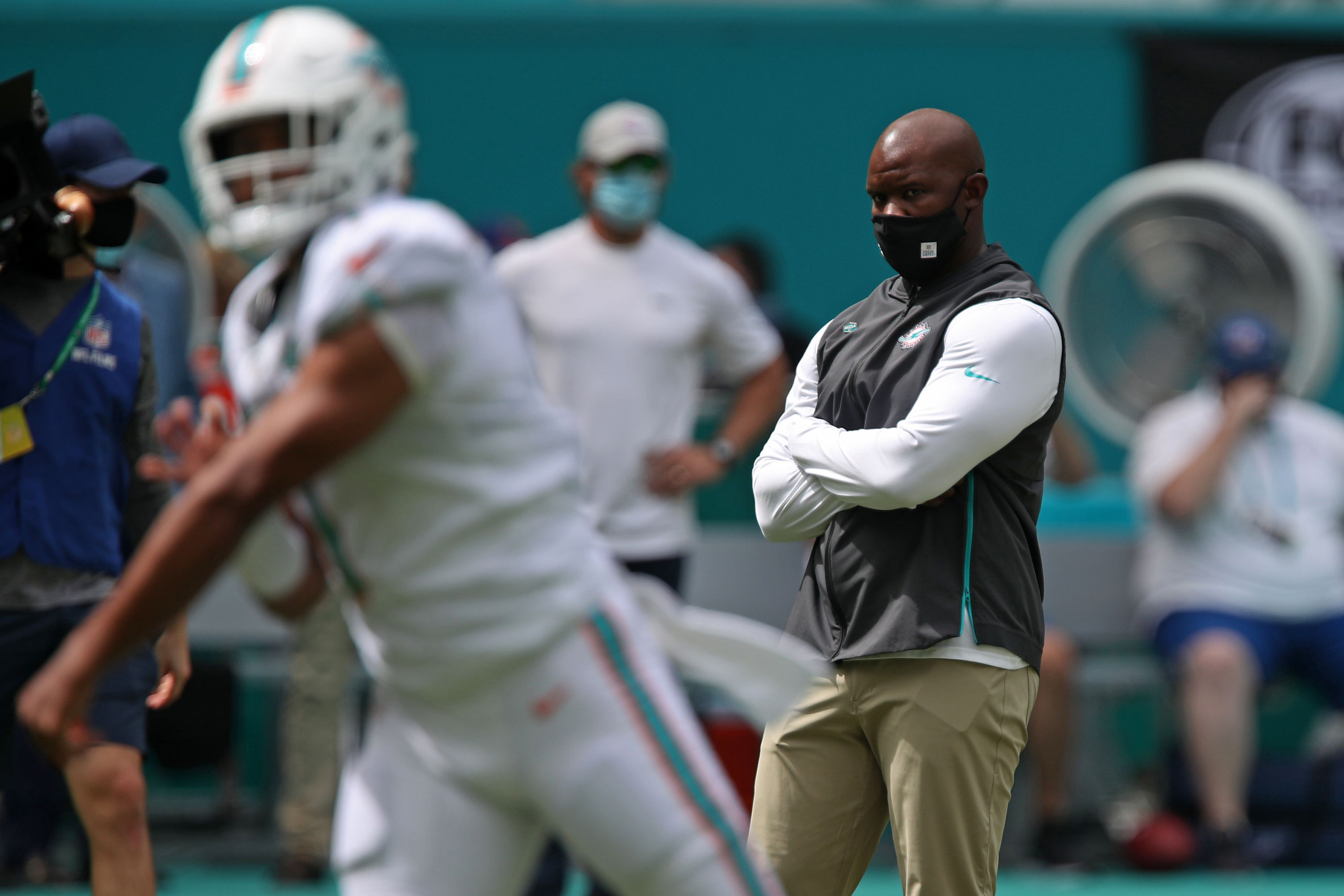 The former Alabama star willed them to victory after a bizarre first half, one in which Joe Buck used a baseball reference as a testament to the low-scoring affair.
After the game, Tagovailoa spoke on his injured finger and admitted it wasn't feeling the best (h/t Brandon Liguori of Fish Stripes).
"I'll tell you what, it does not feel good. I banged it up a little bit. But we have 10 or so days to rest."

Tua Tagovailoa on injured finger
That isn't a good sign. But the Dolphins will have plenty of time to rest up for the next game, but with Flores calling the shots, who knows what will happen.
Again, he has an injured finger, but with Tagovailoa out there, this Dolphins team is night and day from the version with Brissett under center. On Friday, Flores mentioned that Tagovailoa's health would determine his availability for the Dolphins' next game against the New York Jets on November 21.
All in all, the strange situation with the Dolphins quarterback carousel has gone on way too long, dating back to 2020 with Flores' doing the back and forth with Ryan Fitzpatrick and Tua.
Then came the Deshaun Watson trade rumors, and now this. It is not good, and Flores might be burning his seat hotter and hotter if things don't get fixed quickly in Miami.
Stats Courtesy of Pro Football Reference