Brian Flores Clears Air on Relationship With Dolphins QB Tua Tagovailoa
When the Miami Dolphins fired Brian Flores, rumors swirled around what led to the decision. The former head coach seemed to have the struggling franchise heading in the right direction. However, reports of a fractured relationship between Flores and Tua Tagovailoa delivered an interesting narrative.
Flores has been very vocal about his time in Miami, especially after he announced he was suing the NFL, along with several teams. The 40-year-old coach is now opening up on the unsubstantiated claims about his relationship with Tagovailoa.
Brian Flores denies strained relationship with Tua Tagovailoa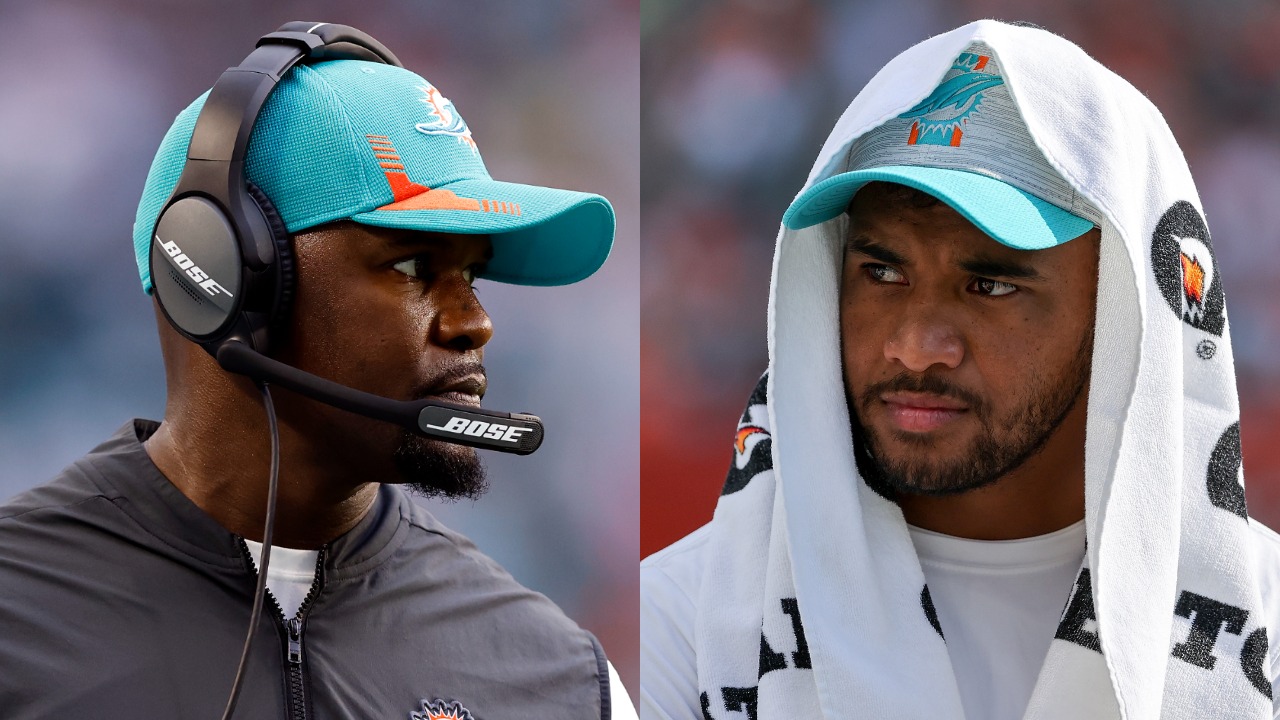 Reports recently emerged alleging that Brian Flores publicly expressed to Tua Tagovailoa that the Dolphins would be pursuing Deshaun Watson. Those claims suggested that exchange was one of several interactions that strained the relationship between quarterback and head coach.
Flores refutes the idea that he had a bad relationship with the second-year quarterback. He responded to the latest rumors in a trailer for the next I Am Athlete podcast episode.
"This is an interesting topic," said Flores. "Because it wasn't strained. We had a good relationship. It was a player-coach relationship. I think in a relationship like that, the coach challenges the player, and oftentimes the player challenges the coach. There was a great deal of respect between the two of us."
The Brooklyn, New York native suggests the media is putting out a narrative about him that is not valid. Only Flores and Tagovailoa know the extent of their personal relationship. However, the two parties are now going their separate ways, and the young quarterback must focus on getting better in year three.
"The world can think what it wants to think," he added. "Ask Tua. I'm here to say what I've got to say, and you can ask him. I think he'd say the same thing."
The former Dolphins coach suggests the young QB has bright NFL future
Regardless of his genuine preference between Tua Tagovailoa and Deshaun Watson, Brian Flores claims that he had nothing but respect for the Alabama product.
The former Dolphins head coach delivered some encouraging words about Tagovailoa and his next steps as an NFL quarterback.
"You hear these crazy kinds of, this narrative that's out there," said Flores. "But this is a young man who works, who developed and got better over two years. I think he's got a bright future. And I wish him all the best."
Tagovailoa's first two seasons have been a bit of a roller-coaster ride. He took over for Ryan Fitzpatrick midway through his rookie season and posted a 6-3 record down the stretch. However, there were moments when Flores pulled his young quarterback out of games in crucial moments.
The 23-year-old signal-caller appeared in 13 games in 2021. The team took a step back, but Tagovailoa had some good moments during Miami's seven-game winning streak toward the end of the year.
The former Crimson Tide standout threw for 4,467 yards, 27 touchdowns, and 15 interceptions across his first two seasons. He seems poised to be the Dolphins' starter heading into the 2022 season.
What's next for Flores?
While the Miami Dolphins are moving forward with Tua Tagovailoa, ownership and management decided to part ways with Brian Flores. The team has since replaced him with former San Francisco 49ers offensive coordinator Mike McDaniel.
So, what's next for Flores?
The former Dolphins headman's lawsuit alleges racial discrimination from teams around the NFL in hiring practices regarding minority candidates. Flores also accused Dolphins owner Stephen Ross of offering him $100,000 per game to tank during the 2019 season.
Those are serious allegations by Flores. His legal team is handling the lawsuit while the league officials are conducting an investigation of their own.
After getting fired, Brian Flores interviewed for multiple head coaching jobs, including with New York Giants, Houston Texans, and New Orleans Saints. All three teams have filled their coaching vacancies. Flores plans to amend the lawsuit to include the Texans, alleging that the team hired Lovie Smith in retaliation for him speaking out.
It's safe to say that Flores won't be a head coach in the NFL heading into the 2022 season. Still, expect fallout from this situation throughout the offseason.
Like Sportscasting on Facebook. Follow us on Twitter @sportscasting19
RELATED: Deion Sanders Wants to Go Viral With His Plan to Fix the NFL's Minority Hiring Problem