Brian Gutekunst's Bold Face Lie About Aaron Rodgers and Why It Matters
Green Bay Packers general manager Brian Gutekunst would never admit it, but it sure sounds like he lied to the media about Aaron Rodgers.
The funny thing is, in the context of his job, it's not something that should be looked down upon. It's strategy, and right now, Gutekunst and the Packers are fully immersed in it on the Rodgers front.
Brian Gutekunst says the Green Bay Packers haven't taken any calls on Aaron Rodgers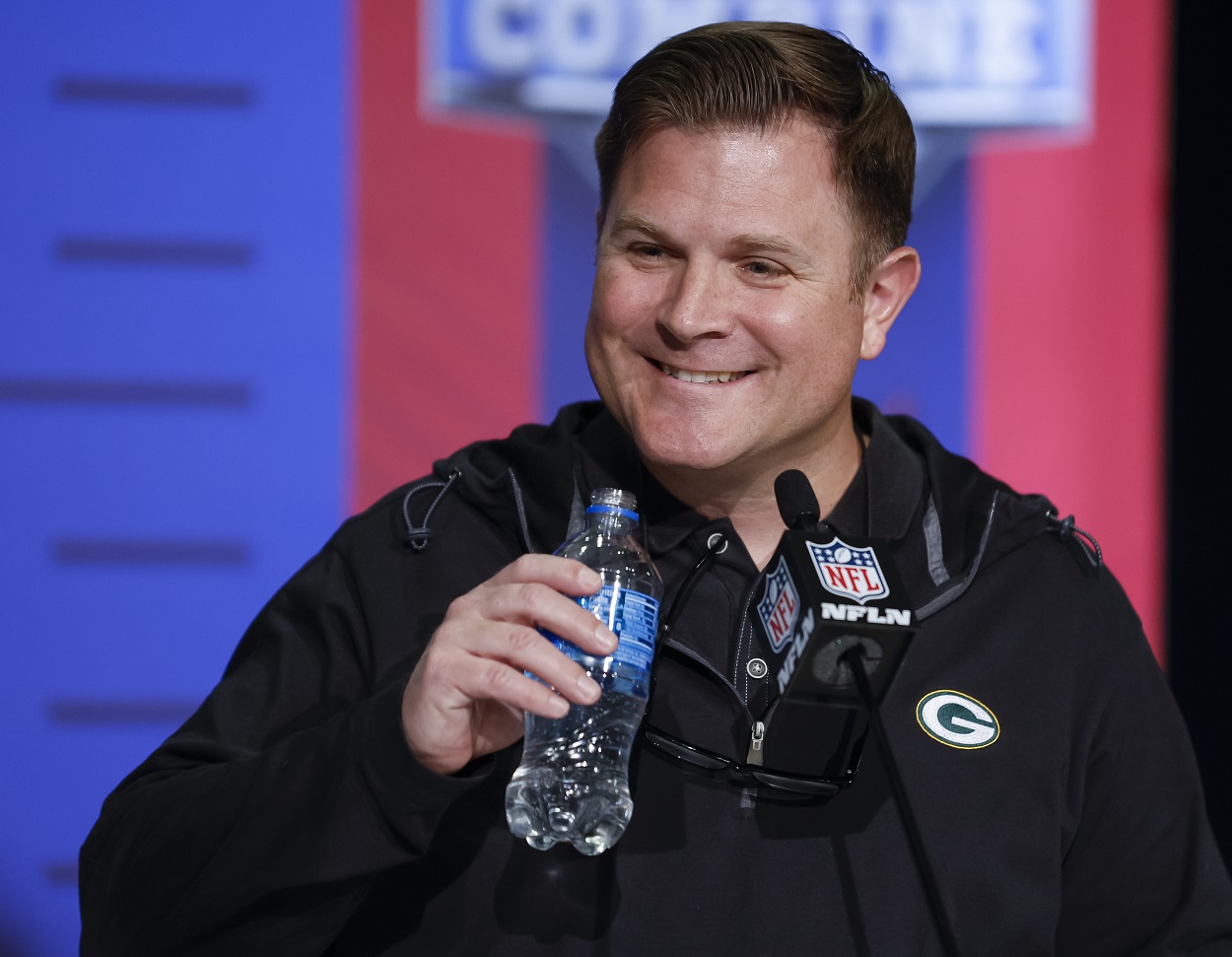 The Packers still don't know if Rodgers is going to come back to Green Bay or retire. The third option is that he demands to be traded away, which is something that he openly admitted to thinking about last offseason.
"If I'm not a part of the future, then instead of letting me be a lame-duck quarterback, if you want to make a change and move forward, then go ahead and do it," he told the media, per ESPN, while explaining the mindset behind his 2021 offseason "holdout".
Frankly, a trade is an option that can't be ignored.
Considering the Packers cap situation and the fact that they'll essentially be mortgaging their future to bring back Rodgers, a trade does make sense. There would be a major market for a four-time MVP quarterback (winner of two-straight), and the Packers could receive the type of package in return that would make moving on and re-tooling seem much more manageable.
Trading Rodgers makes sense from Green Bay's perspective, and there are a handful of organizations out there that are one MVP quarterback away from being a Super Bowl contender.
Still, when asked if other teams are inquiring about Rodgers, Gutekunst somehow got away with saying that his phone has been silent.
"Not at all," Gutekunst said," per ESPN. "Not at all. Not a single person."
If you believe that, Gutekunst has some ocean-front property in Green Bay he'd like to sell you.
Gutekunst is clearly not telling the truth about a potential trade for Rodgers
This is all strategy, so it's not as if Gutekunst is being immoral or trying to evade honest answers. It's his job as the general manager to do what's in the best interest of the team. With that in mind, Gutekunst is better served keeping the cards close to his vest rather than blabbing all around Indianapolis regarding his plans.
If bringing back Rodgers is the ultimate goal, that becomes much harder to do if the quarterback hears in the media that his general manager is taking phone calls about where he could potentially play in 2022 and beyond. Remember, Rodgers doesn't have a no-trade clause, so Gutekunst and the Packers could technically ship him to the Jacksonville Jaguars if they liked the return enough. In that hypothetical scenario, let's say Rodgers hears a potential trade destination and doesn't like the idea of it. He'd be more likely to retire than anything else, which would leave the Packers out of luck…especially if they really want him back.
All indications coming out of Green Bay suggest that the Packers' ultimate goal is to keep Rodgers around, so why would Gutekunst rock the boat?
It's easier for him to say that he's not getting any phone calls, even though that's highly unlikely and just a huge bluff.
Think about it this way: There are teams that should be interested in Rodgers. Knowing all the drama that has gone down in Green Bay these past two offseasons, there are general managers that deserve to be fired for malpractice if they haven't called Gutekunst and at least inquired.
There's no way his phone has been silent.
The Packers still seem to be in the dark with Rodgers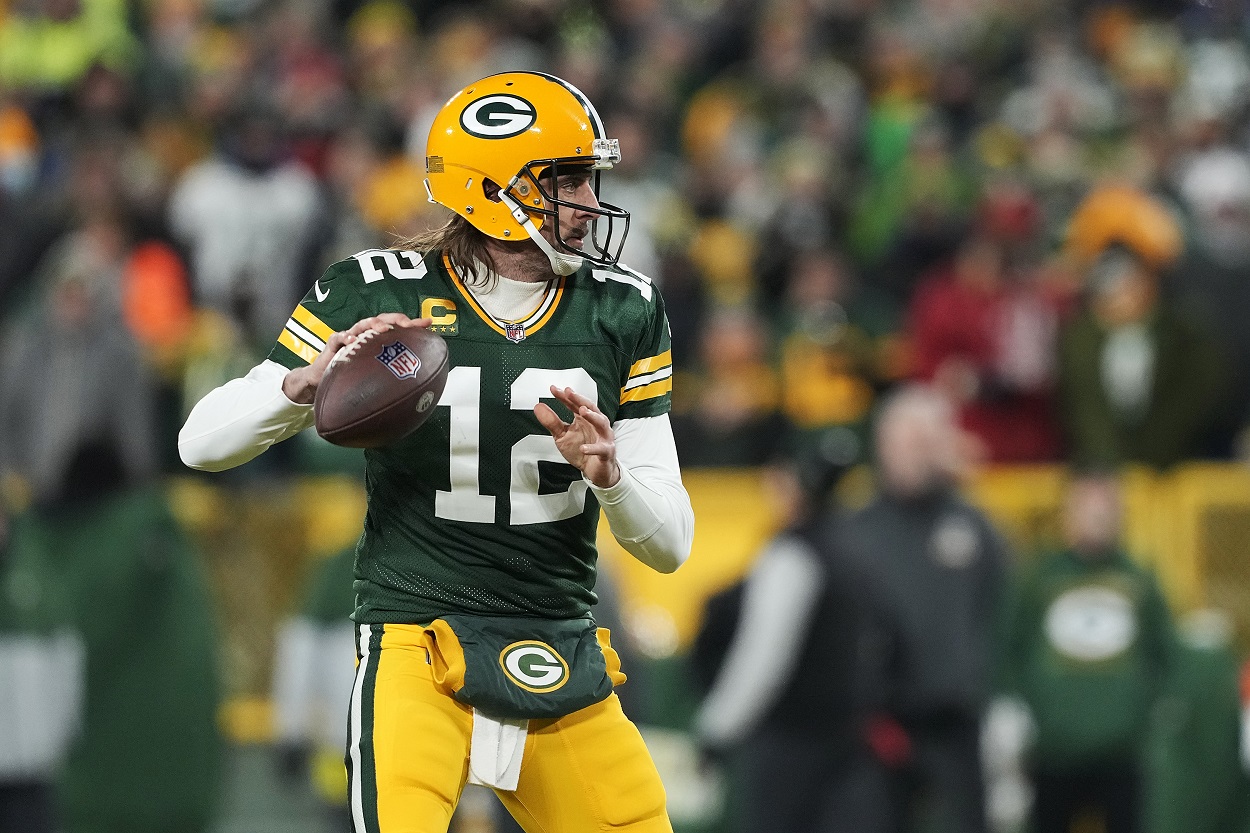 For Gutekunst, it's easier to pretend like nothing is happening and nothing is on the table because frankly, it sounds like he's not even sure what Rodgers is thinking.
He's hoping that Rodgers will give him an indication before free agency begins on March 16th, but does he sound like someone all that confident in that deadline?
"I would hope so, yeah," Gutekunst said regarding Rodgers making an announcement before free agency. "That's obviously the start of the new league year. There's a lot of decisions that have to be made before that. So that would be helpful. I would think we would know something before then."
Rodgers has said in the past that he won't draw his decision out, but free agency is two weeks to the day this article is published, so the Packers are running out of runway.
For his part, Gutekunst is playing the role of someone who's used to the drama. He was a scout with the Packers for all the years of Brett Favre's "will I, won't I?" retirement routine and he was there when the late Ted Thompson drafted Rodgers in the first round.
"It's really no different than every year, because as you get into this time there's just a lot of unknowns," Gutekunst said. "You always have free agents you're trying to bring back. You don't know how that's going to go. You gotta kind of have Plan B, Plan C and those things. It's really no different. [It] garners a lot of attention because of the player and his status, but really no different."
Maybe Gutekunst is accustomed to the whirlwind. He has plenty of practice, at least. Or maybe, he's just putting on a front. After all, that is a part of his job as well.
And therein lies the last reason to believe that Gutekunst straight-up duped the media in his comments about a Rodgers trade: It's his job to proactively look at every option, including a trade. If he's not looking into trades, he's not doing his job.
He has to think about the long-term future of the Packers at every turn, and trading Rodgers would be one way to at least make that future a bit easier to build.
Maybe his phone isn't ringing with inbound calls because he's been making so many outbound ones.
Either way, if he's truly doing his job, there's no way multiple trades for Rodgers already aren't on the table. That's not to say the Packers will go that route, but Gutekunst would be foolish to completely rule a trade out, especially behind the scenes.
Stats courtesy of ESPN and Pro Football Reference. Contract information via Spotrac
RELATED: The Packers Should Call the New York Giants about an Aaron Rodgers Trade