Brian Hoyer's Fate Was Sealed the Moment Johnny Manziel Was Drafted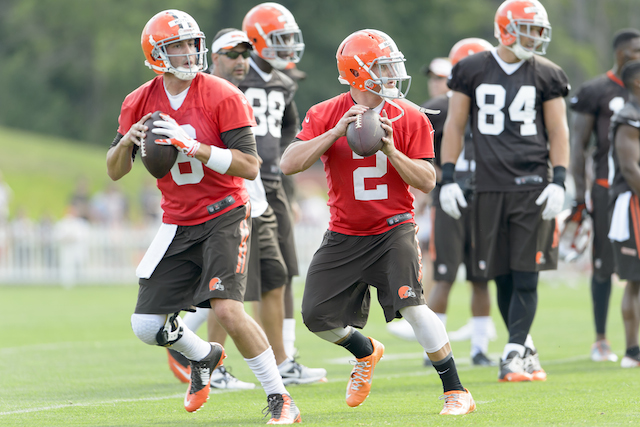 Quarterback Brian Hoyer's future with the Cleveland Browns was doomed from the moment Roger Goodell announced that the Browns were selecting Texas A&M quarterback Johnny Manziel with the 22nd pick in the first round of the 2014 NFL Draft. Hoyer remained the team's starter throughout all of the Browns' organized team activities, training camp, and through 14 weeks of the regular season, but after posting four straight games with a quarterback rating of 61.3 or lower, the Browns have decided to bench Hoyer and give the highly popular, and controversial, Manziel the first start of his NFL career in Week 15 against the Cincinnati Bengals.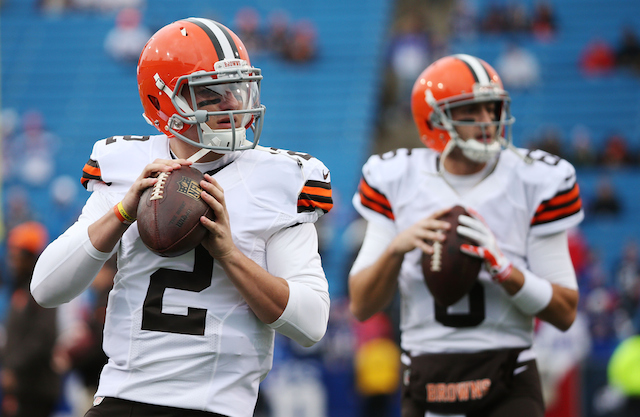 Despite a public and private backing from everybody within the Browns' organization, Hoyer should have seen the writing on the wall from the beginning. He could look at guys like Drew Brees in San Diego, Jake Plummer in Denver, and Brett Favre in Green Bay to see that when a team invests a first-round draft pick on a quarterback, the incumbent suddenly becomes expendable. Brees, a future first-ballot Hall of Famer, was only able to hold off Philip Rivers for two seasons before being replaced. Plummer was only able to hold off Jay Cutler for 11 games, and Favre, who retired with almost every passing record in NFL history, finally gave way to Aaron Rodgers after three seasons.
Rivers, Cutler, and Rodgers were all considered can't-miss types of prospects coming out of college, so it's pretty hard to question sliding them into the lineup ahead of a proven veteran. With the exception of Cutler and Plummer, the moves ended up working out for everyone involved. Where these types of situations get tricky is when teams have to figure out how to handle a talented quarterback who was a first-round draft pick but needs time to develop and may not necessarily have a skillset that translates well to the NFL. Oh yeah…and what happens when that player happens to be one of the most popular players in the NFL despite his status as a backup who rarely breaks a sweat on gameday?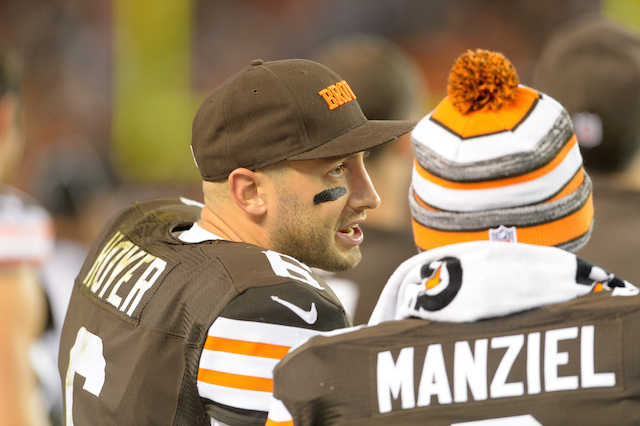 Brian Hoyer's first phone call after learning about the Browns drafting Johnny Manziel should have been to current Buffalo Bills quarterback Kyle Orton, who happens to know a thing or two about losing a job to a polarizing young quarterback. Orton was entrenched as the starting quarterback of the Denver Broncos when Josh McDaniels, the team's brash, 32-year old head coach, made one of the worst draft day moves in the history of the NFL when he traded back into the first round to select University of Florida quarterback Tim Tebow. For those who don't remember, Tebow was one of the most successful quarterbacks in the history of college football during his time at Florida, but flat-out lacked the skillset to play quarterback in the NFL. Many scouts thought Tebow may have a future in the NFL if he changed positions, but made it clear that he was worth no more than a mid-round draft pick. With all that being said, the biggest factor that McDaniels failed to consider before making the pick was Tebow's cult-like following.
Orton held his starting job, but from day one of the Tebow-era in Denver, every incompletion, let alone interception, led to chants for Tebow to take the field. The pressure for the Broncos to play Tebow got so intense that a group of maniacal fans rented billboard space to campaign for Tebow to get the starting job.
Five games into Tebow's second NFL season, the Broncos finally gave in and named him their full-time starting quarterback. Orton's time in Denver would officially end six weeks later when the team unceremoniously released him. Tebow's draft status and worldwide popularity made the chances of Kyle Orton succeeding over the long-term in Denver silm-to-none.
Fast forward three seasons, and Tebow is out of football while Orton is the starting quarterback for the Buffalo Bills after spending two years as a backup for the Dallas Cowboys. Manziel possesses many of the same qualities Tebow did as a football player, though Manziel appears to be a better thrower, and there is no questioning that the two Heisman Trophy winners have different agendas off the field. However, there is no denying that both guys had very similar situations entering the league, and their hype, more so than their ability, put unbearable amounts of pressure on the quarterbacks listed ahead of them on their respective team's depth chart.
The fact that Hoyer held off Manziel for as long as he did is commendable. Now it looks like Hoyer will follow the suit of so many veterans before him and be forced to finish his NFL career in another city.