Brian Kelly's LSU Decision Proves His Selfishness, Screws Over Yet Another 1 of His Teams
Brian Kelly shocked the entire college football world on Monday when the news came out that he has reportedly agreed to a deal to become the next head coach of the LSU Tigers. Kelly has spent the past 12 seasons as Notre Dame's coach, guiding them to a national championship game and multiple College Football Playoff appearances. So, the decision to leave one of the top programs in the country is certainly an odd one.
But Kelly's move is more than just odd. It proves his selfishness yet again, as it screws over another team that still has a lot of work to accomplish.
Brian Kelly reportedly accepts the LSU job before Notre Dame's final game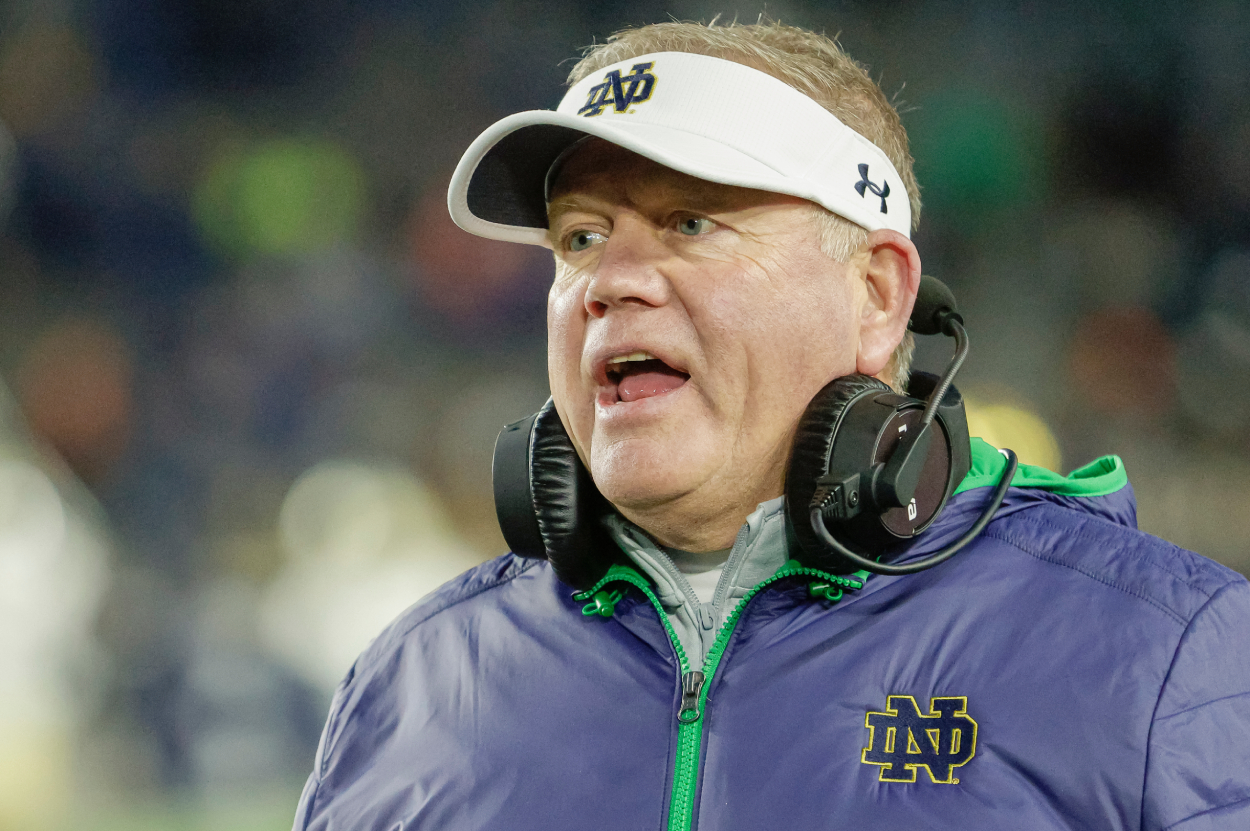 The news of Kelly reportedly accepting the job to be LSU's next head coach came just two days after Notre Dame's last regular-season game, as the Fighting Irish are 11-1.
But their season isn't even close to over yet.
Notre Dame ranked No. 6 in last week's College Football Playoff rankings, just two spots from actually making the CFP with a chance to play for a national championship game berth.
Of course, they still have a bowl game whether they make the playoff or not. But, assuming the top five teams remain somewhat the same this week (Georgia, Michigan, Alabama, and Cincinnati staying up there with Oklahoma State likely taking Ohio State's spot), Notre Dame is just a couple of losses away from competing in the CFP.
Georgia plays Alabama in the SEC Championship Game this weekend. If Bama loses, Notre Dame would likely finish higher than the Tide in the final CFP rankings. While that outcome would only put the Fighting Irish at No. 5, one of either Michigan, Cincinnati, or Oklahoma State could also lose their conference championship game. Michigan plays Iowa, Cincy plays Houston, and Oklahoma State plays Baylor.
All of those are losable games for the favored teams.
So, if two of the schools ahead of Notre Dame fall, the Fighting Irish could very well make the playoff. At the time of publication, it's unclear whether Kelly plans to coach if this were to happen. But if he doesn't, will his assistants just lead the team in the most important game of the players' lives? Or if he does plan return for the CFP, would ND be able to play its best game in light of everything going on?
The damage may already be done.
But this isn't the first time Kelly's selfishness has screwed over a team.
He left Cincinnati before the biggest game in program history
Brian Kelly did some excellent things at the University of Cincinnati. He helped put it in the AP poll for the first time in over 30 years, and in his third season with the team, he led it to an incredible 12-0 regular season, as it even ranked as high as No. 3 in the BCS poll and would have made the national title game had Texas lost to Nebraska in the Big 12 Championship.
However, the Bearcats went on to play Tim Tebow and the Florida Gators in the Sugar Bowl in what was the biggest game in program history. Before the game, though, and just days after the team's final regular-season contest, Kelly informed his players at a banquet that he was leaving for Notre Dame.
They weren't happy, either.
"He went for the money," wide receiver Mardy Gilyard told the Associated Press back when it happened, according to the Cincinnati Enquirer. "I'm fairly disgusted with the situation, that they let it last this long."
So, Kelly didn't coach the Bearcats in that massive Sugar Bowl game, and the team fell flat. It lost to Florida, 51-24. Whether it was because of the distraction Kelly made for his team or Florida was just that much better, we'll never know. But the coach clearly proved he was in it for himself by not being there for his players in the biggest game of their lives.
Now, it appears history is repeating itself, as Kelly isn't caring about his players again, or their chances of playing for a national championship. He's only caring about himself and getting his next great job.
Who will replace Brian Kelly as Notre Dame's next head coach?
What's funny about Brian Kelly's move to LSU is that it could not only screw over Notre Dame, but it could also screw over his old team, Cincinnati, after its first 12-0 season since he was its head coach.
According to ESPN, the Bearcats' Luke Fickell is one of ND's top targets. People close to him have also reportedly said that Notre Dame and Ohio State are the two jobs he would have the toughest time turning down.
So, could Kelly really ruin things for the Bearcats, who are trying to make the CFP, yet again?
Not if Notre Dame goes with another candidate, defensive coordinator Marcus Freeman. ESPN reported that he would also "receive serious consideration for the head-coaching job." Funny enough, Freeman was Cincinnati's defensive coordinator last season, but that's beside the point.
So, as of right now, it appears Notre Dame could hire either Fickell or Freeman. Hopefully, though, whoever gets the job doesn't put ND in a situation like Kelly has it in right now. He has chosen himself over his players.
Like Sportscasting on Facebook. Follow us on Twitter @sportscasting19.