Brian Kelly's Massive $95 Million LSU Contract Should Make Kliff Kingsbury Think Twice About Oklahoma Job
Article Highlights:
Brian Kelly named the head coach at LSU and got a massive $95 million contract
Kliff Kingsbury has been linked to the Oklahoma Sooners job
Kingsbury could make more at Oklahoma than he does with the Arizona Cardinals
What is going on in the world of college football? In a matter of days, the entire landscape has shifted. Lincoln Riley heads to USC and spurns Oklahoma, and Brian Kelly leaves Notre Dame in shock and goes to Baton Rouge to become the new head coach at LSU.
Nobody saw this coming at all, especially with the Irish right on the cusp of the College Football Playoff. Yet, here we are, with two of the most prestigious programs in history landing two of the best coaches in the game today.
Riley will earn a lot of cash while we still wait for the final details, but Kelly's new deal with LSU is eye-popping in every sense. Moreover, the recent Kliff Kingsbury to Oklahoma rumors might have some traction, especially once the current Arizona Cardinals head coach sees Kelly's contract with the Tigers.
Brian Kelly lands at LSU and gets welcomed with a huge $95 million contract
Things have moved lightning fast after Thanksgiving. Florida, LSU, and USC are all filled with new head coaches. Now, Oklahoma and Notre Dame will begin searching for their successors, with both programs being in a state of shock.
Kelly's move to LSU is a massive one. He worked wonders with the Irish and will now head to the SEC in hopes of bringing the Tigers back to the College Football Playoff after the departure of Ed Orgeron.
Kelly didn't just land the LSU job, either. Kelly got hit with an unreal contract that will have NFL head coaches scratching their heads.
Yes, a 10-year, $95 million contract for Kelly — and that is before incentives kick in. That is $9.5 million per season, just a ton of money for Kelly, especially after what he was making in South Bend.
Kliff Kingsbury emerged as a target for the Oklahoma Sooners job after Lincoln Riley dashed for USC
After USC poached Riley, Oklahoma immediately went to the drawing board. While there were rumblings of Riley heading to LSU, the Sooners head coach shot down those talks after the loss to Oklahoma State.
Then, a day later, he lands in Southern California. Either way, Oklahoma needs to find his replacement.
After, reports came out about Kingsbury — the current Cardinals head coach — heading to Norman and making his way back to the college ranks. To no surprise, Kingsbury played coy with those rumors.
Why would Kingsbury leave one of the best teams in the NFL to head back to college? Well, looking at Kelly's contract, maybe that's why. After all, nearly $10 million a year is a ton of money, and a 10-year contract is appealing in itself.
Kingsbury has one year left on his current deal, but jobs such as Oklahoma rarely become available. More than that, he has familiarity with the Big 12 from his days at Texas Tech and might be intrigued at heading back to college. With the Sooners imminent move to the SEC, Kingsbury would be tasked with a lot, but he can't overlook an opportunity such as this one.
Brian Kelly's LSU contract could be a staple for Kingsbury if he decides to head to Oklahoma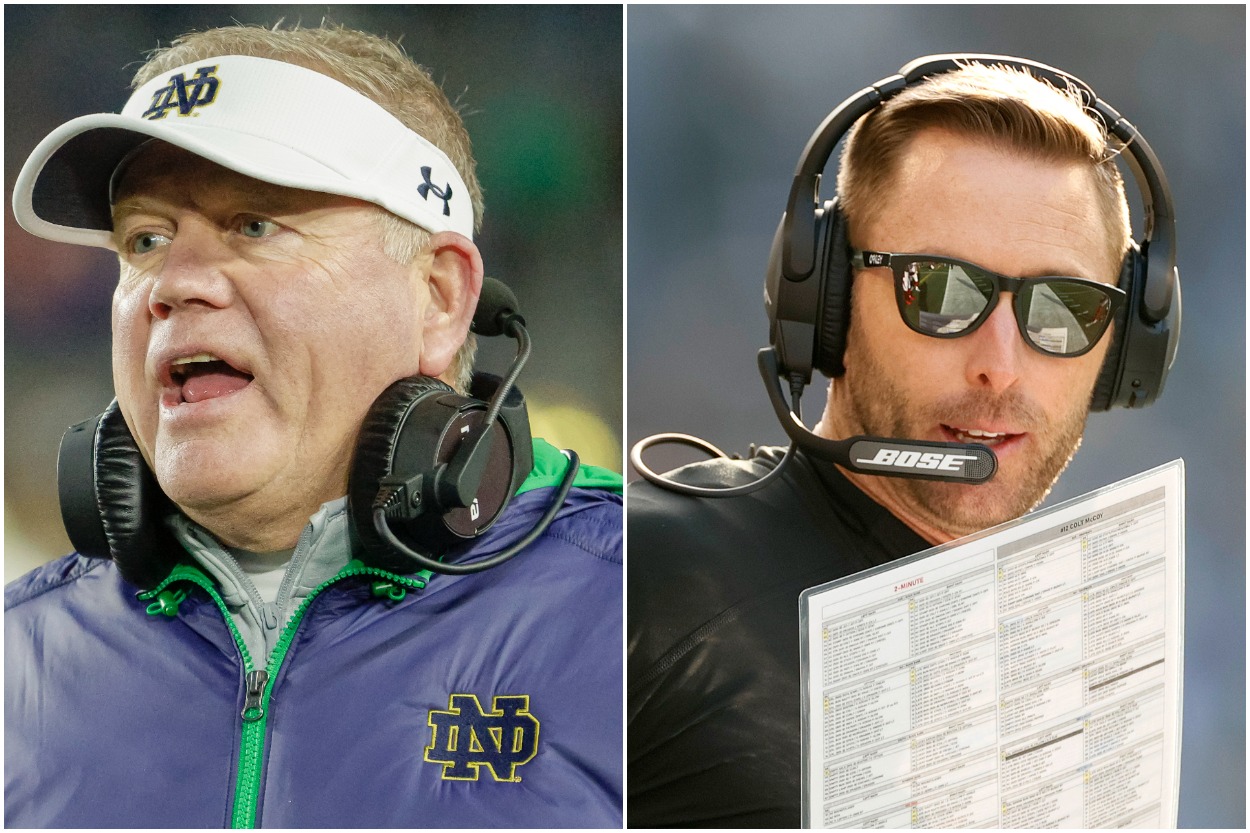 Again, Kelly's contract with LSU is a mammoth one. One has to envision that Riley's is similar, and one report (though not confirmed) had the USC head coach making more than Kelly.
Nonetheless, if Kingsbury could land a contract similar at Oklahoma, why wouldn't he take it?
Currently, the highest-paid head coach in American sports is Bill Belichick, which is no surprise at $18 million per year.
According to a recent report from NBC Sports, Kingsbury is making $5.5 million this season with the Cardinals. So, Kingsbury could make far more if he lands any contract even remotely close to what Kelly just got at LSU.
Leaving the NFL for college makes sense for some, not all. On the other hand, Kingsbury might be itching to go back, especially at a program like Oklahoma.
It will be hard to resist if the Sooners come calling with an offer similar to Kelly's.