Brian Kelly Sends Stern Message, Threatens To Pull Notre Dame Out of College Football Playoff
Brian Kelly is looking to lead Notre Dame to its first national championship since 1988, as the Fighting Irish are currently the No. 2 ranked college football team in the country. However, in a year where COVID-19 could change anything at any time, Kelly's team could actually not play in the College Football Playoff this season, even if they remain undefeated after the ACC Championship Game on Saturday against Clemson. In fact, Kelly is sending a stern message to the CFP, threatening to pull Notre Dame out of it.
Notre Dame is one of the best college football teams in the country
Notre Dame is having a great season, even with all the uncertainty this year due to COVID-19. The Fighting Irish are 10-0 and are No. 2 in the College Football Playoff rankings.
Brian Kelly's program actually just made the College Football Playoff during the 2018 season, but Clemson ultimately blew the Irish out in the semifinals, 30-3. However, this season, they look much better than they did in 2018. Notre Dame has one of the top offenses in the country, averaging 37.7 points per game. They are led by an experienced and talented quarterback, too, in Ian Book and an excellent running back in Kyren Williams.
Their defense is also outstanding, as it is only allowing 17.1 points per game. Adetokunbo Ogundeji has been great at getting to the quarterback, as he has 5.5 sacks this season. Jeremiah Owusu-Koramoah has also been unblockable. He leads the team in total tackles and has forced three fumbles.
This has all led to them going undefeated so far, and earning a win over Clemson (who didn't have Trevor Lawrence that night).
Now, Notre Dame plays No. 3 ranked Clemson (with Lawrence) again on Saturday. While the winner of the game wins the ACC Championship, many people expect both teams to still make the College Football Playoff, no matter who wins.
1 College Football Playoff game could be without family members
According to ESPN, the College Football Playoff said the Rose Bowl is still expected to be a semifinal site. However, last month, LA County's public health director told ESPN that sporting events would "remain spectator-free."
This means that family members wouldn't be able to attend the CFP semifinal game at the Rose Bowl. ESPN reports that Bill Hancock, the CFP executive director, has said that the CFP is hopeful that California will ease the stadium restrictions and allow family members to go to the game.
With that being unclear, though, many have criticized the decision to keep the game at the Rose Bowl.
"It makes no sense to me to put a bunch of kids on a plane and fly them all the way to California to play in an empty stadium," Clemson coach Dabo Swinney said, according to ESPN. "That makes zero sense when you have plenty of stadiums where you can have fans and, most importantly, you can have families. It should be the same for all four teams as far as the opportunity that you have. This year everybody has had to make adjustments. To me, that would be a simple one to make."
Now, Kelly has a message about the situation.
Brian Kelly threatened to pull Notre Dame out of the College Football Playoff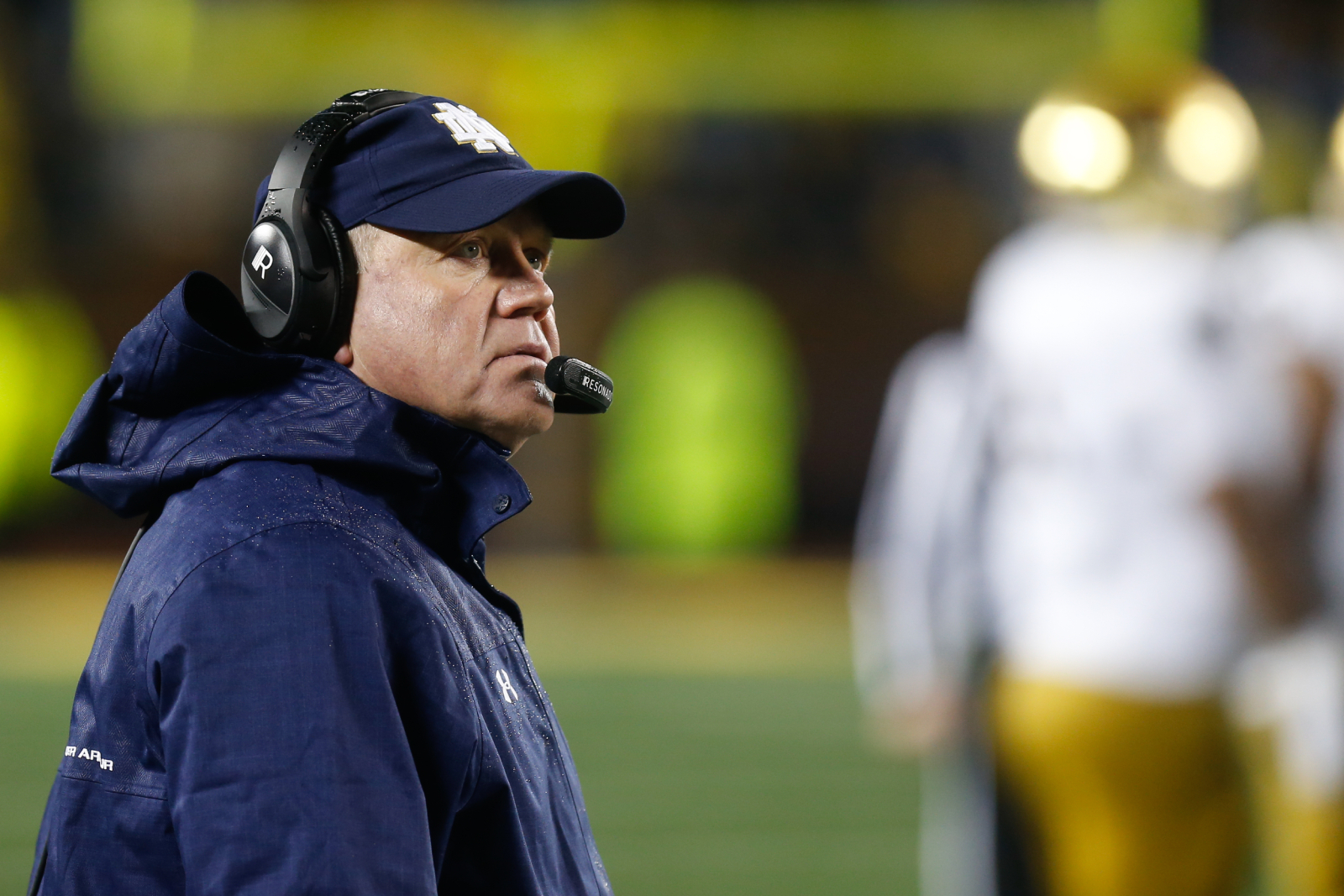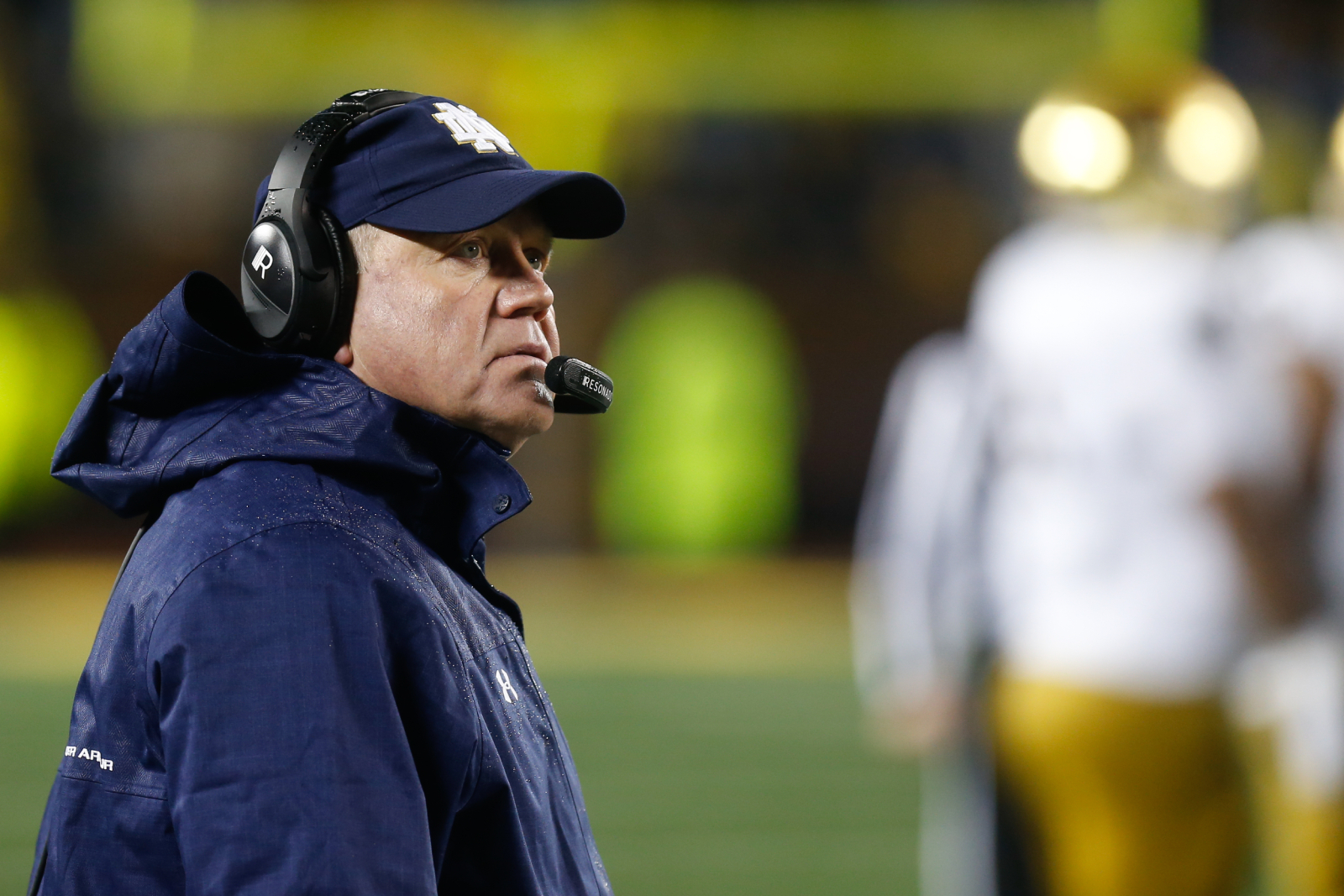 Brian Kelly recently spoke to reporters about potentially not having family members at that CFP game, and he had a strong message.
"I'm not sure we'll play in the playoffs if the parents can't be there," Kelly said, according to ESPN. "Why would we play if you can't have families at the game? If you can't have families at bowl games, why would you go to a game where your families can't be part of it? What's the sense of playing a game in an area of the country where nobody can be part of it?"
Kelly questioned why the Rose Bowl couldn't be in Las Vegas or another city other than its current location.
"Where's the flexibility for the student-athlete is all I'm saying," Kelly said, according to ESPN. "The one thing these kids have been is incredibly flexible, and then on the other side we can't be flexible? It's hard to imagine."
Kelly also said that he is "echoing" his players' "concerns."
"If in fact we're selected to be a part of it, this will then be No. 1 on their radar, so then I'll have to address it with our leaders as to how they feel about this," Kelly said, according to ESPN.
Kelly does make some good points. However, it would probably be pretty easy for the CFP to call his bluff. Many family members would most likely want the players to play for a championship, whether they are there or not. The players probably want to play for a championship no matter what, too. They just probably still really want their family members to be there, so Kelly is most likely just trying to do all he can to make sure that they get to be in attendance.
The next couple of weeks should be interesting.
Stats courtesy Sports Reference