Brock Osweiler had a Statistically Average yet Brilliant NFL Career in 1 Key Way
The Denver Broncos took QB Brock Osweiler in the second round of the 2012 draft with the intention of him being the heir apparent to Peyton Manning after he retired. That plan didn't exactly work out. While Osweiler did start some games for the Broncos, he bounced around between different teams in the league and never found much success in the NFL. Osweiler announced his retirement earlier this season, and while he will be remembered as a bust who didn't do much in the NFL, his short, mediocre career was brilliant in one big way.

Brock Osweiler's first stint with the Broncos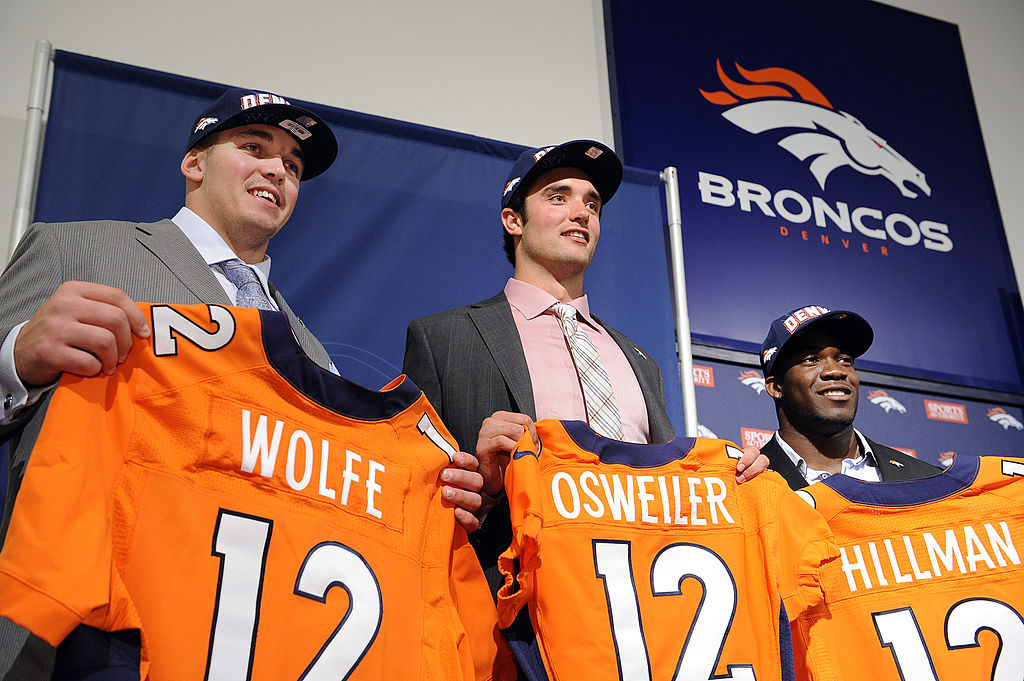 The Broncos drafted Osweiler shortly after they signed Manning, so he was never expected to get much playing time early in his career. He didn't start any games in his first three seasons, and he threw a total of 30 passes in relief of Manning during that time.

That all changed in 2015 when Osweiler replaced Manning during the Week 10 game with the Chiefs and then took over as the starter for the rest of the regular season. That year, Osweiler compiled a 5-2 record as the starter while completing 61.8% of his passes, throwing for 1,967 yards, 10 touchdowns, and six interceptions. Manning returned to the starting role that postseason, leading the Broncos to victory in Super Bowl 50, earning Osweiler a Super Bowl ring.

Going to the Texans, and bouncing around
Brock Osweiler became a free agent following the 2015 season, and he signed a big-money four-year contract with the Texans in March 2016. He played in 15 games in 2016, starting 14 of them, going 301-for-510 passing for 2,957 yards. He threw 15 touchdowns and 16 interceptions while going 8-6 in his starts.

Osweiler started both of the Texans' playoff games that season, throwing for 168 yards and a touchdown in a win against the Raiders, but then throwing three interceptions the following week in a loss at the Patriots.

In March 2017, the Texans traded Osweiler — along with a 2017 sixth-round pick and a 2018 second-rounder — to the Browns in exchange for a 2017 fourth-round pick in what was essentially a salary dump for Houston. The Browns released him before the 2017 season even began, and that was the beginning of the end for Osweiler. He went back to Denver for the 2017 season, then sign with Miami in 2018, but he only started nine games total in those two seasons.

In a seven-year career, Osweiler ended up appearing in 49 regular-season games, including 30 starts. He completed 59.8% of his passes, throwing for 7,418 yards, 37 touchdowns, and 31 interceptions.

Osweiler's average yet brilliant career
Brock Osweiler signed a typical rookie contract after being drafted, worth $3.51 million over four years. His big payday came when he reached free agency and signed with the Texans. They gave him a four-year deal worth $72 million. He later signed one-year deals with the Broncos and Dolphins, which were each worth less than $1 million. With Osweiler being traded and released, he never earned the full $72 million from the Houston contract since NFL deals aren't fully guaranteed, but he did end up earning more than $41 million in his career.

With 30 starts in his career, Osweiler earned more than $1 million per start, and he even earned more than $1 million for each of his 37 touchdown passes. It just goes to show you that you don't need to be a top-tier player to make tens of millions of dollars in the NFL in modern times — and Osweiler is a perfect example of that.