New Broncos' Brass Not Ruling Out Drew Lock as 2022 Starting QB
The Denver Broncos wait patiently and anxiously for the decision of Aaron Rodgers. If the NFL MVP decides to leave the Green Bay Packers, the Broncos are the obvious frontrunner for many reasons — including new head Nathaniel Hackett and his relationship with Rodgers.
Until then, the Broncos will examine the next move at the quarterback position. After years of incompetency under center, they must get this right, especially with a new head coach in place.
Teddy Bridgewater is a free agent, and it remains to be seen whether he returns to Denver. However, Drew Lock is still around, and the new regime in Denver isn't exactly ruling him out as the starting QB in 2022.
The Broncos aren't entirely ruling out Drew Lock as the starting QB
New Broncos offensive coordinator Justin Outten spoke highly of Lock recently. Sure, the talent is there, but it hasn't translated to the NFL just yet.
Perhaps it will come with Hackett and Outten in town, but who knows. Outten didn't stop there on the Lock hype, either, and is excited to evaluate him (h/t Jon Heath of Broncos Wire).
"As far as [evaluation], I want to see how he fits in the system a little bit more once he gets the playbook under him, and then we'll go from there."

Justin Outten on Drew Lock
That doesn't sound like somebody who will get cut or traded. Denver will keep him around with just one year left on his rookie deal.
Furthermore, if Rodgers doesn't come to Denver, Lock might enter training camp as the favorite for the job.
The former Missouri star has been a mixed bag at the NFL level, but perhaps a new coach will make a difference
The arm strength is there. The mobility is there. Clearly, Lock is talented, and the Broncos were enamored enough to select him in the second round of the 2019 NFL Draft.
Unfortunately, his skillset just hasn't clicked at the NFL level just yet. In his first three seasons, he has thrown for 4,740 yards with 25 touchdowns and 20 interceptions across 24 games.
With Hackett and Outten in town, the offensive scheme will look much different. The Broncos passed on defensive guys such as Dan Quinn and brought in an offensive guru after the failed experiment with Vic Fangio.
The weapons are in place already: Javonte Williams, Noah Fant, Tim Patrick, Courtland Sutton, and Jerry Jeudy are all coming back in 2022. Melvin Gordon is a free agent, but he could return to Denver next season, depending on how free agency works out for him.
The one thing missing is a quarterback, and Lock has one final shot to prove his worth to the Broncos before his rookie deal expires. If he doesn't, he might not last too long in the NFL.
Who could the Broncos bring in to compete with Lock if Aaron Rodgers stays in Green Bay?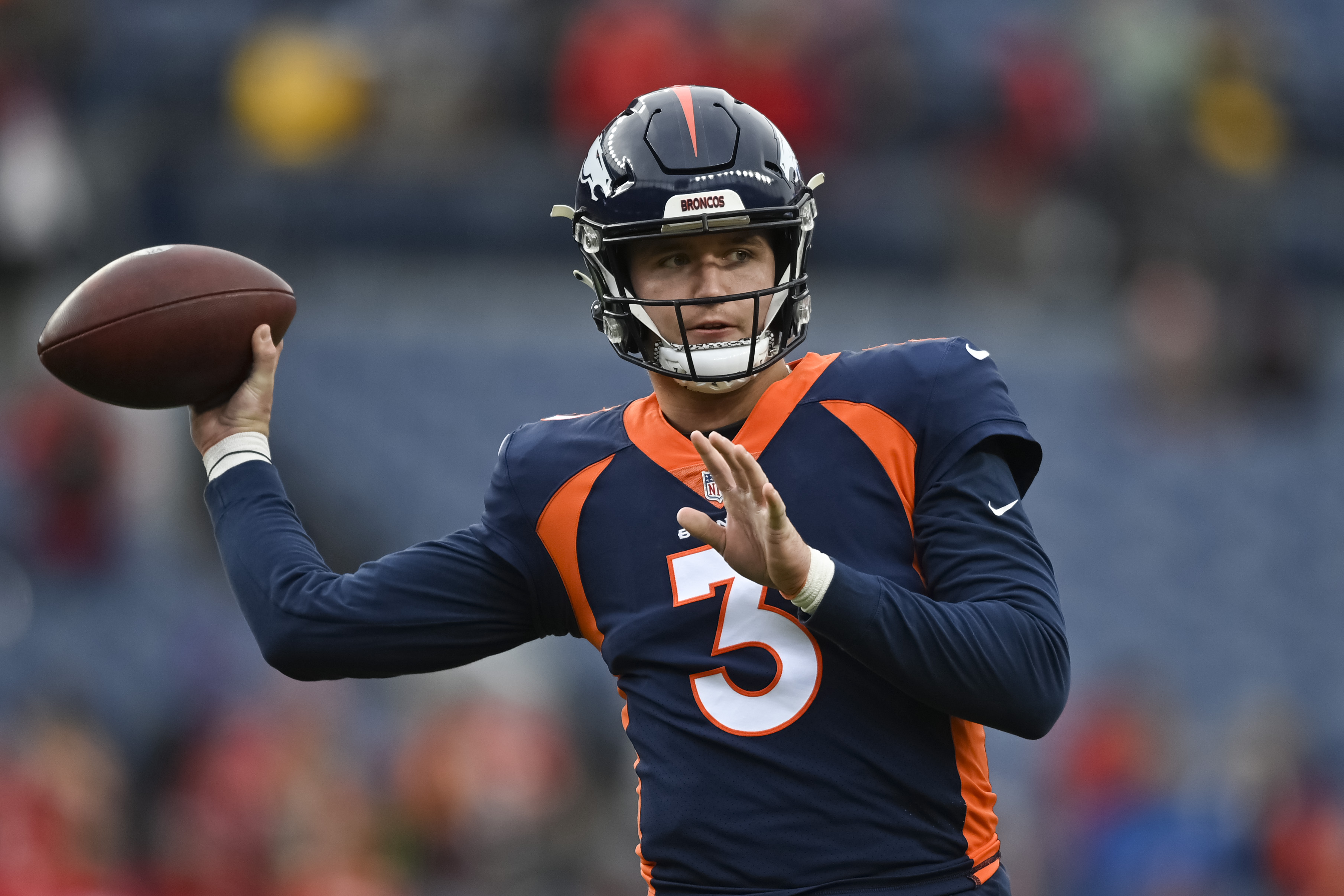 The Broncos are seemingly all-in on Rodgers. But, as the days go by, it looks more and more likely that he will either retire or run it back with Green Bay one more season. The Packers have already begun restructuring deals in what seems like an effort to franchise tag or extend Davante Adams.
If they do that, Rodgers would certainly come back at least one more season, and the Broncos would be scrambling. Assuming that's the case, Denver has some other options — although none as enticing as #12.
Jimmy Garoppolo could be acquired for a lower price and led the San Francisco 49ers to the NFC title game.
Russell Wilson makes a lot of sense if the Seattle Seahawks end up trading him, but his price point would be multiple first-round picks and maybe a player.
Cheaper free-agent options include Marcus Mariota, Mitchell Trubisky, Jameis Winston, and Tyrod Taylor. Then Denver will need to grab a QB in the NFL Draft, and George Paton has already done his share of homework with the top passers in the draft.
If Rodgers ends up back in Green Bay, the Broncos most likely open camp with Lock competition against one of the cheaper free agents and maybe a rookie — although this year's class might be better off holding a clipboard for the first season and developing.
It isn't what Broncos fans want to hear, but there is a distinct possibility that Lock is the starter when September rolls around.
Stats Courtesy of Pro Football Reference
RELATED: Broncos Trades: Should Denver Go After Vikings QB Kirk Cousins?