Russell Wilson: Broncos Have Massive $48 Million Reason Why a Trade for the Seahawks QB Could Become a Reality
Russell Wilson's name is back in the NFL circles once again as the Seattle Seahawks playoff chances look slim. Despite beating the San Francisco 49ers, Seattle sits at 4-8 and will need a miracle to sneak into a Wild Card spot. On Wednesday, Wilson's name popped up in a report of teams that the veteran would waive his no-trade clause for, and one of them is the Denver Broncos.
Russell Wilson trade suitors pop up and the Broncos are one of them
A massive Wilson report from Jordan Schultz came out of nowhere, listing three teams for which Wilson would waive his no-trade clause.
The New York Giants, New Orleans Saints, and the Broncos are those three teams. Now, take this as you will, especially with many different things coming out.
Nonetheless, all three of these teams need quarterbacks (sorry Daniel Jones truthers). The question is, which one makes the most sense for Wilson if indeed these are his three choices?
However, John Clayton refuted the reports and said Wilson is committed to Seattle.
Maybe it is overplayed, or perhaps it has traction. After all, Wilson expressed his displeasure with Seattle in the offseason, and now the Seahawks are doing whatever they can to get him to stay.
But one thing is clear: Wilson's future in Seattle is in serious jeopardy, especially if the Seahawks miss the playoffs again. It sure looks that way where we stand now, and there could be some massive changes coming.
The Broncos have a $48 million reason to be ahead of everybody else in the Russell Wilson sweepstakes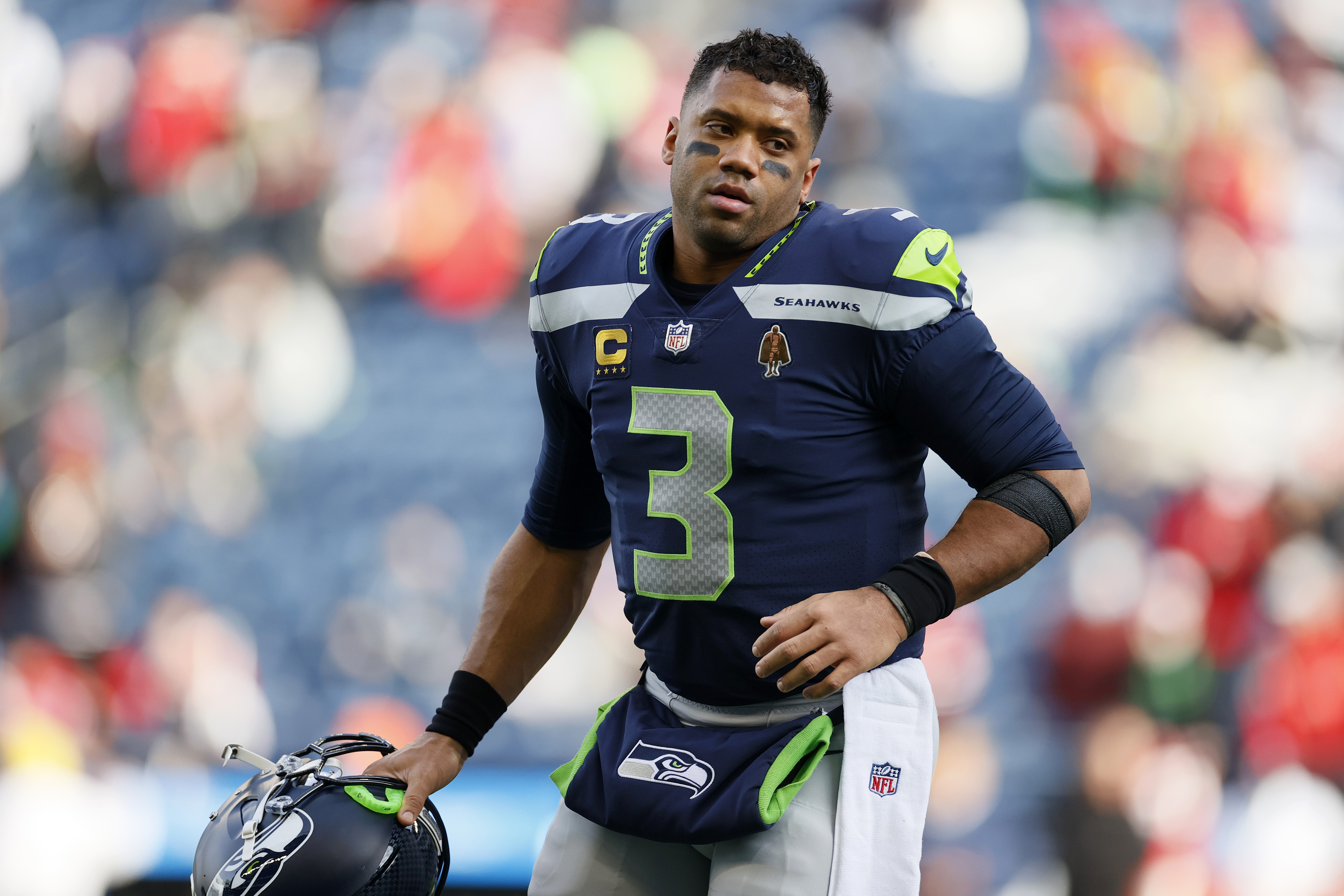 At this point, the question isn't if Wilson gets traded, but when and where. Pete Carroll could very well be gone after the season, which could trigger a rebuild in the Pacific Northwest.
Now, one major factor could make the Broncos a clear frontrunner if Wilson does become available.
Well, that changes things quite a bit. The Giants, from a financial standpoint, would need to make a lot of changes to make a run at Wilson.
The Saints would need to make even more moves and a path to a potential Wilson deal would be highly complicated — although crazier things have happened before.
The Broncos have the money to do so, and the rumors have swirled that Aaron Rodgers to Denver is one massive possibility this offseason if he leaves the Green Bay Packers.
Wilson signed a massive four-year deal worth $140 million back in 2019, so whichever team trades for him will be inheriting quite a big chunk of cash. At the same time, they would be snagging a Pro Bowl quarterback and a signal-caller with a Super Bowl ring in his trophy case.
Adding Wilson would immediately send them into Super Bowl contention. Javonte Williams, Jerry Jeudy, Tim Patrick, Courtland Sutton, and Noah Fant headline the list of Broncos' offensive weapons. The defense in Denver is the main reason why they are still alive in the AFC playoff picture this season.
Denver has the means to make a trade work, and by now, John Elway's desperate need for a quality quarterback is obvious.
Sure, Rodgers is a possibility too, and a very likely one. But, there are still questions about whether or not he decides to leave Green Bay after the season.
All in all, there is a very realistic path to Wilson finding his way to the Mile High City via trade this offseason, especially with the amount of money they have.
The trade rumors will continue to circulate and the Seahawks demise will only expedite those conversations
Carroll is right. He and the Seahawks need Wilson. However, does Wilson need them?
Earlier this season, Carroll again made it clear how important Wilson is to this team — as if it weren't already abundantly clear.
However, the veteran quarterback doesn't have much more patience at all. It certainly feels as if a trade request is coming once and for all, and a losing record would expedite that desire for Wilson to play elsewhere.
Changes are coming in Seattle one way or another, and Wilson's clock is ticking faster than ever, especially with these latest reports coming out.
RELATED: Broncos Power Move Shows John Elway is Ready to Move on From Quarterback Purgatory and Bring Denver Back to Relevancy