Broncos HC Vic Fangio's Latest Comments Prove Why John Elway Must Be Aggressive in Pursuit of Aaron Rodgers
Ah, the Denver Broncos quarterback carousel strikes again. Ever since Peyton Manning departed, John Elway and the organization have searched far and wide for their next franchise quarterback.
Tim Tebow wasn't the answer, and neither was Paxton Lynch, Trevor Siemian, or Brock Osweiler. The Broncos acquired Teddy Bridgewater this past offseason, but he hasn't worked out either. Drew Lock was drafted in 2019 with hope and potential, and, just like the rest of them, he has sputtered.
After the Broncos' victory against the Los Angeles Chargers, head coach Vic Fangio gave some interesting comments that show precisely why Elway and the front office need to go all in to convince Aaron Rodgers to head to the Mile High City.
Vic Fangio was not thrilled with the performance of Drew Lock after Teddy Bridgewater left with an injury
Against the Chargers, Bridgewater had to leave the game after suffering a knee injury. That prompted Fangio to call on Lock, who lost his starter job to Bridgewater before the season.
Lock did not play well, finishing with a 4-of7 clip with 26 yards and no scores. Lock also tossed an ugly interception, which didn't help his cause one bit.
To be fair, that was only Lock's second game action of the season and first since October 3 against the Baltimore Ravens. After the game, Fangio was not entirely pleased with Lock's performance (h/t Troy Renck of Denver 7).
"In Drew's case, we're probably not giving him enough reps during the week. Not to make an excuse for him. He's gotta learn to do better at that."

Vic Fangio on Drew Lock's performance
That doesn't exactly ring confidence for Lock, which isn't entirely surprising. After all, the Broncos named Bridgewater the starter over Lock to begin the season.
Fangio seemed pleased with Bridgewater's gutsy performance but the Broncos still are searching for a long-term answer
Bridgewater hasn't been a star for the Broncos, but he has been good enough. After leaving the game for some time against the Chargers, Lock did not hold up his end of the bargain.
It didn't last long, and Bridgewater mustered up the courage to come back in the game. Fangio rewarded Bridgewater with a game ball for toughing it out, and the Broncos quarterback finished with an 11-of-11-of-18 clip for 129 yards and two scores — including one rushing score.
Still, even though Bridgewater has been good enough, is he capable of leading this team to AFC supremacy?
Probably not. If it weren't for a top-tier defense, the Broncos might not be hanging around the AFC West at all. The defense frustrated Justin Herbert and the Chargers, holding the high-powered offense to two scores while forcing two turnovers.
Bridgewater threw five interceptions during the Broncos' four-game losing streak and had two games under 200 yards passing. So, while he has looked good at times, the question remains whether he is the quarterback in Denver in 2022.
This is further proof as to why John Elway must put all his effort into the Aaron Rodgers sweepstakes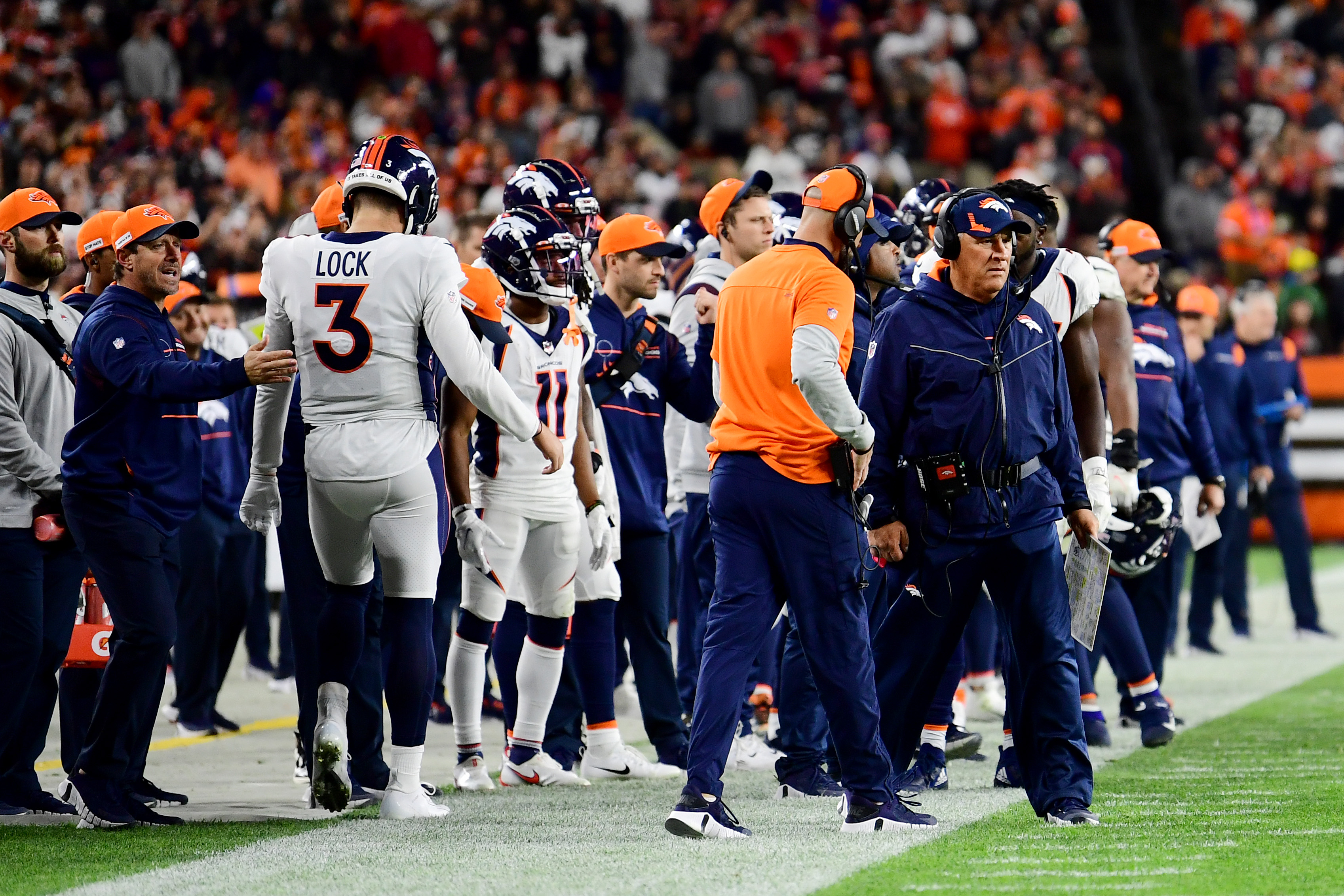 To put it bluntly, the Broncos need a quarterback during the offseason. Furthermore, the Aaron Rodgers rumors circulated all offseason before heading back to the Green Bay Packers.
But the Broncos are up to something after signing Courtland Sutton and Tim Patrick to long-term deals. The recent play of Lock shows that he isn't the long-term answer, and Bridgewater might not be back next season, either.
Elway and the Broncos have to find a star quarterback to take over. Can you imagine how good this Broncos team would be if they had Rodgers playing quarterback?
How many teams get to the Super Bowl with average quarterback play? Not many, especially in today's NFL. Tom Brady, Patrick Mahomes, Rodgers are the cream of the crop and there's a reason why their teams always fight for a Super Bowl bid.
Elway needs to make a vigorous pursuit of Rodgers this offseason if the Broncos want to go all-in next season. Clearly, Lock and Bridgewater aren't the answer for Denver.
Stats Courtesy of Pro Football Reference