Broncos Legend Von Miller's Emotional Reaction After Being Traded to Rams: 'We Always Got Super Bowl 50'
One day before the NFL trade deadline, the Denver Broncos shocked everybody by trading star linebacker Von Miller to the Los Angeles Rams for a pair of draft picks. This move makes sense for both sides, especially with the Broncos' recent struggles.
Now Miller will join a talented Rams defense that is suddenly the talk of the NFL and in line for NFC supremacy, and perhaps a trip to the Super Bowl.
After spending his entire career with the Broncos, Miller is headed elsewhere with all eyes on a trip to the Super Bowl.
Von Miller heads to the Rams in a shocking deal
It caught everybody off guard. Yes, Miller's name floated around trade talks lately. He is on an expiring deal, and the Broncos were aiming to get any assets possible for the talented edge rusher.
However, Miller suffered an injury against the Cleveland Browns and then proceeded to miss Sunday's game against the Washington Football Team. Nonetheless, the Rams took a chance on Miller and can now pair him next to Jalen Ramsey and Aaron Donald.
The Broncos not only get a pair of draft picks in return but also get rid of most of his remaining salary.
This is yet another win-now move by the Rams, who have depleted almost all of their 2022 draft choices to put together a loaded roster. Matthew Stafford and Sony Michel are just a couple of names acquired with those assets and now can add Miller's name to the list.
But Miller's time with the Broncos comes to an unfortunate end.
The Broncos legend opens up on his tenure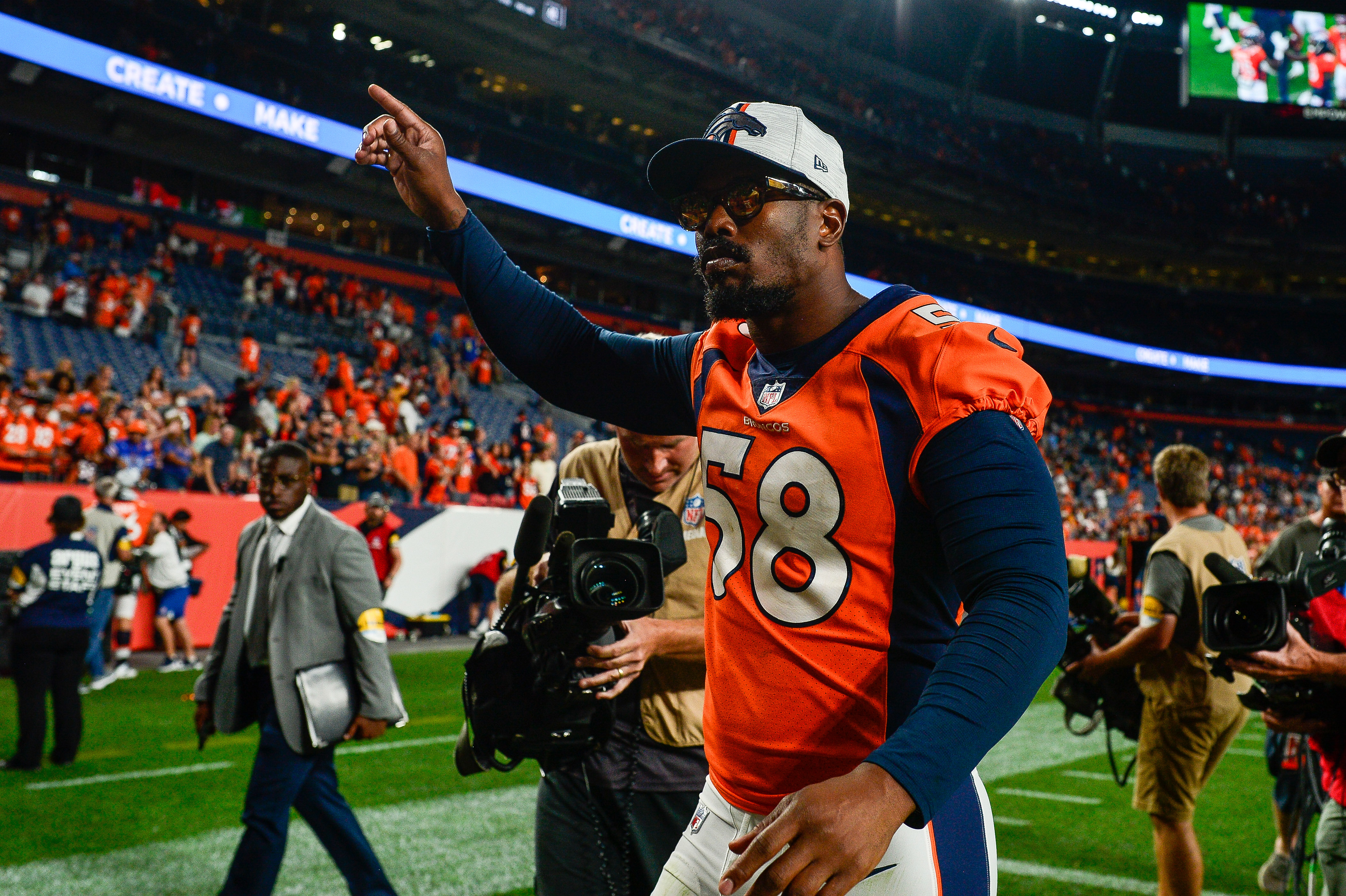 The former 2nd overall draft selection has spent every season of his 11-year career with the Broncos. He finishes his time there with 110.5 sacks, including 4.5 in seven games during the 2021 campaign.
Miller has been one of the best edge rushers in the NFL for the past decade, and it is a shame the Broncos could never get the full potential of Bradley Chubb and Miller.
After the trade announcement, Miller opened up on his time with the Broncos (h/t Troy Renck of Denver 7).
"Seeing the pictures when I was walking out, it just made me tear up. We always got Super Bowl 50."

Von Miller after being traded to the Rams
This must be a tough situation for Miller, especially after spending his entire NFL career in Denver. But he is a veteran and understands how the league works and now gets to join a vaunted defense in LA — and a team with only one loss.
Miller went into more detail on his time with Denver and got emotional when asked about saying goodbye to his teammates (h/t Troy Renck).
"It's tough. You can't put it into words."

Von Miller on saying goodbye to his teammates
It will be strange not seeing #58 with Miller on the back of the Broncos jersey, and one day he will join Peyton Manning in the team's Ring of Honor. For now, he is off to LA.
Miller should be ready to roll against the Titans on Sunday Night Football
The newest members of the Rams should be ready to roll on Sunday night against the Tennessee Titans; at least, that is the hope. Miller is still working his way back from the injury he suffered against Cleveland but was close to playing against Washington.
The Titans just lost star running back and MVP candidate Derrick Henry for the time being, as he is set to undergo surgery on his foot. That makes things a bit easier for the Rams, and now adding Miller makes this defense that much better.
Ramsey, Donald, Miller, Leonard Floyd: the list goes on.
The rich get richer in LA, and they are a serious favorite to capture the NFC title — although Aaron Rodgers and Tom Brady will have something to say about that.
Stats Courtesy of Pro Football Reference
RELATED: Matthew Stafford Leads Charge for New-Look Rams and 'Making Things Happen'