Broncos QB Drew Lock Is Getting One Final Shot to Prove His Worth to the NFL
When the Denver Broncos first drafted Drew Lock in 2019, a sense of quiet optimism swept across the fan base. The Broncos had been hunting for a franchise quarterback for quite some time, and Lock had the natural charisma to get fans invested rather quickly.
Lock went 4-1 in his first five starts as an NFL quarterback, adding even more fuel to the fire. Most Denver fans were highly optimistic about his future, especially considering the significant improvements the Broncos were making to their wide receiver room.
2020 was a rude awakening for Drew Lock and the Broncos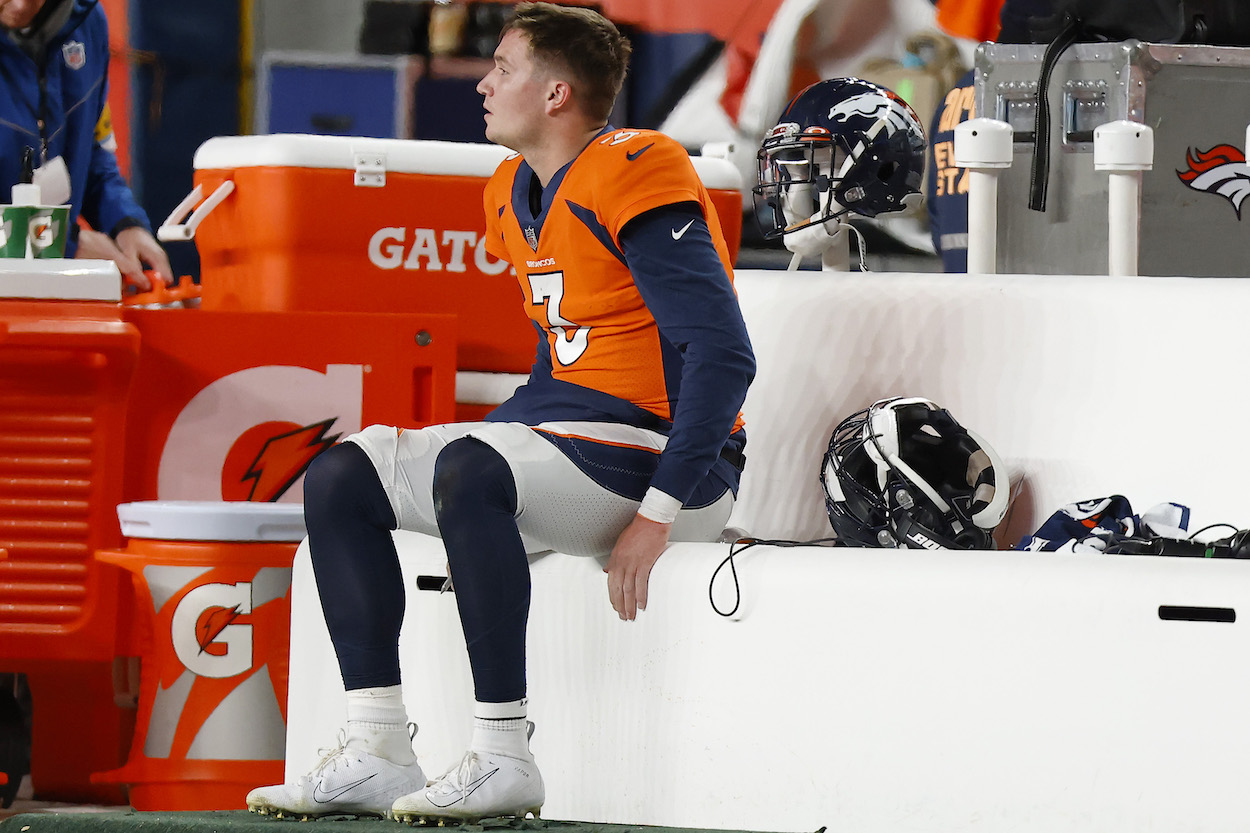 Despite his encouraging rookie season, 2020 was a different story for Lock and the Broncos. The former second-round pick went 4-9 as a starter and threw a league-leading 15 interceptions. The Denver offense struggled all season long, eventually leading to Lock hitting the bench.
Lock's second season in the pros was an unfortunate one for the Broncos. However, it was also an incredibly eye-opening one. All optimism surrounding Lock's future as a potential franchise quarterback was thrown out the window. It was obvious that he didn't have that type of talent. To go along with his 15 interceptions, Lock's completion rate was below 60%, and his passer rating was in the 70s.
It was a bad year all around, no matter how you slice it.
The Broncos pivoted toward Teddy Bridgewater
The Broncos front office had an opportunity to draft Justin Fields or Mac Jones during the 2021 NFL Draft. However, they passed on both, ultimately pursuing veteran journeyman Teddy Bridgewater via trade instead. The hope was Bridgewater would come in and provide a calming presence to the offense for a year or two before a long-term plan was created for the quarterback position.'
This, of course, meant Lock would be hitting the bench. After 18 games as the Broncos' starting quarterback between 2019 and 2020, Denver had seen enough of Lock.
Bridgewater has definitely performed better than Lock since entering Denver. He's 7-7 as the team's starter and has a 94.9 passer rating. However, many of the issues that plagued him in Carolina carried over. He's at his best when asked to game manage and complete check-downs. Rarely can he take the top off the defense or win games with his arm.
Whether you're a Teddy B fan or not, the Broncos' quarterback job is still an unsolved issue.
Drew Lock is getting one final shot to prove his worth
Fast forward to Week 15 of the 2021 season, and Bridgewater suffered an in-game concussion against the Cincinnati Bengals. According to Broncos head coach Vic Fangio, Bridgewater is out for Week 16.
Thus enters Drew Lock.
With the season starting to dwindle down and Lock's third season coming to a conclusion, this is a crucial moment for him to reestablish his value around the league. He presumably doesn't want to spend a fourth season in Denver as a backup QB. However, he actually has to prove to the rest of the NFL that he's worthy of an opportunity to compete for a QB1 role next year. Plenty of teams could use some extra juice in their QB room moving forward. It's on Lock to get his name into that conversation.
It won't be an easy game for Lock. He's facing the playoff-hungry Las Vegas Raiders. However, a strong performance leading to a Denver win would go a long way toward building his value again.
All stats courtesy of Pro Football Reference.