Broncos QB Drew Lock Might Have Played His Way Out of Denver
The Denver Broncos are one of many NFL teams who aren't quite sure who will line up under center for them in 2021. That uncertainty stems from the play of Drew Lock, who generally underwhelmed in his first full season as starter. Even those within the team don't seem to be impressed with his play, and if these rumors are any indication, the Broncos are ready to move on.
The Broncos dumb things down for Lock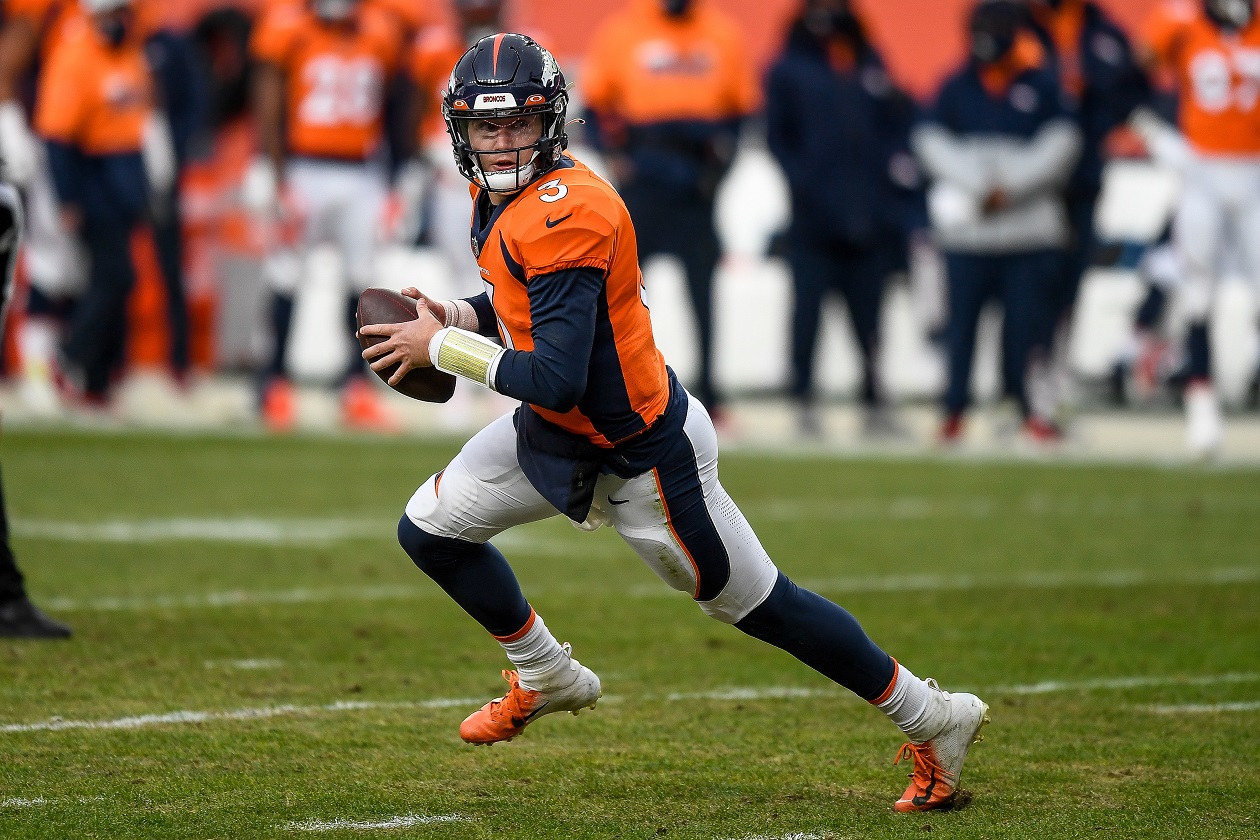 RELATED: Peyton Manning Recently Received a 13-Second Update About His Future in Football
Drew Lock showed signs of brilliance in 2019 when he won four of his five starts. In that time, he threw for seven touchdowns against three interceptions, while averaging 204 passing yards per game. Head coach Vic Fangio was impressed enough to give him the starting role for 2020.
Unfortunately, Lock hit a sophomore slump of epic proportions. He tied for the league lead in interceptions with 15, a number only matched by Carson Wentz. He finished the season with a quarterback rating of 75.4, the fourth-lowest in the league among eligible passers.
According to NFL scouting expert Tony Pauline, people within the Broncos organization are starting to lose faith that Lock is a…well, lock for their starting quarterback role.
I have heard everything from 'people are not sold on Drew Lock' to 'people are down on Drew Lock'…. we know that Drew Lock has had flashes and had his moments. 

What I found out at the Senior Bowl is the Denver Broncos had to kind of slim down the playbook, take things out of the playbook that Drew Lock can't run…They almost had to dummy down the playbook so Drew Lock can handle it. That's a major concern.

NFL scouting expert Tony Pauline, via Pro Football Network
This isn't exactly a good look for Lock. After all, learning the playbook is one of the first things an NFL quarterback should do when he shows up on day one.
Let's give Drew Lock a break
RELATED: Mark Schlereth Got His Nickname, 'Stink,' Because He'd Pee His Pants During Broncos Games: 'I'd Just Go'
In fairness to Lock, he was not the only reason that the Denver Broncos underperformed in 2020. In fact, he can hardly be blamed for the Broncos' Week 12 loss to the New Orleans Saints because he wasn't even at the stadium. For that game, all four of the actual quarterbacks on the roster were on the COVID-19 list.
Lock also missed two games with a shoulder injury, which he suffered in week two against the Pittsburgh Steelers. Jeff Driskel and Brett Rypien each started a game in Lock's absence, with Rypien picking up the team's first win.
The dumbing down of the playbook actually seemed to help Lock in the second half of the season. While the team's results barely improved, his statistics certainly did. In his first seven games, Lock threw for seven touchdowns and 10 interceptions, putting up a rating of 66.5. In his last six games, he threw for nine touchdowns and was picked twice, with a quarterback rating of 85.7.
Then again, even these stats aren't that impressive.
Other quarterback options for the Denver Broncos
The Broncos may already have signaled their stance on Lock's future. According to KUSA's Mike Klis, they made "multiple proposals" with the Detroit Lions for a potential trade that would send quarterback Matthew Stafford to Denver. Unfortunately, the Lions went with a better offer from the Los Angeles Rams.
This failure hasn't deterred new Broncos general manager George Paton, who still desires a "veteran quarterback with starting experience." This offseason, there should be plenty to choose from on the trading block.
Broncos insider Troy Renck reports that the team plans to pursue Deshaun Watson, whose relationship with the Houston Texans has been irretrievably broken. Watson's former Texans teammate, Broncos safety Kareem Jackson, has openly "recruited" the quarterback to Denver. For now, however, the Texans have held firm on their unwillingness to let him go.
Statistics courtesy of Pro-Football-Reference.