Broncos RB Melvin Gordon Really, Really Hates the LA Chargers
Not every franchise has a good synergy between the owners, administrative front office staff, and the players. In other words, Not every team can be the New England Patriots. But sometimes a serious and irreparable rift occurs, making a working relationship between the franchise and a player impossible. Such is the case with former LA Chargers running back Melvin Gordon.
Melvin Gordon's career highlights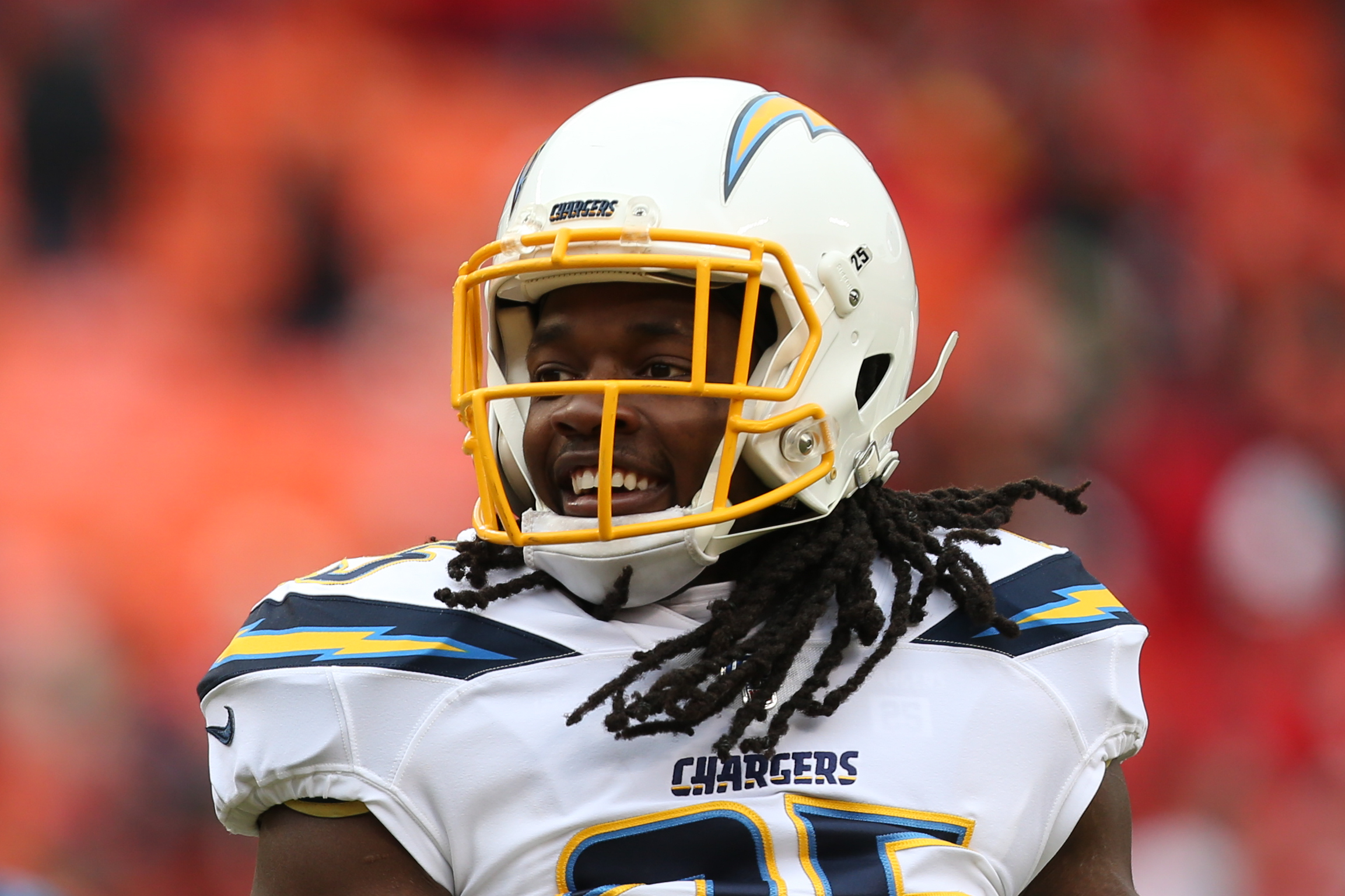 Once upon a time, things seemed much brighter in San Diego. In 2015, the San Diego (now LA) Chargers drafted Gordon in the first round at 15th overall pick.
Based on his college career, the young running back looked to have a strong future ahead of him. Gordon played college ball for the Wisconsin Badgers. During his time there, Gordon's college running stats were nothing short of miraculous.
In the middle of his senior year in 2014, Gordon broke an NCAA division one record rushing for 408 yards in a single game. This was an incredible yardage at the time, but the record wouldn't stick; the next week Samaje Perrine of Oklahoma fame broke that record by only a handful of yards.
That's beside the point; Gordon's talent was undeniable. Throughout his entire college career, Gordon came just 41 yards shy of breaking Barry Sanders' 1988 rushing record.
To cap off his college career, Gordon was a Doak Walker award winner as well as a Heisman trophy runner-up in 2014. Going into his time with the Chargers, things looked great.
To be perfectly honest, Gordon's professional statistics stayed 100% consistent with his college performance. He soon established himself as a hard-working back able to punch in decent production week by week with the occasional standout run.
Over five seasons in the league with the Chargers, both in their San Diego and LA iterations, Gordon managed just over a thousand rushing yards with 36 total touchdowns. In fact, the rift between him and the Chargers front office had nothing to do with his on the field production. It had to do with a stalled negotiation.
The widening rift
Going into the 2019 season, Melvin Gordon's confidence, coupled with the sweet memory of his senior year of college, got the best of him. He'd reached the last year of his contract and decided to take a chance.
The Chargers had yet to renew him on a long-term contract, so Gordon refused to show up for training camp until they inked a new, multi-million dollar deal with a young star.
Unfortunately, things didn't turn out well for Gordon. The Chargers' front office called his bluff and refused to give him the new contract that he wanted. What they did offer was a $10 million per year deal but Gordon felt he was worth much more.
Of course, hindsight is 20/20. After taking his chance, he and the Chargers split ways after 5 years with Gordon taking a paltry $16 million deal with the Denver Broncos, resulting in a loss of millions by being by the end of negotiations. 
Melvin Gordon gets a new start with the Broncos
In the end, Gordon settled for much less than his initial asking price. Maybe he sealed his own fate when he caved and showed up to the 2019 training camp anyway. His thought process? According to CBS Sports, he didn't want to look bad in a contract year, regardless of who signed him.
This year he will suit up as a Denver Broncos. Does he still hold a grudge though? You bet. When asked by CBS Sports if playing in an empty stadium due to COVID-19 would be weird, he said he played for the Chargers; he was used to playing without fans. Yikes, there's definitely no love lost in this relationship.
All stats courtesy of Pro Football Reference and Sports Reference