Broncos Star Von Miller Delivers Frightening Warning to Baker Mayfield and the Browns: 'I Don't Know Who the Tackle Is, but I'm Going to Kill Him'
This week's edition of Thursday Night Football will feature the Cleveland Browns and the Denver Broncos. Unfortunately, the Cleveland offense is banged up and will be without both Nick Chubb and Kareem Hunt. Moreover, the Broncos' defense will come in ready to play after getting shelled by the Las Vegas Raiders.
Broncos star linebacker Von Miller gave a stern warning ahead of Thursday night's game that should scare everybody on the Cleveland offense.
Baker Mayfield should be the most scared due to his shoulder injury, and Miller's words might keep the Browns quarterback up until Thursday night.
Von Miller will be ready for the Browns
In what has been a career resurgence of sorts for the veteran, he will come into Thursday's game with a head full of steam. Just look at what Miller had to say (h/t Brandon Krisztal).
"I will play well in this game. … I'm going to have a great game. … I don't know who the tackle I'm going against is, but I'm going to kill him."

Von Miller ahead of Thursday's matchup with the Browns
Yeah, that is scary. Miller is not a guy you want coming at you full speed with something to prove.
Also, the Browns offense is battered across the board, and with Mayfield being ruled out, surely Miller feels the same way about backup Case Keenum. With a battered offense and the Broncos desperately searching for a win, it could get ugly in Cleveland.
The Broncos vigorous defense will give the Browns a tough test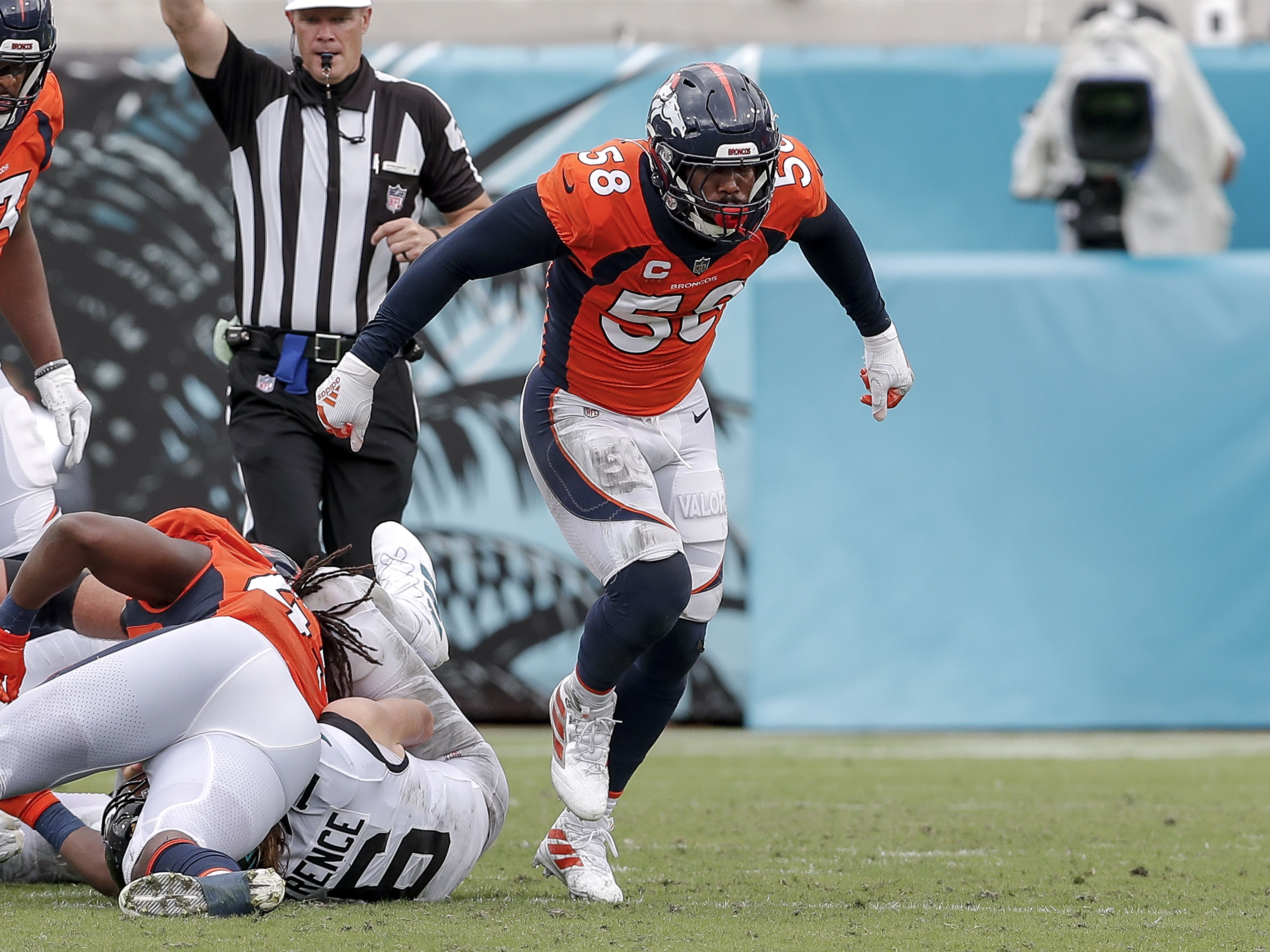 Yes, the Raiders did drop 34 points on the Broncos this past weekend. On the other hand, the Browns offense has struggled without the running game. With both Chubb and Hunt out, the team will turn to D'Ernest Johnson and Demetric Felton, neither of which are intimidating options on the ground.
It is no secret this will put more pressure the Browns' passing game. Odell Beckham Jr. suffered another injury, and Jarvis Landry is still absent. That leaves some combination of Donovan Peoples-Jones, David Njoku, and Rashard Higgins to get the bulk of the targets for Cleveland.
That is uninspiring in every way. Even worse is the fact that Miller is out for vengeance and going to 'kill' whoever is in front of him. The Broncos star also predicted a victory on Thursday night in Cleveland (h/t Tom Withers of the Associated Press).
"I'm going to play extremely well and I'm going to make plays for my team. And yeah, I'm going to set us up to win this game, for sure."

Von Miller on Thursday's matchup in Cleveland
Miller recorded four sacks in the first three games and just half a sack over the past two. This might be the perfect game for the Denver defense to get back on track, and Kevin Stefanski's team could be in for a rude awakening.
It's Miller time at FirstEnergy Stadium
Miller has enjoyed a bit of a resurgence in 2021. On the year, he has 4.5 sacks and is well on his way to passing last year's number of eight. After the game against the Raiders, Miller got some heavy praise from quarterback Derek Carr when he said he's "god's gift to Earth of pass rushing."
Carr is not wrong at all. The way Miller has played throughout his career — all with the Broncos — he deserves a spot in the National Football Hall of Fame when it's all said and done.
Miller is zeroed in on the game against the Browns. When he speaks, he delivers. Back in 2018, Miller warned the Cardinals and went out and took care of business with a pair of sacks and a pair of forced fumbles in a 45-10 massacre of Arizona.
So yeah, Miller's warning means something, and with Keenum getting the start due to Mayfield's injury, Miller likely has the same regard for the Browns' backup.
Sit back, get your popcorn ready, and prepare for No. 58 to go to town in Ohio.
Stats Courtesy of Pro Football Reference
RELATED: Even if Baker Mayfield's Shoulder Doesn't Require Surgery, the Browns Would Be Wise To Let Case Keenum Take On the Broncos