Bronny James' Former Teammate Is Getting a Record $2.5 Million in the Same Town as the King
Things didn't go as planned for Brandon Boston Jr. during his single season at the University of Kentucky. Projected as a lottery pick before last season began, Boston's struggles sent his stock plummeting. He fell to the bottom 10 of the 2021 NBA Draft before the Memphis Grizzlies picked him on behalf of the New Orleans Pelicans, who traded him to the Los Angeles Clippers.
Clippers president of basketball operations Lawrence Frank liked something about Bronny James' former high-school teammate.
Unlike a first-round pick, players taken in the second round (or, more likely, their agents) must negotiate contracts. Based on their draft position, there is no guarantee of getting any money that is, well, guaranteed. In that regard, Boston beat the odds.
Brandon Boston Jr. was a top-five recruiting prospect
Brandon Boston Jr.'s honors continued to roll in during his senior year at Sierra Canyon School in suburban LA. He played his first three years in his hometown of Norcross, Georgia, before heading to LA. With Boston averaging 19.7 points and 7.0 rebounds a game, Sierra Canyon was ranked No. 2 in the nation and went 30–4.
Boston was California's Mr. Basketball and the MVP of the Gold Coast League, and he made three All-America teams. He played in the McDonald's All-American Game, the Allen Iverson Roundball Classic, and the Jordan Brand Classic.
He also had a famous team dad around. Bronny James was a freshman in 2019–20 when Boston was a senior. That meant seeing LeBron James around the team when the elder James wasn't at the day job (more precisely, the night job). Now he'll be plying his trade for the Clippers in the same building with James.
He was Kentucky's top-rated recruit last season, but things didn't go as planned.
Boston started 24 of the Wildcats' 25 games and averaged 11.5 points and 4.5 rebounds in 30.4 minutes per game during coach John Calipari's first losing season (9–16) in Lexington. It was the first losing season for the program since 1988–89, which came after severe NCAA sanctions.
But Boston shot only 35.5% overall and a woeful 30.0% from 3-point range. The good news for Boston was he did get drafted. But the drop from the lottery to the end of the second round is a steep one.
LA Clippers show their belief in Boston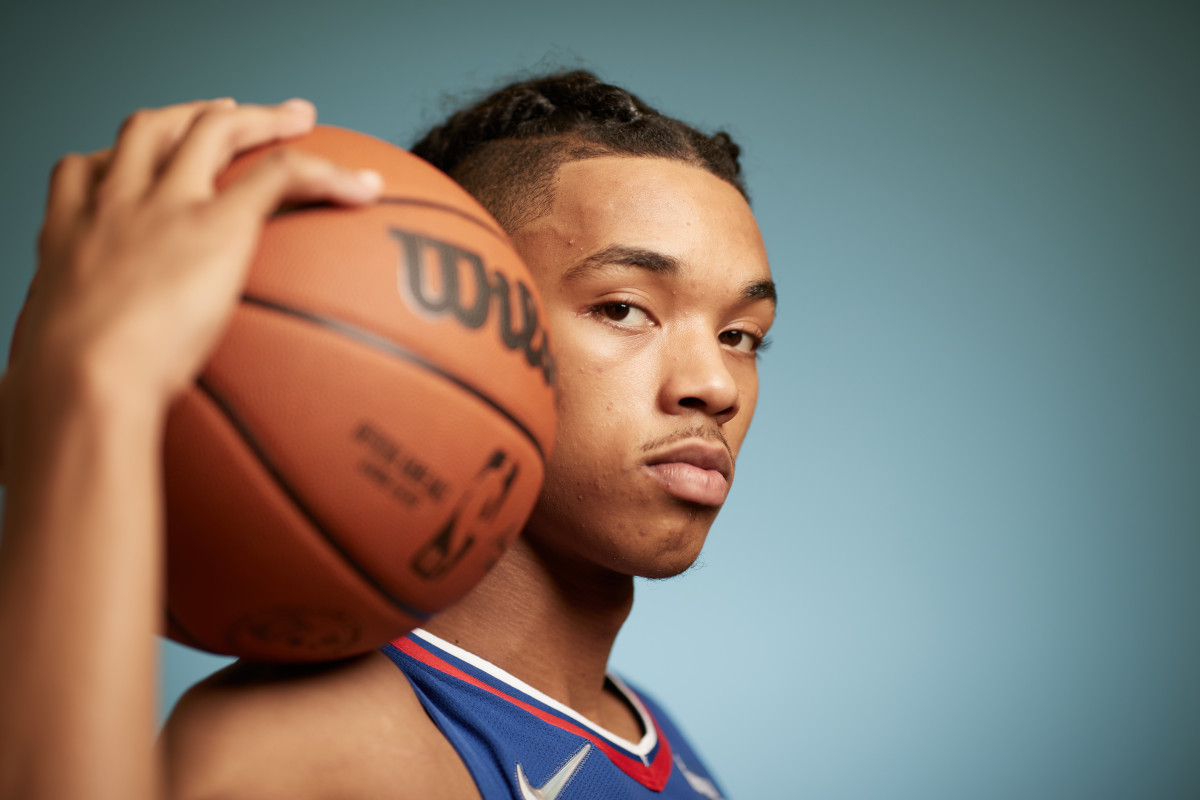 Per Keith Smith of Spotrac, the LA Clippers offered Brandon Boston Jr. a three-year deal worth $4.3 million. What's unusual is that the first two years and $2.5 million are guaranteed. It's the most guaranteed money ever for a bottom-10 pick that wasn't a draft-and-stash player.
The Clippers aren't likely to ask much of Boston beyond development as a rookie. Projected as a shooting guard, he may also see time at the 3 with Kawhi Leonard expected to miss most, if not all, of next season. The only other small forward on the roster at this point is Justise Winslow. Expect to see Nicolas Batum primarily as a small-ball 4.
LA is deep in the backcourt with playoff hero Reggie Jackson, just-acquired Eric Bledsoe, and Yogi Ferrell at the point. Paul George, Luke Kennard, and Terence Mann have the wing.
Last season, the Clippers made the conference finals for the first time in franchise history, even with Leonard sidelined for the final two games against the Utah Jazz in the second round. Contending with Leonard on the shelf over the long haul is a more significant challenge.
Brandon Boston Jr. played like a rookie for LA Clippers Summer League unit
NBA Summer League is where the new draft picks come together with young veterans, players desperate for another NBA look, and a few veterans wanting one more run.
There isn't a ton of preparation time, so the quality of play is often ragged. Players must fight the tendency to worry solely about getting their numbers. There is no reward for leading the Summer League in shot attempts. Teams are interested in getting an idea of how a player will fit into a system.
Brandon Boston Jr. has averaged 11.3 points and 4.0 rebounds in 24.0 minutes per game for the LA Clippers in Las Vegas. The optimistic take is that he's shooting better than he did last year at Kentucky. The negative spin is that it isn't by much. Boston has hit 40.0% overall and 30.4% (7-of-23) from deep.
In four games, he's scored 45 points on 45 shots. That won't impress the analytics contingent.
Brandon Boston Jr. is 6-foot-7 and needs to add strength, the same as almost every rookie does. Given his high-school resume, the LA Clippers are taking a calculated risk he can develop into a tremendous steal at No. 51 overall. They bet real money on it.
Statistics courtesy of UKAthletics.com, SRCBB, and RealGM.